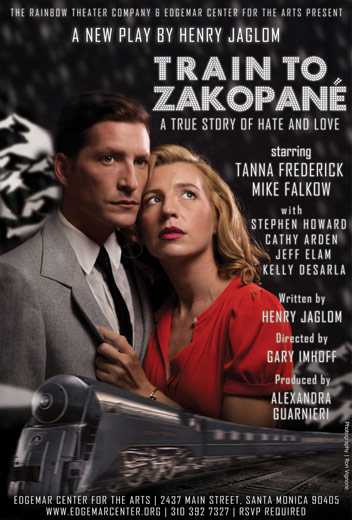 SANTA MONICA, Ca. – Before the world premiere of Train to Zakopané, playwright Henry Jaglom briefly introduced the drama. The noted indie filmmaker stated that the play was based on a true story his father had told him. South African surfer-turned-thespian Mike Falkow portrays the protagonist based on Jaglom's dad, here named Semyon Sapir, in this tale set in 1928 Poland.
Act I is set on the titular train, as Semyon beats the crowd and joins a sleeper inhabited by three other passengers. Among them are the priest Father Alexandrov (Stephen Howard, who acted in Jaglom's upcoming film Ovation and in his previous play The M Word) and the young blonde virginal Polish beauty Katia Wampusyk, a nurse by profession (Tanna Frederick, a regular in Jaglom indies, such as 2006's Hollywood Dreams). She is a delightful traveling companion – except for one, shall we say, personality quirk and flaw: Wampusyk is a vicious anti-Semite.
Like most Jew haters, her bigotry is based on a sheer ignorance that she believes is the gospel truth, which Father Alexandrov basically reinforces. Among other things, the nurse proclaims she can spot a Jew from a mile away. Semyon debates the point, without success. So, to teach her a lesson, Semyon – who is reluctantly smitten by his fellow commuter – hides the fact that he is himself Jewish and romantically pursues Wampusyk.
In Act II the two youthful lovebirds disembark at the eponymous Zakopané, a resort town in southern Poland where – and this is a critical plot point in this train tale with many twists and turns – nurse Wampusyk had previously worked at an important clinic for typhoid victims. Romance ensues at an upscale hotel, as Semyon continues to hide his Jewish background from his lovely, if prejudiced, lover.
In the course of events at the posh holiday center Semyon stumbles upon Wampusyk's life-changing role in his family's fate.
Train to Zakopané makes the powerful point that prior to the Nazis' coming to power in Germany, the Poles were Europe's, perhaps the world's – worst anti-Semites. Is this true? I don't know, but it's food for thought.
In any case, Train to Zakopané is among the hardest hitting plays about bigotry to appear onstage in ages. Among other things, the drama ponders the notion of hiding one's identity as a survival mechanism. In addition to Semyon's deception, fellow passenger Nadia Selmeczy (Cathy Arden), an actress, and her brother, Nahum Gruenbaum (Jeff Elam), a doctor, are self-denying Jews who conceal their heritage. As the old saying goes, "To get along you have to go along."
Train is a bit talky like, well, a Jaglom film, but it's well-directed by Gary Imhoff, who has previously directed other Jaglom works for the theater. The drama is also well acted; Falkow has that pre-war matinee idol appeal, with the looks and mannerisms of the suave, continental Paul Henreid and Franchot Tone, which is ideal for this period piece. Frederick manages to conjure up a character who is at the same time paradoxically hateful and yet so loving. Set designer Chris Stone effectively and literally sets the scene with his train and then resort hotel scenery.
This tale of strangers on a train is a thought-provoking, poignant plea for tolerance. The plight of Jews in 1928 Poland, with the rise of the Nazis lurking and looming in the background, is strong stuff. (Once Hitler invaded Poland in 1939, it was out of the frying pan and literally into the fire for Poland and Europe's Jews.) Jaglom's play also made this Jewish reviewer reflect that that old bromide "Misery ennobles those who suffer" is a lie. If anything, misery loves company. Instead of evolving out from our tragic past, full of man's inhumanity to man, just consider the ongoing pain that militaristic extremists of Israel continue to inflict upon today's wretched of the Earth, the Palestinians.
Will we ever learn?
Train to Zakopané is being presented on Thursdays through Saturdays at 7:30 pm and Sundays at 5:00 pm through March 29 (with a Dec. 21-Jan. 8 hiatus) at Edgemar Center for the Arts, 2437 Main St., Santa Monica, CA, 90405. Reservations: (310) 392-7327; www.edgemarcenter.org.