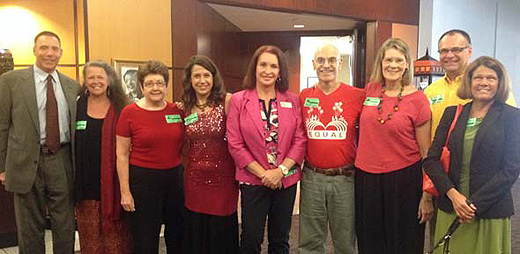 ORLANDO, Fla.-In another sign of the social and political progress made by Central Florida's LGBTQ community in recent years, the Orlando City Council unanimously approved anti-discrimination protection for transgender individuals at its Aug. 11 meeting. "Gender identity" is now a protected category in Orlando's human rights ordinances (Chapter 57 of the City Code) along with age, color, handicap, marital status, national origin, race, religion and sex.
Orlando has joined almost 20 other counties and municipalities across the Sunshine State that provide similar protection in the areas of housing, public accommodations and employment to the transgender community. These include Broward, Palm Beach, Miami-Dade, Monroe, Orange and Leon counties, and the cities of Miami, Miami Beach, Largo, Key West and Tampa.
The motion to add gender identity to the ordinance was made by Commissioner Tony Ortiz (a Republican) and seconded by Commissioner Patty Sheehan (a Democrat), who made history in 2000 when she became the first openly gay elected official in Central Florida.
Although sexual orientation was added as a protected category to Orlando's anti-discrimination ordinances in 2002, no protections were added at the time for transgender individuals. In recent years as attitudes towards transgender people have begun to change, LGBTQ activists decided the time was right for the inclusion of gender identity in Orlando's ordinances.
Gina Duncan, transgender inclusion director with the LGBTQ rights group Equality Florida, told the City Commission at its July 28th meeting that the transgender community would benefit from the change to the ordinance.
"By passing this protection you are truly saving lives," she said. "Within the transgender community, there will be one more person who will not lose their livelihood; there will be one more person who will not lose their ability to provide for their families and who will not decide to take their own life."
"Being transgender is not a choice and the need to live a true and authentic life is a difficult and perilous journey," said Duncan, who became the first transgender person to run for Orange County Commission in 2012. "For many transgender people who go through transition on the job, everything that we hold dear is at risk: our families, our friends, our jobs, our quality of life."
Local elected officials such as Rep. Joe Saunders, D-Orlando, a former Equality Florida staffer elected to the Florida House in 2012, and Orlando Mayor John H. "Buddy" Dyer (a Democrat) supported the change to the ordinances.
"We've gotten to the point where we can do – with very little controversy – things we ought to be doing, so I'm very proud of that," Dyer said.
Michael Slaymaker, of the Orlando Anti-Discrimination Ordinance Committee (OADO), noted that in the years since sexual orientation was added to the ordinance, Orlando has "changed, we've grown up, and [now] we are an inclusive city." OADO also was involved in successful efforts to pass domestic partnership registries in Orlando (2011) and Orange County (2012).
When the sexual orientation provision was passed in 2002, it attracted a lot of opposition from Christian fundamentalists. "We had people outside picketing and the halls were filled with people from the outside to testify against the ordinance," said longtime OADA member Kathryn Norsworthy. "We heard a lot of homophobic and transphobic rhetoric."
This time around, however, no one spoke in opposition to adding gender identity at the first and second readings of the measure-the Council's July 28 and Aug. 11 meetings.
Today, in 2014, any reasonable passionate and fair-minded person doesn't listen to those [hateful] voices anymore," said Orlando civil rights attorney Mary Meeks. "Those voices used to have an audience, and they don't anymore, and I think that is great cause for celebration."
Meeks is one of the lawyers representing six gay couples in a lawsuit in Miami-Dade circuit court seeking to overturn the anti-same sex marriage amendment to Florida's constitution (passed in 2008) on the basis that it violates the equal protection provision of the U.S. Constitution's 14th Amendment.
In June, the Orlando City Council voted 5-2, at the urging of Dyer, to file a friend of the court brief in support of the lawsuit in which Meeks is involved. The two "no" votes came from Ortiz and Jim Gray, the other Republican commissioner, with Ortiz, at the time, citing as the reasons for his opposition the "very conservative" nature of his district and "issues that have to do with spirituality."
Photo: Local activists for the LGBT community. Courtesy Watermark.