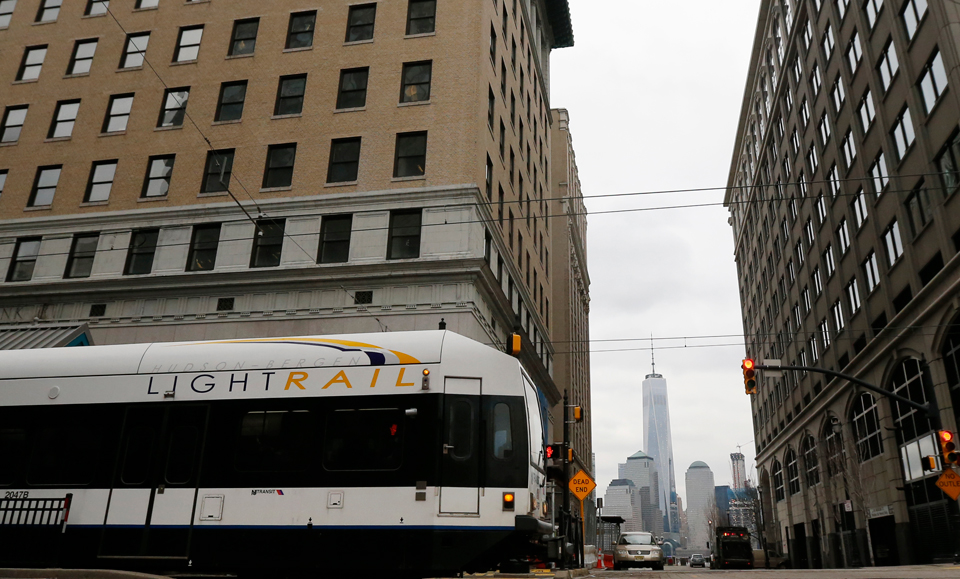 JERSEY CITY, N.J.—Despite the rising coronavirus death toll among subway operators, bus drivers, mechanics, and other workers on the nation's mass transit systems, some local system bosses haven't gotten the message to protect workers and riders, leaders of the nation's mass transit unions say. And neither has the GOP Trump government's Federal Transit Administration.
As a result, thousands of mass transit workers go to their jobs in fear of catching and dying from the coronavirus.
The situation is so bad at the privatized for-profit Hudson-Bergen Light Rail System in Jersey City, N.J., that workers upset and scared by its complete denial of protective measures are ready to walk, warns John Samuelsen, president of their parent union, the Transport Workers.
Meanwhile, two systems disciplined union business agents who went public about the lack of personal protective equipment (PPE) and other safeguards for workers against "community spread" of the virus.
Samuelsen, Amalgamated Transit Union President John Costa, Larry Willis of the AFL-CIO Transportation Trades Department, AFL-CIO Secretary-Treasurer Liz Shuler, Nick Peluso of the Transportation Communications Union-Machinists, Smart Transportation Division President Jeremy Ferguson, and two local union leaders offered those observations at an April 15 telephone press conference on what mass transit workers face coping with the pandemic.
The group emphasized their members, too, are front-line workers, who must confront the danger of community spread of the virus every day as they take other essential workers—such as nurses and grocery workers—to their jobs via buses, subways, and light rail systems.
The danger is there: Costa reported 400 of his members have tested positive, 100 died, and "my international vice president is in the hospital on a ventilator."
"I lost my second member, a conductor" to coronavirus death "this morning, from SEPTA's Local 61," whose members serve the Philadelphia metro area, Samuelsen said. Caluso, whose union also represents New York and New England freight rail workers, hasn't lost any yet, "but my local leaders are concerned about how to protect their membership."
Samuelsen's TWU has lost 57 mass transit members—including 42 from New York's MTA alone—plus another 26 flight attendants from airlines it represents.
All of this, however, has not made a dent in the stand of the GOP Trump government's Federal Transit Administration, which continues to tell local transit systems—each of whom has their own work rules and safety standards—that workers should abide by the advisory guidelines on coronavirus exposure issued by the Centers for Disease Control.
The union leaders have been urging FTA, which also doles out federal mass transit dollars, to make the CDC guidelines mandatory. Several have received pro forma replies from FTA's acting administrator. One hasn't heard back at all.
Those federal dollars are important, so transit systems must lobby for them with FTA. The $2.2 trillion economic stimulus law includes billions of dollars for mass transit, which—due to the mass shutdowns nationwide because of the coronavirus—has seen ridership and farebox revenue plunge by 80% or more.
It's also up to local transit system bosses to decide how much, or in Jersey City's case, how little, it would abide by the CDC advice. It wasn't much better until recently at the MTA, Samuelsen said. Elsewhere, "we had to fight it out city by city."
But "the private systems are only interested in making a buck" rather than protecting their workers and their riders, he added—and that's where Jersey City falls.
"The Hudson-Bergen Light Rail have exposed their workers and their riders to the virus" by not providing PPE, such as N95 masks, to their operators and not even announcing, much less enforcing, distancing guidelines that mandate six feet of space between passengers.
"They put their workers and their riders in harm's way because they don't want to kick out the dough" for the PPE and other protective measures, such as gloves and ventilators "and would rather let people die."
That led the other union leaders to point out that private for-profit transit systems, which many cities have embraced in recent decades, were generally slower to move to protect workers and passengers. "The privates are taking the stimulus money. For them, it's about the dollars. For us, it's about lives," Costa said.
Still, public systems, including big ones such as the MTA and SEPTA, aren't completely clean when it comes to protecting workers and riders, the union leaders aid.  Besides TWU's problems with the New York MTA, ATU's Costa reported that two local business agents, one each in Florida and Alabama, were disciplined for publicly speaking out about their systems' shortcomings. That discipline breaks labor law.
The unions are fighting back with advice to their locals and by reminding the transit system bosses that federal law gives transit workers "the legal right to refuse assignments in unsafe working conditions," Costa said. Like other union leaders, they're also lobbying the FTA to get Trump to invoke the Defense Production Act to force manufacture of more respirators, ventilators, masks, and other PPE.
In one case, said LaKecha Strickland, President of ATU Local 1212 in Chattanooga, Tenn., ATU armed her with data on how much stimulus money the city was getting. That let her convince the mayor to agree to spend a fair share of the funds on protecting her local's members, and their bus riders.