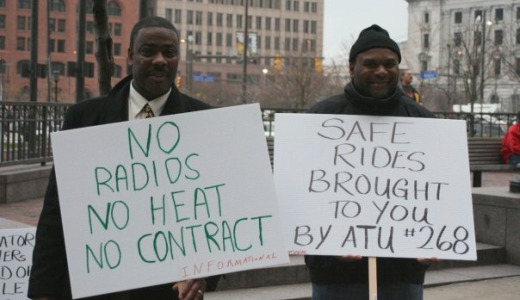 CLEVELAND – Transit workers and supporters from the North Shore AFL-CIO and Cleveland Jobs With Justice demonstrated downtown here this week to protest the Regional Transit Authority's refusal to address the safety of employees and the riding public in contract negotiations.
The action dramatized the challenge facing public transit systems in the current economic crisis.
William Nix, president of Amalgamated Transit Union Local 268, charged the RTA management had created hazardous conditions, failed to maintain heating, communications and handicapped mechanisms in its buses and was attempting to bust the union by eliminating bargaining unit jobs.
Over the course of 23 bargaining sessions since June, Nix said the RTA has stonewalled attempts to address questions of working conditions and sought to move instead to its economic program of cutting wages and health care benefits.
RTA General Manager Joe Calabrese denied safety standards had been neglected and said the real problem was that the system was broke.
"I can't spend money I don't have," he said. The transit system gets most of its revenues from county sales taxes which plummeted this year with the deepening recession. Ridership, accounting for 20 percent of RTA income, also fell sharply as unemployed workers no longer use the system to get to their jobs. Ohio's state government, which he charged has a poor record of supporting transit, has slashed funding, and even federal funds from the national transportation bill have been held up.
Calabrese has appealed to Sen. Sherrod Brown and Congressman Dennis Kucinich, both Ohio Democrats, to help get those funds released and, if that happens, the system will barely break even this year, he said.
But, for the coming year, Calabrese said his only hope of avoiding hundreds of layoffs and major cuts in service is to reduce labor costs. He pointed to a study released in June by the American Public Transportation Association showing that 89 percent of public transit systems in the country have been forced to raise fares or reduce service because of recession-caused revenue reductions.
These realities complicate the contract talks and, in fact, no solution seems possible within that framework. The union has to fight to improve working conditions and maintain the economic security of its members, but both sides and the riding public need a solution to the funding problem.
Calabrese wants to reassure the public about safety, but the issue is real and undoubtedly tied up with the funding crisis.
Last week an RTA driver was sentenced to six months in jail on a charge of vehicular homicide for killing a man in a downtown crosswalk. The driver, a single mother, was accused of negligence and using a cell phone at the time of the accident, but Nix said RTA had major responsibility since it had rejected repeated demands by the union to lower mirrors and eliminate a blind spot that had caused accidents in the past. Immediately after the accident the mirrors were lowered and audible systems installed to alert pedestrians when buses were making turns.
The RTA also made possession of cell phones grounds for immediate dismissal. But on the picket line John Bronoff, a bus driver with 13 years service, said that especially on weekends radios on the buses and trains do not work and cell phones are a necessity in case of medical emergencies, accidents or confrontations with irate passengers. Not only has the RTA failed to fix the radios, it insists drivers read text messages on the devices despite the hazard involved, he said.
"We work under extremely high stress," he said, "and it's not reported but every week drivers are assaulted."
Nix charged that the RTA had recklessly merged departments to eliminate jobs with the result that untrained workers are forced to deal with high voltages in substations and bus drivers were made to work on trains as supervisors without experience to handle coupling problems. This almost caused a head-on collision, he said.
He charged that the RTA failed to buy parts for wheelchair lifts, many of which don't work, forcing drivers to lift passengers manually. In 40 percent of the buses heating systems do not work, he said.
The RTA has given union jobs in parts depots to NAPA, a private company, eliminated maintenance and clerical workers in its downtown offices and sought to violate overtime protections. The union has filed unfair labor practice charges with the National Labor Relations Board over the refusal of the RTA to negotiate safety issues.
The RTA says it wants to bypass the safety issues and move to economic issues where it is demanding a 5 percent cut in hourly pay with no increases over three years, a 26 percent increase in health premiums and a 4 percent increase in the amount workers pay into the health plan.
"Labor is 70 percent of our budget," Calabrese said, "and the ATU is 90 percent of our labor. We have reduced fuel and utility costs and cut jobs and pay of salaried employees. Our workers deserve every penny they make, but we face a $9 million to $12 million deficit next year and unless the ATU agrees to reduce our costs we will have to eliminate their jobs, eliminate weekend service and make other serious service cuts by April."
The contract for the 1,900 members of the ATU expired July 31 and negotiations have broken off pending appointment of a state fact-finder to study the issues and make recommendations.
Photo: ATU Local 268 President William Nix, left, with bus driver Wayne Bender. (Photo by Debbie Kline)