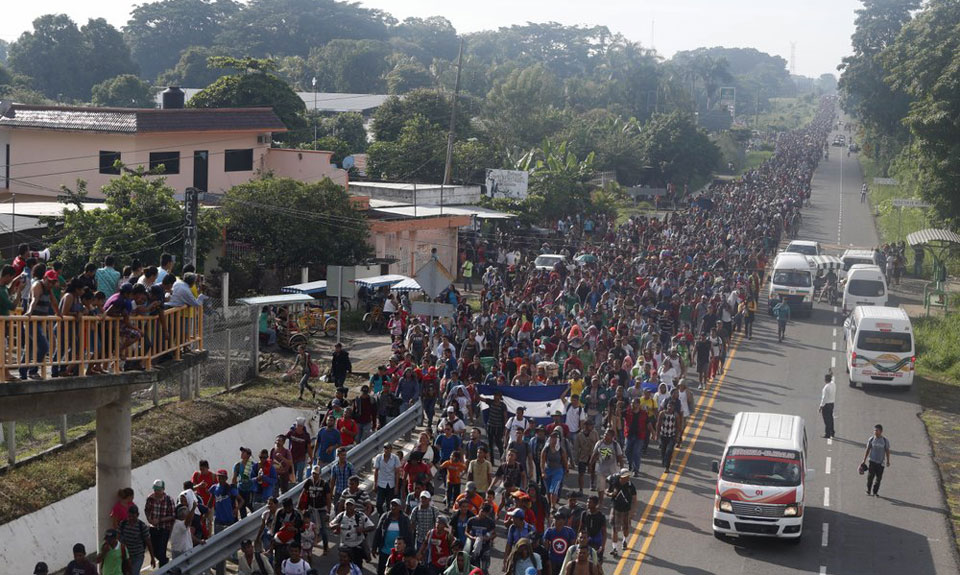 A Salvadoran transgender woman who had been part of a migrant caravan of Central Americans seeking asylum in the U.S. died Feb. 3. The woman, known by her chosen name, Camila, had been back in El Salvador for 4 or 5 months when she was attacked outside San Salvador, the country's capital. Camila had been reported missing in late January by Asociación Aspidh Arcoiris Trans, a Salvadoran trans-advocacy group. On Jan. 31, the group discovered Camila had been admitted to Rosales National Hospital. She had sustained multiple life-threatening injuries and died just days later.
Camila's murder sheds light on an epidemic of homophobic and transphobic violence in El Salvador. Locals report that street gangs, abetted by rampant social prejudices, have a hand in much of the violence enacted upon queer Salvadorans.
Many LGBTQ citizens also fault the unwillingness of police to protect them against hate crimes. A study conducted by Georgetown Law Human Rights Institute indicates that Salvadorans are frequently prevented from filing complaints of human rights abuses. Police and prosecutors also fail to investigate crimes against LGBTQ people, and military officials don't hold soldiers accountable for violence perpetrated on LGBTQ communities.
In 2015, trans activist Aldo Alexander Peña was brutalized by the Salvadoran police on his way to the city's annual pride parade. Peña got into a confrontation with a bus driver who refused to let him off at his stop, and called the cops on him. The police who responded to the call escalated the situation, assaulting Peña and beating the friend who was accompanying him. "There was blood coming out of my mouth and nose, and I could barely see," Peña told Al Jazeera. "At one point, I heard my friend praying for my soul. She thought I was dead." Peña was knocked unconscious and awoke to find himself in a hospital where doctors treated his broken jaw and fractured eye socket.
Peña used his situation to bring attention to the high rates of anti-queer violence plaguing the country, eventually running for mayor as part of the Social Democratic Party (Partido Social Demócrata, or PSD) in 2018. While Peña did not end up winning, the LGBTQ organizer is just one of many individuals in El Salvador now challenging the dehumanization, homophobia, and transphobia that has uprooted the lives of so many of El Salvador's LGBTQ citizens.
Although the government of El Salvador does not officially keep track of LGBTQ-related hate crimes, stories like Peña's are common. Multiple sources claimed that Camila even attempted to warn American officials that her life would be in danger were she to return to her home country, but her pleas were ignored, Aislinn Odaly, a spokesperson for Asociación Aspidh Arcoiris Trans told the Blade. "She migrated to the U.S. because of threats that she had received, but she was deported because they didn't believe her."
Not long after Camila's murder was reported, another trans woman, who used the name Lolita, was murdered with a machete Feb. 8.
Faced with the frequent threat of abuse and discrimination, many queer Salvadorans have considered fleeing north to the United States. However the Trump has severely restricted pathways to asylum.
Still, a number of grassroots organizers have traveled to migrant encampments at the Mexican border with hygiene and beauty products for Central American migrants seeking asylum. Other organizations, such as Aspidh Arcoiris, have focused on providing legal support in cases involving gender violence against trans women. They have also helped organize and lead protests against El Salvador's government and law enforcement officials, who are often complicit to the murders of LGBTQ victims.
Nevertheless, human rights advocates continue to call on Salvadoran legislators to strengthen their support of LGBTQ community members.
Thanks to the labor of transgender activists, El Salvador's Legislative Assembly passed legislation establishing increased penalties for hate crimes. Central and South Americans are now calling on the U.S. to create comprehensive and compassionate immigration reform – while they continue to fight against the injustices and violence in their home country.