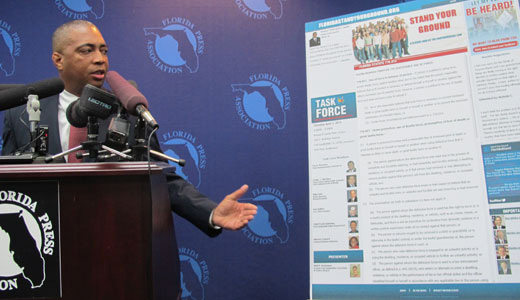 LONGWOOD, Fla — Second Chance on Shoot First, a coalition led by national civil rights organizations and New York City Mayor Michael Bloomberg, along with Tracy Martin and Sybrina Fulton, Trayvon Martin's parents and founders of Justice for Trayvon Martin Foundation, today delivered more than 375,000 signed petitions calling for reform or repeal of Florida's "Shoot First" law at a press conference outside of the Florida Task Force meeting examining it.
Since George Zimmerman shot and killed Trayvon Martin Feb. 12 in Sanford, claiming self defense under the state's controversial law, opposition has grown. The law, experts claim, is responsible for a 200% increase in justifiable homicides in Florida has grown. Coming out of the protests around Martin's killing and subsequent fight to get Zimmerman charged, Florida Governor Rick Scott was pressured to set up a task force to investigate the law, known as Stand Your Ground.
Fulton and Martin made an impassioned plea to change the law that they say encourages vigilantism.
"I believe my son was standing his ground…He was afraid," Fulton told reporters. "He was afraid…This is personal. They do need to review these laws."
"This is definitely personal to us. Our son has been sacrificed," Tracy Martin said. "It's a bad law. These laws are set up basically for the shooter to take an innocent life."
Tracy Martin also disputed Zimmerman's claim of self-defense, saying he ignored 911 operators' instructions to remain in his vehicle and not to pursue Martin. "He was defending himself against what?" Martin said.
The law gives the message that "it's OK to be a vigilante in our society today," Martin said. "The public is not going to stand around for it and we certainly aren't going to stand around for it."
Law enforcement and other officials also oppose Shoot First laws.
"Shoot First laws have stymied law enforcement and prevented police and prosecutors from doing their jobs to decrease violence and promote justice," said West Palm Beach Mayor Jeri Muoio. "It's time to reform Florida's dangerous law."
The 375,000 Americans who signed the petition delivered today agree: "Shoot First laws put our communities in danger… Make Florida safer by repealing or reforming Shoot First laws."
The movement to reform Shoot First laws extends beyond Florida as Louisiana just passed a bill to reform its Shoot First law and bills to reform these laws have been introduced in six states – Alabama, Georgia, Louisiana, Michigan, North Carolina and South Carolina.
In addition, laws that would have established or expanded existing Shoot First laws were effectively blocked in the last few months in eight states – Alaska, Colorado, Iowa, Minnesota, Mississippi, Nebraska, Oklahoma and Washington.
"Tens of thousands of ColorOfChange members have called on state lawmakers and governors to fight back against these deadly 'Shoot First' laws by opposing them where they are under consideration and repealing them where they are already in place," said ColorOfChange Executive Director Rashad Robinson.
"These dangerous laws put too many in our communities at risk, and it's time to get them off the books."
Photo: State Sen. Chris Smith, D-Fort Lauderdale, announces plans for a group that will study the controversial "stand your ground" law. Bill Cotterell/AP