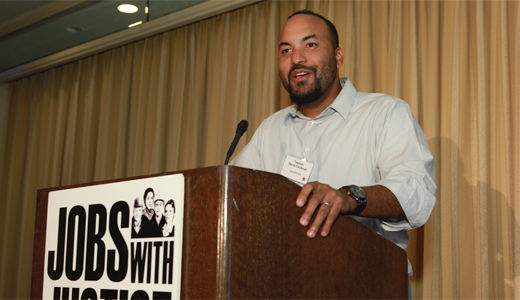 Treston Davis-Faulkner, National Field Director of Jobs With Justice, lost his battle with cancer on October 26, 2015 in Atlanta, Georgia. Davis-Faulkner was a fierce advocate for dignity, justice and self-determination for all people. Throughout his career he led hundreds of thousands of people around the world in solidarity with workers attempting to organize for respect.
He made a difference in significant campaigns for working people when he supported workers forming a union at Smithfield Poultry in North Carolina, organized nationwide community support for striking Verizon workers, and ensured that Indian guestworkers marching from New Orleans to Washington, D.C., had food, water and shelter along the way.
Before becoming the national field director in 2009, Treston served as the Southern Region Organizer for Jobs With Justice for nearly seven years, helping to develop JWJ coalitions in Florida, Georgia, Tennessee, Texas, Kentucky, Virginia, and Washington, D.C. Prior to that, Treston helped to start the Student Labor Action Project (SLAP), becoming the first national SLAP coordinator in 1999. Treston's previous experience includes working as a local student, community, and labor organizer in Philadelphia (with the American Federation of Teachers) and at Temple University, as well as his steadfast activism and organizing around student issues on the national level with the U.S. Student Association, the nation's oldest and largest student organization.
In his private life, he was equally vigilant in providing gentle guidance and caring attention to his friends and family in their attempts to blaze honest and just paths of their own. He was always available to listen with an open mind and an open heart.
Davis-Faulkner was born on June 22, 1975, to Mary Faulkner in Lansing, Michigan, where he graduated from Waverly High School. He went on to attend Temple University in Philadelphia where he helped organize the Graduate Student Union and later joined the national staff at Jobs With Justice, where he founded its national training program and the Student Labor Action Project.
He is survived by his wife and partner, Sheri Davis-Faulkner (née Davis), his son, Na'im Hanoi Faulkner, his mother, Mary Faulkner and many friends, family and comrades.
Those wishing to send condolences are asked to contribute to the education fund for his son, Na'im Faulkner by going to www.jwj.org/treston.
Photo: Jobs With Justice.