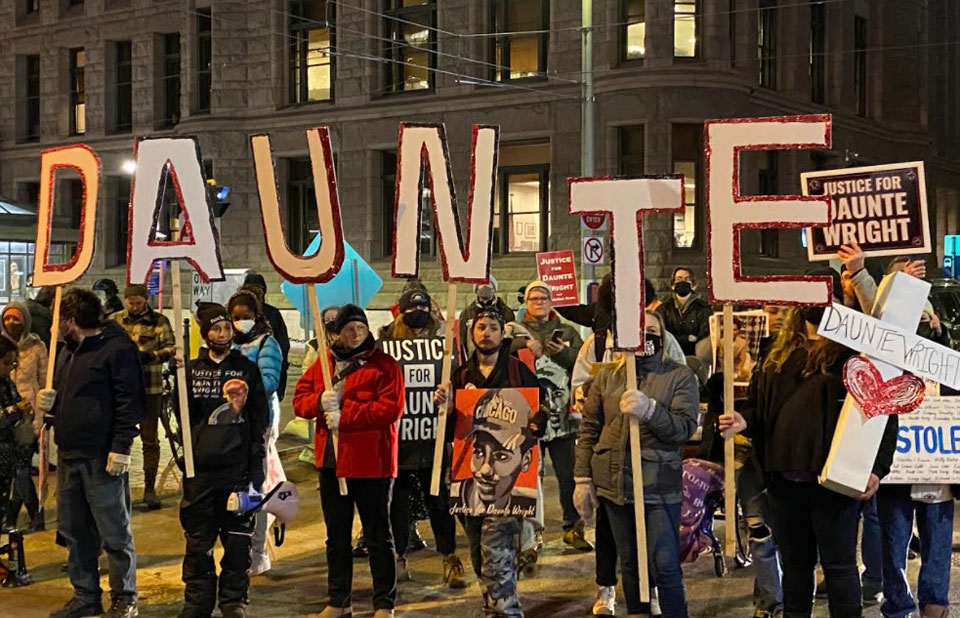 MINNEAPOLIS  The people's struggle to convict former police officer Kimberly Potter for the murder of Daunte Wright, a 20-year-old Black man, began this week with a press conference and a rally and march.  Potter's trial began Tuesday in Hennepin County where she is charged second-and first-degree manslaughter of Daunte on April 11, 2020, in Brooklyn Center, where Potter, who is white, was an officer for 27 years.
Potter was fired days after she shot Daunte with her service weapon killing him. She contends, according to her legal defense, that she intended to tase Daunte but drew her weapon instead, firing once killing Daunte. The incident occurred during a routine traffic stop that community members say are often excuses for racial profiling in their diverse suburban Minneapolis community.
According to police camera video Daunte was seated in the driver's seat when Potter pointed what she says she thought was her taser at Daunte to keep him from driving away. Staring down the line of her weapon and holding the door open she yelled "taser, taser, taser," and pulled the trigger. Daunte died at the scene.
The shooting occurred during the last few weeks of the trial of Derek Chauvin for the murder of George Floyd kicking off days of protests and clashes with law enforcement attempting to enforce a curfew.
On Monday, the day before Potter's trial began, family members who lost loved ones to police violence, along with Courtney Ross, the significant other of George Floyd, attended a press conference to show their support for the Wright family.
Daunte's mother, Katie, spoke briefly offering thanks to those "who have been there for us, standing with us, on one of the worst days of our lives… all the way up until today and going forward."
Ross recounted having Daunte in her classroom when he attended Edison High School in Northeast Minneapolis. "His joy and his smile could light up this room a thousand times," she told the press in the hotel meeting room just blocks from the Hennepin County courthouse where the trial began Tuesday.
Ross had pointed words to say about Potter's conduct that day she shot and killed Daunte. "The fact that Kim Potter brandished a weapon for a routine traffic stop when the entire world was looking at racist cops under a microscope proved to me that Kim Potter was so brash and brazen that she murdered a black man with no thought." Adding that there can be "no excuse for her incompetence…."
Toshira Garraway, the founder of Families Supporting Families Against Police Violence, the organization that sponsored the press conference said, "We are standing here today in solidarity as families demanding justice for Daunte Wright and all stolen lives." As she introduced each family member the raw emotion of the loss of her fiancé and son's father to police violence in 2009 was palpable. She greeted each family member with a long embrace as they came to the podium. Words of love for their sons along with their pain and anger filled the room.
One of the family members who spoke was Tahisha Williams, the mother of Courtney Williams, who was killed by officers of the Minneapolis Police Department in 2004. Courtney was just 15. Allegations that he had a pellet gun were later disproved according to details on a list of stolen lives compiled by Communities United Against Police Brutality, a Minneapolis-based organization.
Tahisha's presence showed that a mother cannot forget and cannot stop seeking justice. "I come here today to stand in solidarity with Katie. For everything she's going through. I've been through," she said. Also attending the press conference were the mothers of Philando Castile, Jefferds Smith, and Hardel Sherrell who died at the hands of law enforcement, as well as a distant relative of Emmett Till.
Civil Rights attorney Ben Crump, who represented the George Floyd family, along with Minneapolis attorney Jeff Storms are representing the Wright family. Storms, who attended the press conference, set a high bar for the state of Minnesota to reckon with the scourge of police violence and the killing of unarmed black men.
"I think what's really hard for anyone in the public to grasp is just the deep level of grieving and trauma that continues to pour on these families. When they know that there wasn't at least a legitimate investigation and legitimate attempts towards justice for their loved one." Minnesota is once again, "going to be tested with respect to its values and ethics," he added.