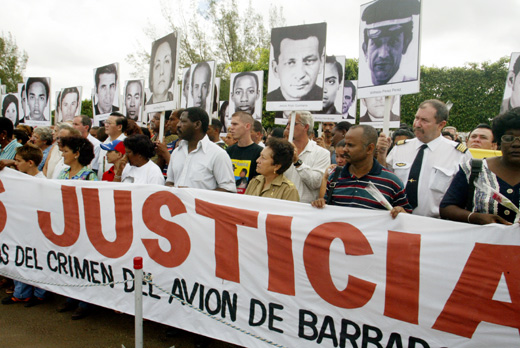 On Monday January 10, the trial of Luis Posada Carriles began in the federal courthouse in El Paso, Texas. Posada is seen in most of Latin America as a terrorist, responsible for many deaths. He is credibly accused of masterminding the bombing of a Cuban airliner in Barbados in 1976, an act in which 73 passengers and crew died, including the whole Cuban junior Olympic fencing team. Yet he is only being tried on two counts of perjury, one of obstruction of justice, one of naturalization fraud and seven of lying to immigration authorities.
Coming to the United States after the 1959 Cuban Revolution, Posada (now 82) helped organize the unsuccessful 1961 Bay of Pigs invasion and, in the 1960s, was trained in methods of terrorism at School of the Americas in Georgia. Soon Posada became a major CIA asset in Latin America. In 1968 Posada moved to Venezuela where he obtained citizenship and headed the Venezuelan political police. He lost that job in 1974, but he reportedly retained his formal ties to the CIA until at least 1976.
In Venezuela, he worked with Orlando Bosch and other Cuban exiles in the plot to blow up the airliner. Venezuelan authorities arrested Posada and Bosch, but they were acquitted by a military court. They escaped in 1985 while awaiting another trial that was based on the prosecutors' appeal.
Posada then settled in El Salvador. In the 1980s, is known to have played a major role as a gunrunner in the bloody Contra wars in Nicaragua.
In 1997 Posada masterminded bombings in Cuba which killed an Italian tourist. Raul Ernesto Cruz Leon, a Salvadoran Posada operative, was captured by Cuban authorities, confessed the crime and is serving a long prison term. Last July, another Salvadoran, Francisco Chavez Abarca, was tried in Cuba and found guilty of planning terrorist acts. He confirmed Posada's relationship to the 1997 bombing campaign.
In November 2000, Posada and three associates were arrested in Panama with massive quantities of explosives with which they evidently intended to blow up an auditorium at the University of Panama while Cuban President Fidel Castro was speaking. They were convicted and imprisoned but in 2004, right-wing Panamanian President Mireya Moscoso pardoned them.
In 2005, Posada showed up in the United States again and requested political asylum, but was arrested. An immigration judge denied a Venezuelan extradition request on an unsupported allegation that he would be tortured there. Subsequently, Posada applied for U.S. citizenship. Based on what the U.S. government claimed were untruthful answers during his citizenship interview, Posada was again arrested for immigration violations and perjury, but U.S. District Court Judge Kathleen Cardone dismissed the initial indictment on the grounds of prosecutorial malfeasance. Cardone's decision was reversed on appeal, and the case was remanded back to her courtroom.
Meanwhile, Posada has been feted in the South Florida Cuban exile community where he has long ties to groups such as the Cuban American National Foundation, an organization dedicated to the overthrowing of the Cuban government "of Fidel Castro."
In 2009, a federal grand jury again indicted Posada for perjury and immigration violations, leading to the current trial.
Numerous documents show that the government considers Posada to be a major terrorist and a danger to national security. The unit of the Justice Department that is prosecuting him specializes in terrorism. Yet he is not being tried for any of this.
Many have questions about the proceedings. For example, Attorney Jose Pertierra, who is representing Venezuela on the case, asks why did the Justice Department wait until the last minute to request permission to gather evidence against Posada in Cuba? Could they not have anticipated that Cardone would turn them down because of this tardiness?
Posada and his allies have bragged that he and the U.S. have been fighting on the same side, and that the United States does not dare to indict him for terrorism because his long working relationship with the CIA means that he could seriously embarrass powerful people.
Speculation as to who these powerful people might be include former President George H.W. Bush, who was head of the CIA when the airline bombing was carried out; Oliver North and other figures in the Contra wars; former Florida Governor Jeb Bush; and the head of the House Foreign Affairs Committee, Ileana Ros-Lehtinen, R-Fla.
The first day of the trial was spent in jury selection. For the rest of the week, the government has been presenting evidence about Posada's background. The defense requested that evidence coming from Cuban sources be excluded, but Judge Cardone denied this. In the coming weeks, prosecution witnesses will testify.
Progressive organizations have been holding demonstrations demanding that Posada be prosecuted for terrorism, and that, in a related case, the Cuban Five be freed.
Photo: Relatives hold signs and pictures of victims at the Colon Cemetery in Havana, at a ceremony in memory of the Cubana Airlines bombing of 1976. Cubans marking the anniversary expressed frustration and sadness at the fact that Luis Posada Carriles has yet to be punished for his involvement in masterminding the crime. Jorge Rey/AP