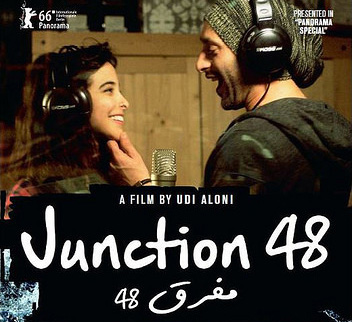 Once again the Tribeca Film Festival (TFF) offers a wide array of thought-provoking cinema. Now in its 15th year, over 6000 films were submitted, and most of the over 100 feature films chosen premiered here.
For the first time narrative features were divided between U.S. and International, and awards were given accordingly. I can't recollect when my favorites ever won the two top awards, but in this case the Best International Narrative Feature Award was given to my favorite film, Junction 48, about the Palestinian rap music scene, directed by Israeli Udi Aloni. The jury stated, "This award goes to a phenomenal, stand-out, powerful, thoughtful movie. It offers a new perspective and insightful approach to a story about how to be different and live together." Along with jurist Hany Abu-Assad's soon-to-be-released The Idol, they are the two most powerful artistic statements in film about the Palestinian reality in recent memory.
My favorite for the Best Documentary Award was Do Not Resist, which addresses the militarization of police forces in America, incorporating many intimate scenes from the Ferguson protests. The jury stated: "This film uses documentary to go deep into a world with a cinematic experience. We were excited by the directorial debut of a cinematographer who already has created a great body of work. Do Not Resist shines a light on the frightening story of the militarization of the police. In an impactful way the director uses his amazing access to look at power and force from the inside."
Along with any festival that deals with social issues, you can count on some challenges and controversies. On the first day of the festival, communication workers (CWA) began a strike against Verizon, a company that shares the building used by TFF for its offices. Presidential candidate Bernie Sanders appeared at least four times in support of the strikers, defying the CEO who tried to call him out, and the strike still goes on.
Controversy arose when the movie Vaxxed, directed by the discredited British physician Dr. Andrew Wakefield and considered an anti-vax film by its opponents, was removed from the lineup. Festival founder Robert De Niro, who first chose it then removed it, eventually went on to defend his original position of encouraging an openness for further discussion on issues raised by the film. Not surprisingly the film was picked up by another New York theater with sold-out screenings for over a week, far better than it would have done at the festival.
Last year I reviewed Autism In Love, another film on the subject that demonstrates how people with autism can still experience common emotions such as love. This year viewers were treated to a heartwarming and charming film, Life Animated, about a young autistic child named Owen who discovers a way to communicate through Disney animated films. His parents are devastated when he shows signs at 3 years old of brain damage. He stops walking and talking and withdraws from any form of communication. After many trying months they discover him reciting lines from Disney films and his mind begins to open up. The upper middle-class family (the father is a writer for Wall Street Journal) has the means to find the best treatment for their son, and he benefits greatly. The film also shows how parents are affected and tend to change their personalities and become drawn towards a more compassionate lifestyle of raising a challenging child. Owen eventually is invited to France to give a lecture on autism, and writes his own children's book and learns to draw characters from Disney's many animated films. His older "normal" brother never had a girlfriend, but hoping to introduce his brother to the joys of sex, encourages Owen to make advances toward his girlfriend who is also autistic, but she is scared off. Owen learns about pain and loss for the first time.
Another controversial film, Betting on Zero, covering the determined campaign of hedge fund millionaire Bill Ackman against the nutritional food giant Herbalife, met resistance from fans of the company. He claims it uses a pyramid scheme second only to Amway and takes advantage of especially Latino immigrants unaware of its methods. Ackman spends billions to buy short to devalue Herbalife stocks, but fails in his mission. Leafletting outside the theater during screenings complained of the film's one-sidedness and failure to interview anyone from Herbalife or its supporters to present their side.
Ads preceding each screening proclaimed how New York is the most filmed city in the world, the star of many stories. It certainly is a vital and exciting town where you can experience daily the joys and power of cinema. The Havana Film Festival New York, and a special screening of a rare activist film, Witness: Bahrain, are just two examples. But my favorite and most hopeful experience (besides the passion of youth for Bernie all over New York) was a young high school-aged boy standing in front of me on the subway train reading a copy of Lenin's State and Revolution. When I asked how he got to this point in his life he said, "I learned awhile back that everything seemed to be based on economic relations, and so I eventually read Marx's entire Das Kapital." And now he's on his way through Lenin!