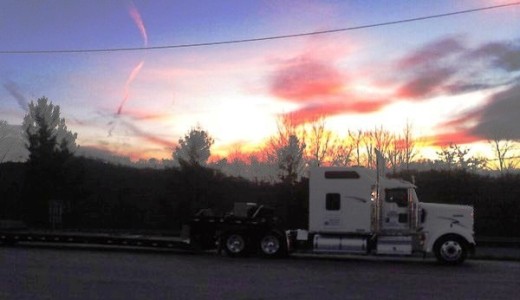 Hundreds of over-the-road truck drivers every day use the social networking site Twitter during their long down times.
One of the most influential truckers on the site is TruckerDesiree, who has 5,786 followers. She has been featured on Dan Rather's HDNet News feature "Queen of the Road" as a whistleblower on truck driving school scams – where women drivers face big dangers because of their gender – and the shoddy training these schools give to all drivers.
Desiree got her start with social media in 2008. She hooked up with another pioneer in the field, Allen Smith, a self-described trucking advocate and activist, who runs two blogs: TruthAboutTrucking.com and AskTheTrucker.com.
Smith also has an online radio show, and Twitter and Facebook pages. On his show, he covers a wide range of topics, including the Employee Free Choice Act, on which People's World labor editor John Wojcik was a speaker.
The first thing you might think is: "Driving and texting?!" In January, Transportation Secretary Ray LaHood issued a temporary ban on truckers doing texting.
Yet, in the life of over-the-road drivers, there is a lot of down time.
"Trucking is very much hurry up and wait. You go to shippers and sometimes it's a one hour wait, and sometimes it's 14 hours," Desiree says.
It's during those wait times when she does her tweets. "Social media is really good, if you're responsible with it," she says.
An advocate of alternative energy and political action to make truckers' lives safer, Desiree has tweeted about state and federal legislation that could help truck drivers. When the state of Virginia closed highway rest stops last year to save budget money, Desiree urged her followers to voice opposition to the move.
(She also tweets about life on the road, and the job she loves. Sometimes the tweets are history lessons – like when she visited George Washington Carver's boyhood home in Diamond, Mo.)
Safe rest stops are a big issue for truck drivers and their families. Truckers are involved in an online campaign to pass a federal law addressing this issue.
Last year, 35-year-old Jason Rivenburg of New York State had to find a place to wait before he could bring in a load to his South Carolina destination. He stopped to wait at an abandoned gas station that was said to be safe. It was just 12 miles away from his destination.
But Rivenburg wasn't safe. He was shot and killed during a robbery – he had $7 dollars on him. Rivenburg's widow, Hope, was pregnant with twins at the time. And they had a two-year-old son as well.
In her husband's honor, and to help protect other drivers, Hope started an online campaign to pass Jason's Law, which would federally fund the expansion of parking options for commercial vehicles on the nation's highway system.
The bipartisan bill, HR 2156, introduced by Rivenburg's congressman, Rep. Paul Tonko, D-N.Y., has 39 co-sponsors. New York's senior senator, Chuck Schumer, introduced the companion bill into the Senate, S 971. The 1.4-million-member Teamsters union also supports the law's passage. (Find them on Twitter at TeamsterPower.)
Desiree says Jason's Law should be taking off in a big way. "Hope's press conference last month in D.C. helped to break through," she said. But the trucking industry isn't giving the law its full support, she notes, suggesting that their actions need to match their press releases.
The trucking industry has a stranglehold on most trucking-related news, she says, which is why social media are important.
Last year, the mass media and trucking industry leaders totally ignored the abandonment of Arrow truck drivers until they started seeing all the tweets and Facebook posts by supporters on Google, Desiree said.
The same can be said for the issue that Desiree is most concerned with – the industry's tacit approval of harassment of women drivers.
She says truck driving schools recruit women, but they, and the rest of the industry, do nothing to keep them safe.
Women recruits are subject to trainers or co-drivers who are predators who tell you, "No sex, no pass," she says. "There has to be conduct training and accountability from the trucking industry."
"Women get very little recognition," Desiree says. "Right now the industry is trying to cultivate veterans and women veterans. But the way the industry treats women is pitiful," She has a web site, RealWomenInTrucking, which provides resources and a place for women drivers to help themselves overcome hurdles they face on the road.
Desiree says the truck driving schools "suck government money," exploit cheap labor and look for the most "downtrodden" people they can find, just to get a government check
"They recruit about 20 percent women but only 5-6 percent stay." Out of the 100 people in her class, she said, just two are still driving.
"I'd bring up these issues in trucking industry forums, but they would browbeat you for bringing them up. With Twitter, they couldn't stop me."
Photo: Desiree took a photo of her truck at a stop during her run through Virginia and West Virginia, and she uploaded it to TwitPic from her beloved Palm Treo. She says Twitter and her Palm changed her life. http://twitpic.com/1dqfii