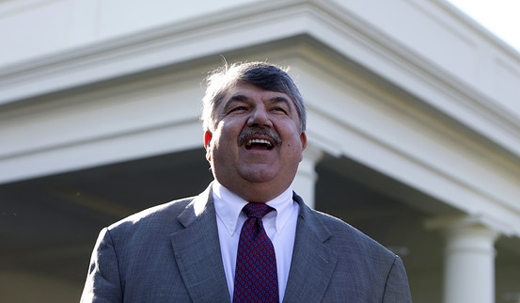 WASHINGTON – An AFL-CIO endorsement for the Democratic presidential nomination is "unlikely" before the first two state presidential contests in 2016, the Iowa caucuses and the New Hampshire primary, federation President Richard Trumka says.
In a private invitation-only breakfast on Sept. 1 sponsored by the Christian Science Monitor, Trumka praised both top Democratic contenders, plus Vice President Joseph Biden, while blasting the Republican frontrunner, business mogul Donald Trump, as a racist.
Traditionally, the AFL-CIO does not endorse a candidate until leaders of unions representing two-thirds of its members vote to do so. In past years, such a decision has often come in late winter, including at federation Executive Council meetings. The 2016 winter council meeting will be in February in San Diego.
So far, three unions have made endorsements: The Teachers and the Machinists support former Secretary of State Hillary Clinton, who is leading in the polls, and National Nurses United backs her current main challenger, Sen. Bernie Sanders, Ind.-Vt., who is running in the Democratic primaries.
At the breakfast, Trumka praised Clinton, Biden – who is pondering whether to join the race – and Sanders. "I think he's connecting," Trumka said of Sanders, noting the Vermonter "has a unique and genuine way" of discussing issues, especially income inequality. Trumka praised Clinton's record but said she must energize workers. She could "catch fire," he added.
Trumka said he met privately with Biden in late August, and plans to march with Biden in Pittsburgh's Labor Day parade on Sept. 7. He also praised the vice president as a workers' champion. Biden has a difficult decision about joining the race, facing questions if he could quickly build an organization, and raise money, as well as family considerations. His eldest son, Beau, a rising political star, died earlier this year of cancer, devastating the Bidens.
Trumka was caustic about Trump's constant anti-immigrant and anti-Latino stands. But he also criticized two other GOP hopefuls, Gov. Chris Christie (N.J.) and former Gov. Jeb Bush (Fla.) for recent anti-immigrant comments. Bush complained about "anchor babies" born to undocumented people. Christie said immigrants could be tracked with bar codes, like FedEx packages, and deported.
The AFL-CIO is a leading proponent of comprehensive immigration reform, including legalizing undocumented workers. That would lessen their exploitation, and the ability of venal, vicious employers to threaten native workers with firings in favor of hiring the undocumented.
"When the leading" hopeful "for one of the parties talks in an un-American, racist way, it starts to become mainstream. Racism can never become mainstream," Trumka said of Trump, in remarks later posted on nationwide video. "He only refers to people south of the border. That's un-American, that's dangerous." In six months, "the country will suffer the scars from this, unless somebody calls them out on it."
Photo: Richard Trumka. | Carolyn Kaster/AP