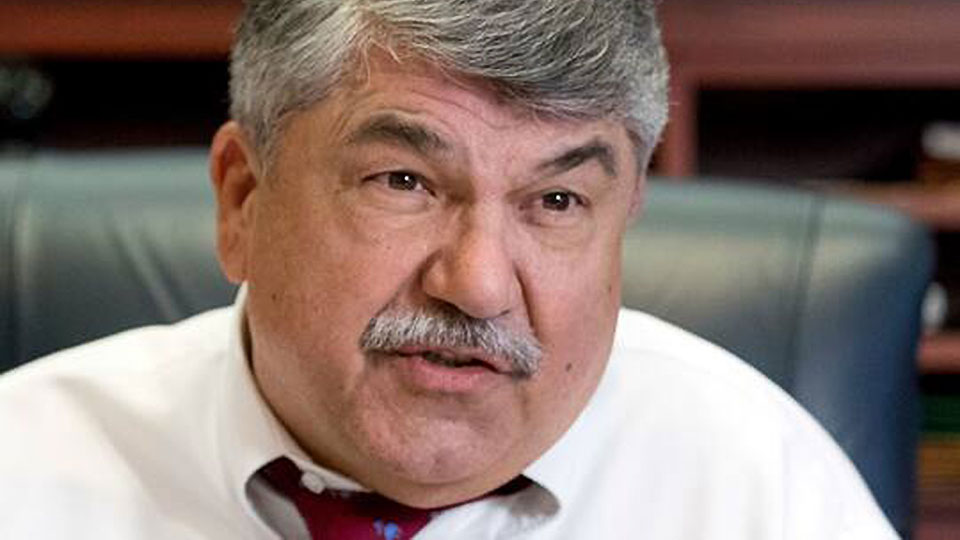 WASHINGTON—The U.S. Supreme Court's 6-3 ruling–on party lines—threatening farm workers' right to organize in Californian fields, is bad for the workers, says AFL-CIO President Richard Trumka.
But it could have been worse, he adds.
That's because what the right-wingers who joined the case at the High Court really wanted was to get the justices to bar not just union organizers but to let owners and bosses bar anyone and everyone—including government health, safety, and workplace inspectors–from their property whenever they want as an illegal "taking" of property rights.
The ideologues who sought that huge ban didn't get it, the GOP-named majority's opinion, written by Chief Justice John Roberts, says. Trumka, who has a law degree, agreed.
The farm labor case was one of two important rulings the justices handed down on June 23 as they raced to finish their work by the end of the month. In the other, involving the nation's schools, the justices said school boards have a carefully defined right to regulate off-campus speech—especially on social media—by students. But otherwise, students have full First Amendment free speech rights.
A Pennsylvania school board several years ago suspended Brandi Levi from cheerleading for a year after her expletive-filled social media rant for being passed over for promotion to the varsity in favor of a first-year student.
The justices sided with Levi, whose free speech rights were defended by the ACLU, on the general principle. They said school boards have limited power to regulate student off-campus speech, in the interests of safety and school security, such as preventing bullying and defusing confrontations.
But that's all, Justice Stephen Breyer wrote in the 8-1 decision. He also said that in Levi's case, the year-long ban was too harsh and violated her right to free speech. Breyer cautioned the appellate court's decision for Levi went too far, too. That court said the board's right to silence Levi stopped at the schoolhouse door.
The National Education Association filed an amicus brief with the court but did not side with either party in the case. They issued a press statement after the ruling came down. The ruling affects the rights of 50 million public school students.
The California case, Cedar Point Nursery v. Hassid, pitted two growers against the state Agricultural Labor Relations Board, which regulates worker-boss relations, including union organizing, in the Golden State's huge agricultural industry.
Elsewhere, in a racist relic from 1935, farm workers, who then as now had a large proportion of Spanish-speakers, are not covered by labor law and lack the right to organize.
In California, they have that right. The problem for the United Farm Workers, which was trying to unionize workers at the two farms, was the only place organizers could contact them was while they were on lunch breaks and physically in the farmers' fields.
The state board gave organizers that right, but set strict limits on it, of only a few hours a week during growing season. That didn't stop the farms from challenging its rules as an unconstitutional "taking" of their property right—specifically their right to ban outsider access.
Then the radical right interests broadened the case by urging the justices to ban any access by anyone—union organizers, government inspectors, even cable TV servicers–bosses or owners don't want. Their access would be an unconstitutional "taking" of property rights without just compensation, to use the U.S. Constitution's language. Banning "takings" is a favorite rightist cause.
The growers won on the specifics, and Trumka criticized that.
"We are deeply disappointed the court reversed a decades-old rule that allowed farm workers to exercise their fundamental right to organize at the location where they work as an unconstitutional 'taking,' of their employers' property," he said.
"As California recognized more than 45 years ago, meeting with the union during off-hours at their workplace is the only practical way for workers to organize when they must regularly move from farm to farm throughout the growing season. The AFL-CIO will do everything in our power to help California farmworkers find other pathways to exercise their right to form a union to gain a voice at work and ensure safe and healthy working conditions."
Then he hailed the justices for unanimously rejecting "employers' most radical arguments, which would have severely undermined crucial health and safety protections as well as long-established access rights under the National Labor Relations Act." But Trumka warned the court's GOP-named majority "grudgingly" approved that rejection.
In a friend-of-the-court brief, the Service Employees had blown the whistle on the dangers of the right's overarching stand. And Roberts didn't grant the right's wish.
"Many government-authorized physical invasions will not amount to takings because they are consistent with longstanding background restrictions on property rights," Roberts wrote. Citing a prior decision, he added: "The government does not take a property interest when it merely asserts a 'pre-existing limitation upon the landowner's title.'"
That includes "common-law privileges to access private property," notably "in the event of public or private necessity," such as law enforcement. "Government searches that are consistent with the Fourth Amendment and state law cannot be said to take any property right from landowners."
Justice Stephen Breyer, leading the three Democratic-named dissenters, said the larger threat still exists.
"Our prior cases make clear the regulation before us allows only a tem­porary invasion of a landowner's property and that this kind of temporary invasion amounts to a taking only if it goes 'too far,' he wrote.
"In my view, the majority's conclusion threatens to make many ordinary forms of regulation unusually complex or impractical. And though the majority attempts to create exceptions to nar­row its rule, the law's need for feasibility suggests the majority's framework is wrong."