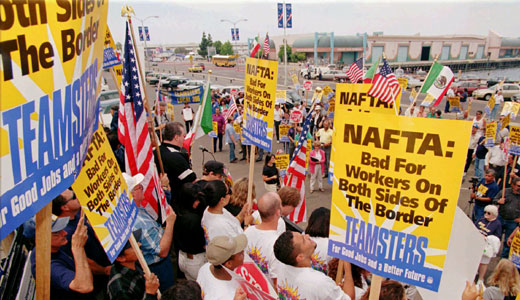 WASHINGTON – Mexico, the large U.S. trading partner and southern neighbor, is on a path of "low-wage development," including weakening its labor law and oppressing independent unions, AFL-CIO President Richard Trumka says.
Those issues should have been among the top topics when President Obama met with Mexican President-Elect Enrique Pena Nieto at the White House on Nov. 28, Trumka added. But they weren't.
At least according to media reports on the White House meeting, workers' rights went unmentioned. The presidents discussed increasing employment on both sides of the border but there were no reports that they talked about the quality of the jobs both say they want their economies to create.
And the closeness of the two governments was re-emphasized on Dec. 1 when Vice President Joseph Biden and Labor Secretary Hilda Solis headed the U.S. delegation to Pena Nieto's inauguration.
The Obama-Pena Nieto meeting and workers' rights in Mexico are important to U.S. workers. Ever since NAFTA, the U.S.-Canada-Mexico (North American) "free trade" pact passed 15 years ago, U.S. firms have decamped for Mexico to make products for shipment back here. Mexico's low wages, lax environmental rules and the pro-corporate policies of its presidents attracted companies, and hundreds of thousands of U.S. workers lost jobs. The deal damages the Mexican economy too, forcing many to leave the country and emigrate to the U.S. in search of a better life.
The Mexican government aids its industrialists by harassing and trying to co-opt the few independent unions and weakening its labor law, Trumka said. Mexico's longtime large official union confederation worked hand-in-glove for decades with Pena Nieto's Institutional Revolutionary Party, which ruled Mexico from 1929-2000.
"The fundamental right of workers to democratically organize and bargain with their employers is central to achieving the 'economic competitiveness' Obama and Nieto seek," Trumka said. "The Mexican government's continuing attacks on these rights greatly reduces protections for Mexico's most vulnerable workers and is of grave concern."
Among the attacks on workers cited by Trumka is Mexico's new labor law, passed Nov. 13, which, according to the U.S. labor leader, "limits seniority, weakens remedies for unjust dismissal and promotes subcontracting, temporary contracts and payment by the hour. This legislation reflects an overly simplistic view of 'economic competitiveness' as simply the reduction of labor costs." He also noted the Mexican Supreme Court recently weakened the right to strike.
The outgoing Mexican government drove a top independent union leader, President Napoleon Gomez Urrutia of the Mine, Metal and Steelworkers, into exile on trumped-up charges of fraud. The United Steelworkers are sheltering Gomez Urrutia in Vancouver, British Colombia.
Trumka noted five Mexican appellate courts have ruled for Gomez Urrutia and his union against the government's attempt to break it. Meanwhile, the Mexican government has "increased use of repression through direct use of security forces to undermine workers' organizing campaigns."
The Mexican government is also defying an Oct. 9 court ruling for Mexico's independent electrical workers union and its 44,000 members. They were illegally fired three years ago when the government dissolved the state-owned power company by decree. The court ruled the workers' individual contracts and the union's contract with the power company still should be in effect, Trumka said.
"All of these examples, along with many more well-documented cases, demonstrate Mexico is continuing to pursue a path of low-wage development. Far from achieving competitiveness, security, or respect for the rule of law, this path is exacerbating economic marginalization and insecurity for a large part of the workforce while systematically violating international labor standards," Trumka concluded.
Photo: Some 200+ Teamsters protest NAFTA trucking regulations. Denis Poroy/AP