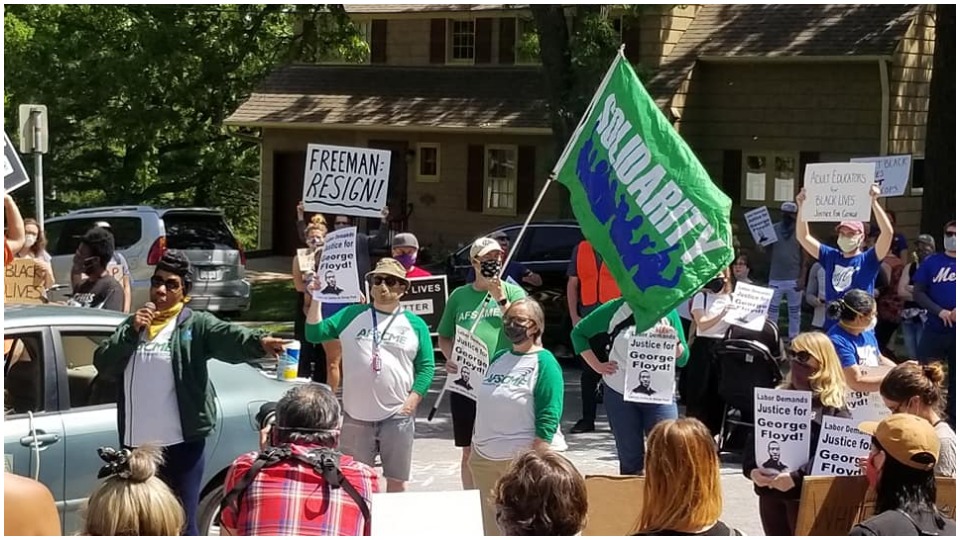 WASHINGTON—Declaring that working people are saying, "We've had enough," AFL-CIO President Richard Trumka said unions will continue the fight to root out systemic racism in the U.S.
In a 77-minute Zoom telecast on June 3, Trumka and other labor leaders—AFSCME President Lee Saunders, Teachers (AFT) President Randi Weingarten, IBEW President Lonnie Stephenson, Painters President Ken Rigmaiden, Unite Here President D. Taylor, and two Unite Here regional leaders—laid blame for that racism at the feet of U.S. history and U.S. politicians.
And most said the fight to tackle racism must include key moves at the ballot box this fall, starting with the ouster of GOP President Donald Trump and his congressional enablers.
Trumka added that corporations are responsible for racism, too. They take advantage of racial divisions and animosities, Rigmaiden said.
After declaring workers and others "must come together and call out oppression," the Painters chief added: "The U.S. is built on an economic system that thrives on dividing us by race, gender, sexual orientation, and immigration status. The wealthy thrive while we struggle.
"The only path to a just and more equitable society is through struggle," he stated.
"Our labor movement" will play a leading role in the anti-racist movement, Trumka declared, "because protesting racial brutality, whether at the hands of a police officer, or a neighbor, or an employer, is not only the right cause. It's a responsibility," Trumka said.
"A racist society means workers of color are sent into unsafe workplaces by employers and a government that literally does not see them," he declared.
"A racist society means millions are left jobless and uninsured when neither had to happen," he added, referring to the more than 40 million people thrown onto U.S. jobless rolls since declaration of the coronavirus pandemic in mid-March and subsequent closures and a depression, designed to stop "community spread" of the virus.
The depression, the closures, and the pandemic itself—which has infected over 1.8 million people in the U.S. and killed more than 107,000—has also disproportionately affected people of color, be they Black, brown, or Native American.
Trumka convened the session after more than a week of mostly peaceful protests against systemic racism that has scarred the U.S. for 401 years, especially targeting African Americans. The racism came into sharp focus when videos showed Minneapolis police officer Derek Chauvin murdering 46-year-old George Floyd on May 25 while three other officers looked on and did nothing.
Chauvin kneed a handcuffed, unresisting Floyd in the neck for more than eight minutes, disregarding his gasps of "I can't breathe" and demands from bystanders that he stop. The unconscious Floyd was taken to a hospital where he was pronounced dead.
The four officers were fired and Chauvin was initially charged with third-degree murder, but on June 3 Minnesota Attorney General Keith Ellison, ordered to take over the case, upgraded the charge to second-degree murder. Ellison also charged the other three with aiding and abetting second-degree murder. If convicted, each would face up to 40 years in prison.
Floyd's murder, following those of other unarmed African Americans at the hands of police, has sent hundreds of thousands of peaceful demonstrators into the streets from coast to coast denouncing and demanding an end to systemic racism in general and such police violence in particular.
But right-wing white supremacists and anarchists have infiltrated the protests, causing mayhem—torching buildings, smashing windows, overturning cars, and so on—in Pittsburgh, D.C., and elsewhere, prompting a militarized response from law enforcement agencies and the Trump administration.
Trump and his allies haven't tackled the racism, instead turning federal police agencies against local peaceful demonstrators. Trump also prepared to call out the Army to police the streets of U.S. cities. But his own Defense Secretary Mark Esper, used as a prop for a Trump photo-op after D.C. protesters were tear-gassed on June 1, now refuses to obey Trump's command.
Trump is wrong on all counts, Trumka and the other union leaders said. His ouster at the ballot box this fall is now an imperative, they declared. But it's only a start, they added. And they promised the labor movement would lead the fight against systemic racism, for as long as it takes.
Quoting famous African-American union leader A. Philip Randolph, Trumka added: "Justice is never given, it's exacted. And freedom is never a final fact, but a continuing evolving process." Unions and unionists, he declared, must push that evolution.
"Black lives matter. Black lives matter. Here's what shouldn't matter: What your race is, where you were born, whether you were documented, or what your gender identity is. Or what your sexual orientation is. None of that matters because we are all children of God."
Weingarten, wearing a white-on-black "Repair the world" T-shirt—a tenet of Reform Judaism—declared unionists and the rest of us must combat the three crises of racism, economic depression, and the coronavirus simultaneously. They're all intertwined, she explained.
They're also to a great extent the responsibility of Trump, she added. "These all have been made worse by a president who refuses to listen and learn," the New York City civics teacher said.
Stevenson was just as caustic: "We need a leader that will listen to those voices" of Black and brown people who have been degraded for decades "and do something about it—instead of having a photo-op and bragging about his right to bring in our military against our citizens."
Indeed, Trump's performance on racism is so bad that Weingarten called for an independent Justice Department investigation of recent police murders, free from the influence of Trump or his attorney general, William Barr, who was also part of Trump's June 1 photo-op.
"All three (crises) run through a line of inequality that affects people of color…disproportionately," Weingarten explained. "We need to focus on justice for George Floyd and all the others murdered because of the color of their skin."
Saunders and Stephenson concentrated on mobilizing people between now and Election Day to register, vote, and overwhelm Trump and his enablers at the polls.
Trumka lauded two positive steps in that political struggle. One was the call by the Minnesota Federation of Labor and allied unions for the ouster of Bob Kroll, the openly racist and vicious president of the Minneapolis Police Officers Federation, which is not a union.
The other was the 46-36% win in the June 2 Iowa GOP primary by State Sen. Randy Feenstra over the party's most-openly racist lawmaker, nine-term Rep. Steve King. GOP leaders abandoned King in 2019.
North America's Building Trades cheered King's loss, too, because he's the prime sponsor of two key GOP causes, a national right-to-work law and repeal of the Davis-Bacon Act, which guarantees decent wages for workers on publicly funded construction projects.
While agreeing with his colleagues about the need to root out racism nationwide, Unite Here's Taylor reminded viewers, and them, that often organized labor has been part of the problem, not the solution. He said unions must make a concerted effort to promote, push forward, and elect leaders of color.
The AFL-CIO has taken some steps in that direction, but top union leadership is still overwhelmingly white and male, even at unions—from locals up to internationals—which are majority people of color.
Like free stuff? So do we. Here at People's World, we believe strongly in the mission of keeping the labor and democratic movements informed so they are prepared for the struggle. But we need your help. While our content is free for readers (something we are proud of) it takes money — a lot of it — to produce and cover the stories you see in our pages. Only you, our readers and supporters, can keep us going. Only you can make sure we keep the news that matters free of paywalls and advertisements. If you enjoy reading People's World and the stories we bring you, support our work by becoming a $5 monthly sustainer today.