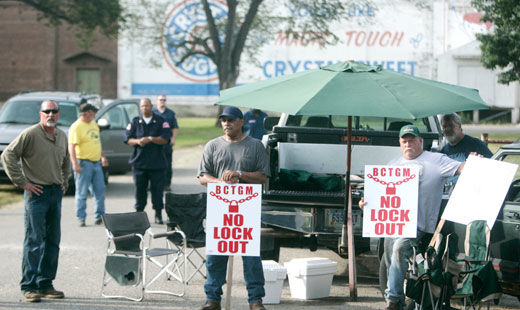 ST. PAUL, Minn. – Calling American Crystal Sugar "a poster child for corporate greed," AFL-CIO President Richard Trumka announced the labor movement will escalate the campaign to push for an end to the company's year-long lockout of 1,300 workers, members of the Bakery, Confectionery, Tobacco, and Grain Millers.
"Generations of families worked to make American Crystal Sugar a profitable and productive producer of sugar," Trumka told a July 25 news conference in St. Paul. "This abysmal display shows total disregard for those employees and the community who made Crystal Sugar a well renowned brand and a leader" in U.S. sugar production.
For decades, members of BCTGM locals across the Red River Valley worked with the firm's farmer members and company management to help the industry prosper. But on Aug. 1, 2011, the firm locked out workers at seven facilities in Minnesota, North Dakota, and Iowa.
The lockout occurred after BCTGM members had rejected a contract offer that they said threatened the future of jobs in their communities. In a recent vote, they rejected it again.
Trumka pledged the ongoing support and coordination of efforts with the union to put a spotlight on the firm's actions. He was not specific.
Photo: Security guards block the entrance to locked out employees at American Crystal Sugar in Mason City, Iowa, Aug. 1. (Arian Schuessler/The Globe Gazette/AP)