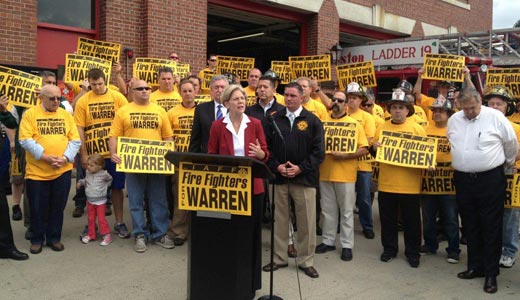 BOSTON – Using unusually strong language, AFL-CIO President Richard Trumka waded into the neck-and-neck Massachusetts U.S. Senate race between 2-year incumbent Scott Brown, Republican, and Democratic nominee Elizabeth Warren, by telling his peers – white working-class men – not to oppose Warren just because she's female, or because she's a Harvard professor, or for other "superficial reasons."
Trumka compared Warren's problems with the male voters to those that then-Democratic presidential nominee Barack Obama had with the same group four years ago. Then, Trumka took on the race factor head-on in a speech to the Steelworkers. This time, it's gender and elitism.
"We have a problem because some voters-and let me be perfectly honest, I'm talking about voters who look just like me-have not stood up beside Elizabeth Warren to support her," he told labor campaign workers on Sept. 24 in Boston.
"Listen to me closely. I've said before that there are dozens of good reasons to vote for Barack Obama and one bad reason not to-and that's because he's black.
"Now hear me about Elizabeth Warren. I've said there are dozens of good reasons to vote for Elizabeth Warren…. But it's crazy not to vote for her because she's a woman, or because she's a college professor, or for any other superficial reason."
Trumka's remarks are an indication of the importance the labor attaches to the Brown-Warren race for the seat held for 46 years by the late Democratic Sen. Edward M. Kennedy, a long-time labor champion.
With Obama expected to easily carry Massachusetts – Romney's present home state – the Brown-Warren matchup is the marquee race there. It's also viewed as vital for keeping Democratic U.S. Senate control. It's so vital that Massachusetts is one of labor's eight top-targeted states this fall.
Trumka also warned workers not to be fooled by Brown's workingclass imagery, his past record in the state legislature – or his pickup truck.
"The other bad reason to vote against her is because Scott Brown comes across like the guy some of you supported years ago… Let me be perfectly frank with you – that's not the Scott Brown who's serving in Washington today. The new Scott Brown votes every time with the 1% and the Tea Party.
"This is serious, because the election hangs in the balance. You will make the difference. You have the responsibility today to have this tough conversation with your members-to educate your members. And I know you've started already, because the numbers are beginning to move in the right direction, but we've got a long ways to go and not a lot of time to get there," he added, referring to polls showing a tied race.
One nominee, Warren, will fight for jobs, for project labor agreements, for factory workers, for reining in Wall Street speculators, for the Davis-Bacon Act's prevailing wage guarantees, for the right to unionize, and for infrastructure, Trumka said.
"We've got to ask ourselves: What do we want? Do we want jobs? Do we want to be back at the worksite, back at the plant, back on the construction site earning a good living?"
Trumka admitted Brown comes across as "a buddy who'll pat us on the back" and "who wears a Bruins jersey with the boys."
But he's really "just another Wall Street lawmaker-bought and sold," Trumka said. "Scott Brown thinks his pickup truck will make you forget that he votes against you and your family not once, not twice, but every single time."
AFL-CIO interim voting records for 2012 show that on nine key votes this year, Brown agreed with labor only three times. His few pro-labor votes, however, were enough to give him the second-best score among Republicans, behind Maine's Susan Collins and Olympia Snowe, who voted with labor four times.
Brown's 2012 pro-worker votes were for the two-year highway-mass transit infrastructure bill, for denying tax deductions to outsourcers and against extending all current tax cuts, including the Bush tax cuts for the rich.
"Scott Brown thinks he can win big by calling Elizabeth Warren an elitist. Why? Because she teaches college? Hell, she teaches college because she's smart, and she works hard!" Trumka declared.
"Scott Brown may pretend that he's no Tea Partier, but don't believe a word of it. Scott Brown is up to an old game: He's trying to divide us to conquer us. Listen, Scott Brown is no candidate for working families. Scott Brown is a fake and a fraud.
"I'm sick of it. Democrats aren't perfect. Who is? Far from it. But I've said it before and I'll say it again: Elizabeth Warren is an honest woman who'll fight for working people. She'll fight for your jobs. She'll protect your pensions. She'll fight to rebuild the American Dream. She'll fight for your hometown and my hometown. And she'll do it every single day."
Photo: From Elizabeth Warren's Facebook page.