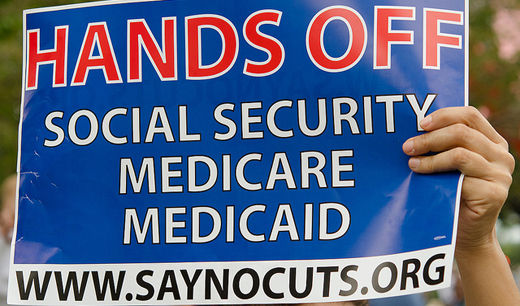 LAS VEGAS – AFL-CIO President Richard Trumka has put lawmakers on notice to stick by Social Security, Medicare and Medicaid or face labor opposition at the polls next year.
His Oct. 21 speech to the International Federation of Employee Benefit Plans in Las Vegas was directed at both parties, but with a special warning for the Democrats.
His warning is notable because some Democrats, including President Obama, have at least hinted they favor changing the way Social Security benefits are calculated by linking annual cost-of-living increases to the "chained CPI," rather than the previous year's rise in the regular Consumer Price Index.
The chained CPI, which assumes consumers substitute lower-priced goods when necessary, would cost each recipient thousands of dollars in the years after age 65. The AFL-CIO and the labor-backed Alliance for Retired Americans completely oppose chained CPI. The GOP favors the chained CPI and raising the retirement age, too.
Democrats who follow that path will suffer at the polls, Trumka predicted.
"We saw one of the strangest episodes in politics draw to a close when politicians of both parties voted to re-open the federal government after more than two weeks of closure and to pay the debts our government has already incurred," he said.
"Yet while our Democratic leaders move forward and Republicans regroup, I've got a sinking feeling too many politicians are ready to put the hurt on regular working people, on America's entire middle class and working class — which is pretty much all of us," he warned.
"And let me just say this one for the record: No politician — I don't care the political party — will get away with cutting Social Security, Medicare or Medicaid benefits. Don't try it. And this warning goes double for Democrats. We will never forget. We will never forgive. And we will never stop working to end your career."
Trumka said the budget impasse occurred for the same reason that political leaders – whom he did not name – attack workers' pay and pensions. They and their constituents "are gripped by fear," he said. Labor and its pension fund trustees should move in the other direction, he said, and not fall victim to those same irrational fears.
Instead, they should "review and update investment policies to address social,
environmental and governance issues. Our pension funds need sustainable long-term
returns and our economy needs patient responsibly invested capital for long-term prosperity," he said. He promised the fed "would develop model policy language on responsible investing" for unions, pension funds and others. "Our economy needs patient money for things like roads and bridges," and other job-creating infrastructure.
On another issue, Trumka defended the Affordable Care Act, but reiterated it needs fixes, particularly in its treatment of multi-employer health care plans. An Obama administration interpretation of the act's provisions threatens those plans with different – and worse – financial treatment than private insurers get.
Many unions raised that issue at the AFL-CIO Convention in Los Angeles, saying the multi-employer plans may be forced out of business, leaving 20 million people uncovered. Trumka said he's been in constant talks with the White House on the issue.
"I give you my word that we're fighting for a level playing field for the health funds of working people. This is one of my top priorities and we're going to keep talking with the federal agencies and the White House and Congress regarding the implementation of the Affordable Care Act until we get what we want and need, period," he said.
Photo: Fifth World Art/Flickr