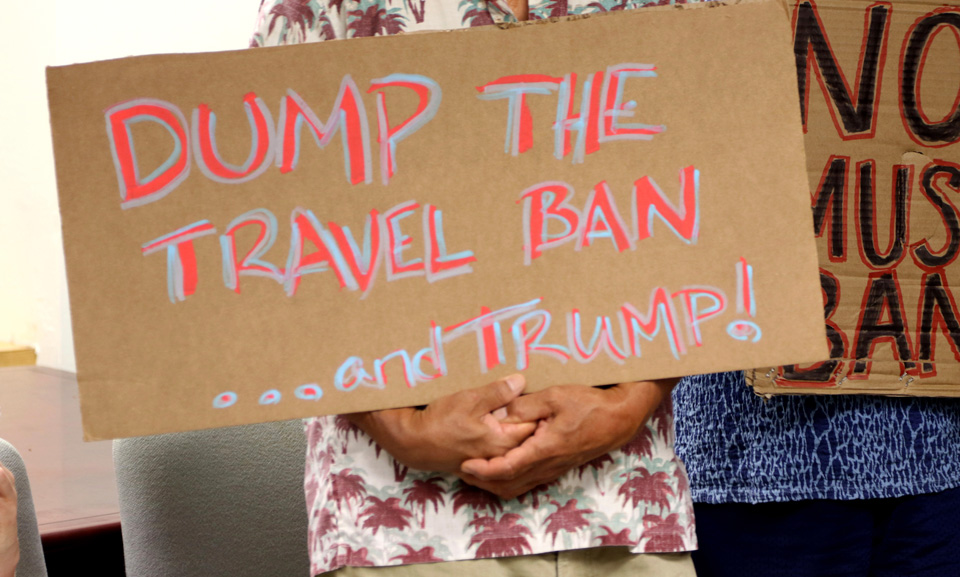 The Trump administration quietly urged the Supreme Court Thursday, August 10 to dismiss, without a decision, two cases challenging Trump's March 6 travel ban executive order. The administration maintains that the executive order limiting the entry of travelers from six majority Muslim nations is not a "Muslim ban."
The two cases named in the administration's brief are International Refugee Assistance Project v. Donald J. Trump and State of Hawaii v Donald J. Trump.  The 84-page brief is the first to be filed with the Justices, who agreed in late June to review the legality of the March 6 travel ban order.
The administration's argument comes down to three points:
— That no one among the challengers can show that they are being harmed or will suffer harm from the executive order. Therefore, the lower courts had no legal basis and their decisions should be reversed.
—That the federal appeals court's ruling that the executive order was an unconstitutional form of religious discrimination, and went beyond presidential authority under federal immigration laws is an offense to the executive by second-guessing the motives of the president by accusing Trump of "bias against a one of the world's major religions."
— And that Supreme Court legal precedent shows that the courts are ill-equipped to second-guess the executive office in its use of power granted by Congress to decide which foreign nationals can be barred from entry into the U.S.
The brief also asks the Supreme Court not to allow lower courts to use statements made by Trump, during his campaign for president, when considering the immigration ban. It claims that those statements do not reflect the views Trump currently holds after taking the oath of office.
"Allowing consideration of campaign statements also has no rational limit raising questions about whether courts may consider statements from a previous campaign or from a previous business conferences, or from college," reads the brief. "That approach also threatens to chill campaign speech, to which our most basic free speech principles have their fullest and most urgent application."
During the 2016 presidential campaign, Trump frequently made public statements against Islam and immigration.
Speaking at a rally December 7, 2015, he said, "Donald J. Trump is calling for a total and complete shutdown of Muslims entering the United States until our country's representatives can figure out what is going on. According to Pew Research, among others, there is great hatred towards Americans by large segments of the Muslim population."
Oral arguments are scheduled October 10, and the Justices will decide the legality of the 90-day travel ban affecting travelers from six majority Muslim nations and the 120-day ban on refugees entering the U.S.