All eyes were on the Mercedes-Benz Stadium in Atlanta Georgia Monday night, as No. 4 Alabama Crimson Tide (12-1) took on No. 3 Georgia Bulldogs (13-1) in the 2018 College Football Playoff National Championship game.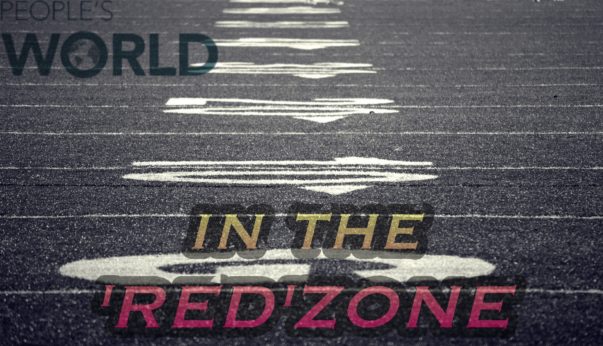 But we'll get back to that later.
The bigger story here is not Kendrick Lamar's halftime show—which was an excellent performance—but Donald Trump's attendance at last night's game.
Last time I checked, Trump has never been a football fan, and most recently he has tweeted up a storm complaining about NFL players taking a knee to protest police violence against African Americans—going as far as calling them "sons of bitches."
In fact, Trump's only relationship with the sport—after failing to buy an NFL team—was buying the New Jersey Generals football team, then part of the short-lived United States Football League.
After playing three mediocre seasons, he sued the NFL.
And even though they technically won the lawsuit, there were no mergers with the NFL and no buyouts. By 1986, the USFL collapsed.
So why was he in Atlanta?
Officially: Trump took his southern tour to promote his tax overhaul as a benefit to American farmers, speaking at a meeting of the American Farm Bureau Federation in Nashville.
Unofficially: Because he loves to stir up and become the center of controversy. And what better way to do that than to attend a football game in a city he called "crime infested"?
As game day approached, Atlanta activists and the Atlanta NAACP called for demonstrations against Trump's visit.
"Trump has made a terrible decision and is disrupting [the game] with his presence," the NAACP's local chapter said in a Facebook post on Sunday. "We respect those who choose to do so, and we fully expect some groups who will be protesting outside the game."
At 7:00pm, around 30 Atlanta residents were marching in the rain, holding signs that read "Keep your tiny hands off my button," and "The City of Atlanta+Cobb County Hates Trump."
Outside the stadium, fans were locked out, in the rain, until Trump made it safely in. As soon as his motorcade was seen driving up, fans could be heard booing all around the stadium.
Trump's reception as he walked onto the field for the singing of the national anthem, flanked by U.S. military service members, was also met with loud booing from the stands.
While Trump never made it into NFL ownership, he does have a lot in common with the multi-billion dollar NCAA organization—exploiting African-American workers. In the NCAA's case, it's exploiting African-American athletic talent.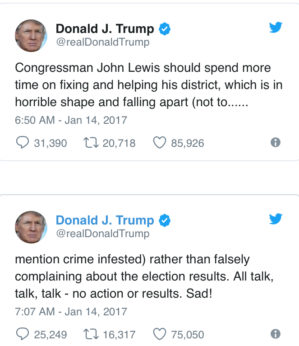 Trump and his Twitterverse talking heads were quick to add #MAGA after their tweets praised the patriotic college players, forgetting that these college athletes have no union protections in the event they lose their scholarships for taking a knee, or any form of collective action.
Those players endure indentured servitude conditions as they fight for a chance to make it in the big leagues.
Is it really patriotism then when they are forced to stay silent in fear of losing their livelihood?
Trump may think so, and I'm sure he's wishing NCAA playing conditions would exist in the NFL.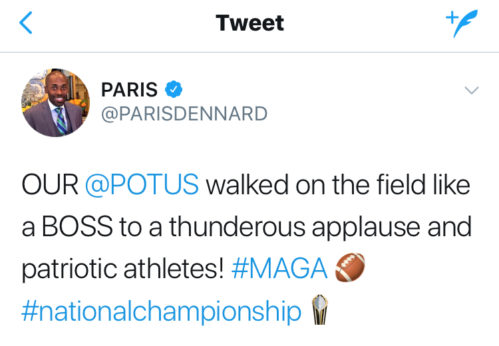 Occasionally though, action does spontaneously happen, as this Sporting News video shows Alabama's running back Bo Scarbrough yelling "Fuck Trump" as the Crimson Tide walked off the field after pregame warmups.
Game summary
Throwing a 41-yard touchdown to Devonta Smith, freshman quarterback Tua Tagovailoa gave No. 4 Alabama a 26-23 overtime win against No. 3 Georgia.
Entering the game at halftime, Tagovailoa replaced a struggling Jalen Hurts, throwing three touchdown passes to give Crimson Tide its fifth national championship under coach Nick Saban.
Georgia dominated the first half of the game as Alabama's defense struggled. Georgia completed a 41-yard field goal in the second quarter and were first on the board.
At the halftime mark, the score was Alabama 0, Georgia 13. Georgia completed a second field goal and touchdown pass at the bottom of the second quarter. Alabama and Georgia both scored touchdown passes in the third quarter.
At the bottom of the fourth quarter, the score was tied 20-20. Alabama kicker Andy Pappanastos missed a 36-yard field goal that would have won it for the Tide in the final seconds of regulation—sending the game into overtime. Georgia took the lead with a 51-yard field goal from Rodrigo Blankenship.  On the next play after a brutal sack, Tagovailoa found Smith and got the touchdown pass for the national championship.