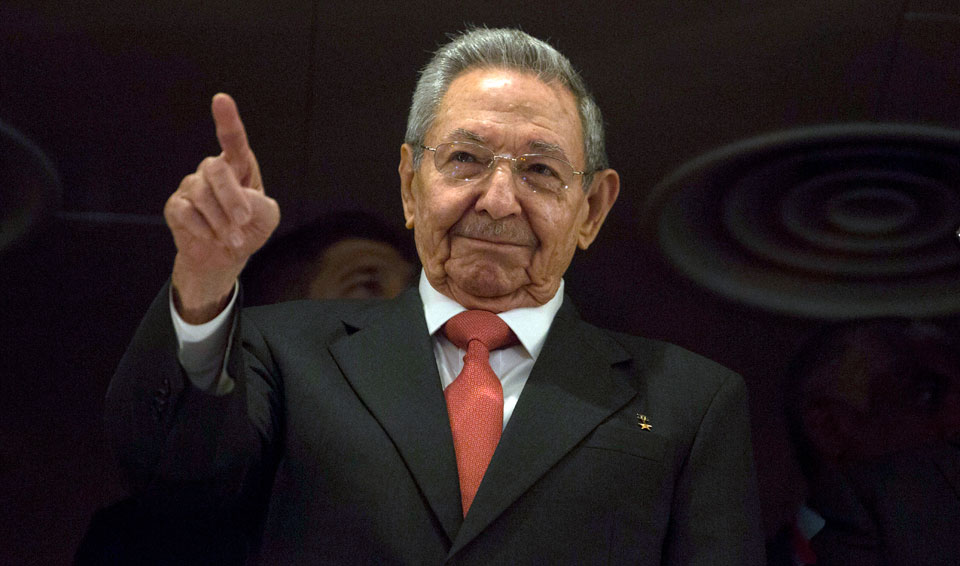 WASHINGTON—In yet another manifestation of his hatred for Cuba in general and its leaders in particular, right-wing GOP President Donald Trump barred former Cuban President Raul Castro, and his four adult children, from traveling to the U.S. Castro is now First Secretary of the Communist Party of Cuba.
The move may be largely for Trump's political purposes—both to bolster his re-election effort and to distract from the impeachment inquiry now engulfing his administration. Raul Castro, now 88, had no immediate travel plans to the U.S., wire services reported.
Trump's move, announced in tweets on Sept. 26 by Secretary of State Mike Pompeo, appeals to the remaining anti-Castro Cubans in the Miami area, who in the past have been a reliable right-wing voting bloc in the evenly divided swing state.
Those Cubans, including many of the wealthy and elite, fled the Fidel Castro-led popular revolution and its 1959 triumph. They've been reliably right-wing Republicans ever since. But that bloc is also dying off, and their descendants, news reports say, do not carry on the same old visceral hatred of the Castros. That doesn't stop Trump from catering to their elders.
Raul Castro succeeded Fidel, his older brother, as Cuban president and party chair. In his mid-80s, Raul stepped down several years ago but remains head of the party. That leaves him as one of the most influential political voices in Cuba.
None of that matters to Pompeo or his boss. Instead, the sycophantic secretary's tweets slammed Raul Castro for Cuban support of popularly elected Venezuelan President Nicolás Maduro, leader of the Bolivarian Republic and another top Trump target. Trump has been trying to get Maduro overthrown, using proxies in and out of Venezuela.
Pompeo tweeted that as Cuban president, Raul Castro aided Maduro's "gross human rights abuses" and that the Cuban Communist Party has jailed more than 100 political prisoners. But his tweets make it clear by repeated diatribes that Maduro is Trump's and Pompeo's real target; the Castros are banned mainly because Cuba supports Maduro.
The travel ban on the Castros came a week after the U.S. threw two diplomats at Cuba's mission to the United Nations out of the U.S., and restricted travel by all the others to the island of Manhattan.
"The allegation" the two diplomats "performed acts incompatible with their diplomatic status is vulgar slander," Cuban Foreign Minister Eduardo Rodriguez Parilla tweeted in response. The U.S., he added, "seeks to provoke a diplomatic escalation that would lead to the closing of bilateral embassies, intensifying the" 61-year-old U.S. "blockade and creating tensions between both countries."
A check of the websites of the Cuban Embassy in the U.S., and of Granma, the leading Cuban newspaper, disclosed no immediate reaction to the U.S. travel ban on the Castros. The ban drew a strong protest, however, from the Washington Office on Latin America, a progressive think tank that tracks Latin American developments and U.S. policy.
The travel ban against the Castros "is an easy political gesture for the Trump administration, but it's not going to do anything to support diplomatic efforts in Venezuela," said Geoff Thale, WOLA's vice president for programs.
"Instead of these cynical political ploys that prioritize blunt pandering, a better approach would involve supporting diplomatic efforts to negotiate a peaceful and democratic solution to Venezuela's crisis, while also backing current congressional efforts to lift the economically crippling Cuban travel ban, as a step toward engaging with Cuba."
The travel ban to the U.S. not only covers Castro but his family. That includes his daughter, Mariela Castro Espin, a prominent advocate for LGBTQ rights and HIV/AIDS awareness. Agence France-Presse reported anti-Castro Cubans raised a ruckus when she visited San Francisco and New York in 2012 to discuss that issue.