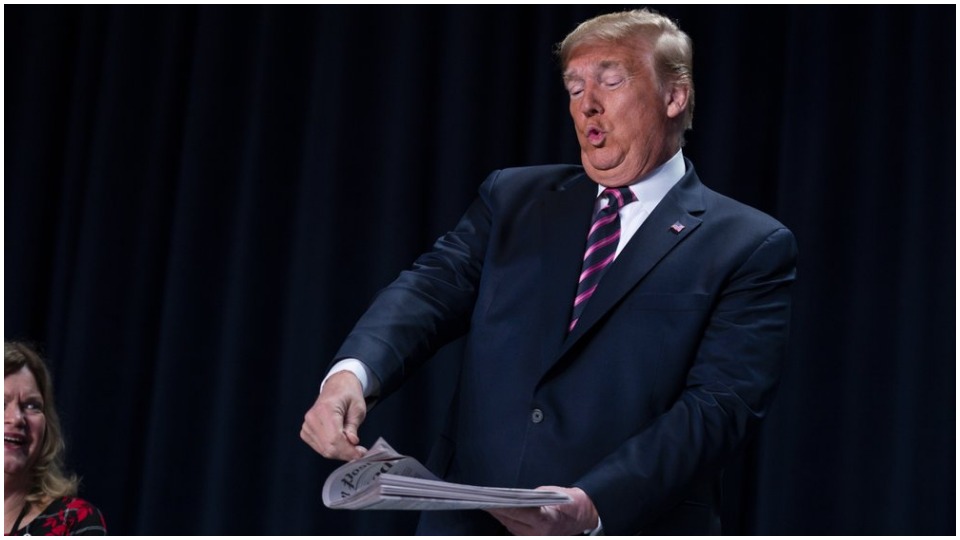 It started out as a normal presidential prayer breakfast, following a pattern of such affairs going back to 1953: a sermon-like speech by a religious leader, which in the normal course of things would be followed by strictly non-partisan comments from the president calling on all present to work together for the good of the nation and the world.
But in Trump's America, nothing is normal—not even a prayer breakfast.
The speaker, Arnold Brooks, a Harvard professor and head of the American Enterprise Institute, a conservative think tank, decried the "crisis of contempt and polarization" in the nation and called on the audience to remember Jesus' command to love your enemies. He asked everyone present to raise their hands if they had ever loved someone they disagreed with. Everyone's hand went up—except Trump's.
It was no surprise, then, that immediately following this exhortation, Trump proceeded to tear it to shreds, starting by saying, "I don't know if I agree with you." The president, who relies heavily on support from evangelical Christians, then doubled down on his rejection of the ethic of Jesus by launching into his usual vitriolic attacks on his political opponents, including Sen. Mitt Romney, who voted to convict Trump on one charge at his impeachment trial.
Trying to clothe himself with the mantle of a persecuted Christian, Trump complained, "I don't like people who use their faith as justification for doing what they know is wrong," and then attacked people for saying they were praying for him, saying, "Nor do I like people who say, 'I pray for you,' when you know that is not so." That last comment was aimed at Speaker of the House Nancy Pelosi, a practicing Catholic who says she prays daily for the president.
The audience—all invited by Trump—merely laughed at the president's uncharitable gibes.
A broad spectrum of Christian and other religious leaders, however, not present at the event, were appalled. "A bipartisan prayer breakfast is the last place one would expect to find political attacks on opponents," said Rev. Tom Lambrecht, general manager of the conservative United Methodist magazine Good News. "Our country would benefit from a return to the kind of civility and grace reflected in Jesus' words."
Jim Wallis, head of the progressive Christian organization Sojourners, which is rooted in the evangelical community, commented on Trump's claim that those who oppose him on the basis of faith are hypocrites: "Apply this logic to Trump's white evangelical supporters: they are willing to trade off and even sell out Jesus for the reward of getting judges they like in the Supreme Court. Jesus taught us to welcome immigrants, to reject the use of racial bigotry, to avoid lying, and to respect and love all people as they are made in the image of God."
Professor Robert Franklin, who teaches moral theology at Emory University's Candler School of Theology in Atlanta, also evoked Jesus. "If the president is feeling persecuted, he would be well served to spend quality time with his pastor while studying what Jesus did when he was persecuted," Franklin stated. "The religion of Jesus promotes the virtues of humility, self-accountability, forgiveness, and reconciliation."
Rabbi Noah Farkas of the Valley Beth Shalom congregation in Encino, Calif., said, "I find it deeply problematic that the president uses the National Prayer Breakfast to lambaste the faith of his opponents."
Trump's performance was criticized even at Liberty University, where his ally Jerry Falwell, Jr., serves as president. English professor Karen Swallow Prior commented, "The problem with such statements is not Trump himself, but rather that they reveal how American Christianity has become a kind of currency whose value depends on whose possession it's in."
Taken together, the breadth of opposition to Trump's behavior shows that fissures are developing even among evangelicals, who have so far been Trump's strongest base of support. This emerging split was also evidenced recently by an editorial in Christianity Today calling for Trump's removal from office, a move that caused that leading evangelical magazine to lose 2,000 existing subscribers—and gain 5,000 new ones.