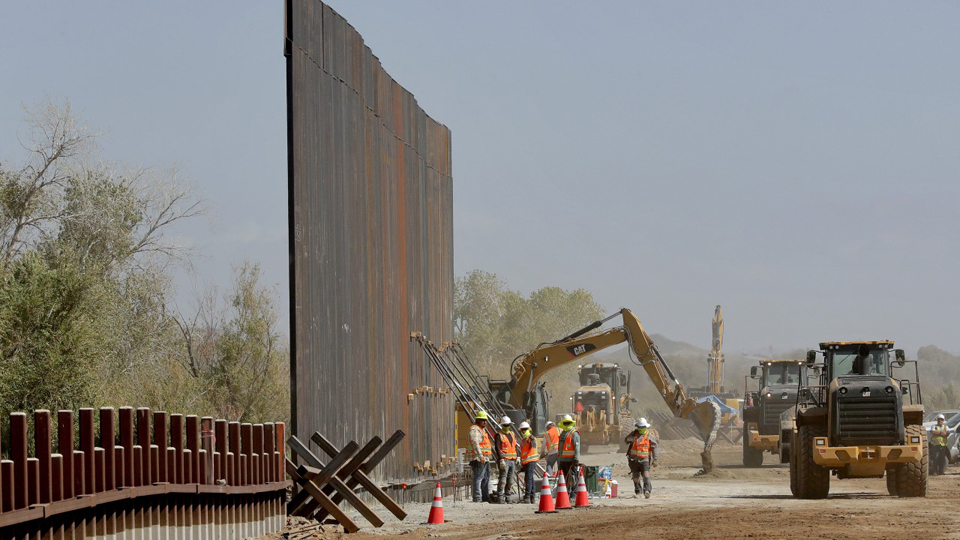 Native American graves are being blasted to clear the way for President Donald Trump's border wall.
Construction crews began "controlled blasting" of the Organ Pipe Cactus National Monument in Arizona last week, CBS News reported Friday. And Congressman Raúl Grijalva of Arizona, who represents the area, says they did so without consulting the Tohono O'odham Nation which considers parts of it sacred.
"This administration is basically trampling on the tribe's history — and to put it poignantly, it's ancestry," Grijalva told CBS News.
Specifically, contractors began blasting in an area called Monument Hill, which includes important Native American burial sites, The Washington Post explained.
"Where they were blasting the other day on Monument Hill is the resting place for primarily Apache warriors that had been involved in battle with the O'odham. And then the O'odham people in a respectful way laid them to rest on Monument Hill," Grijalva said in a video posted on social media Sunday.
The Nation wants all construction to stop on Monument Hill and for two-mile buffer zones to be set up around certain sites, including Quitobaquito Springs, an archaeological site and the only natural water source for miles, according to USA Today.
"They're our ancestors. They're our remnants of who we are as a people, throughout this whole area. And it's our obligation, it's our duty to do what is necessary to protect that," Tribal chairman Ned Norris Jr told the Arizona Republic, as BBC News reported.
Customs and Border Protection (CBP) confirmed that work was being done on the site.
"The construction contractor has begun controlled blasting, in preparation for new border wall system construction within the Roosevelt Reservation at Monument Mountain," A CBP spokesperson said in a statement reported by The Washington Post. "The controlled blasting is targeted and will continue intermittently for the rest of the month."
CBP further told USA Today that it would "continue to have an environmental monitor present" during its activities, but Native American groups and environmental advocates are worried about what the wall could do to both sacred sites and the monument's unique ecosystem.
Organ Pipe was designated as an International Biosphere Reserve by the UN in 1976, which called it "a pristine example of an intact Sonoran Desert ecosystem," according to BBC News. Environmentalists are worried construction could harm an underground aquifer, as well as migrating wildlife.
Laiken Jordahl of the Center for Biological Diversity told The Washington Post that construction had "butchered" Monument Hill.
"It's completely different from what it's been before — there's a swath of land gone from right in the middle," he said.
Jordahl said construction was also destroying 200-year-old saguaro cacti.
"They are also sacred to the O'odham," he explained to The Washington Post. "They see them as the embodiment of their ancestors. So to see them turned into mulch — it's deeply upsetting."
Grijalva sent a letter to the Department of Homeland Security in January asking it to consult with the Tohono O'odham Nation about construction, but did not hear back.
The Trump administration is able to blast through sacred sites and threaten endangered wildlife on federal land because of the 2005 REAL ID Act, which permits the government to waive laws that interfere with national security, BBC News explained.
Grijalva said he would convene a hearing in the coming weeks to begin the process of repealing the act.
This article was reposted from EcoWatch.