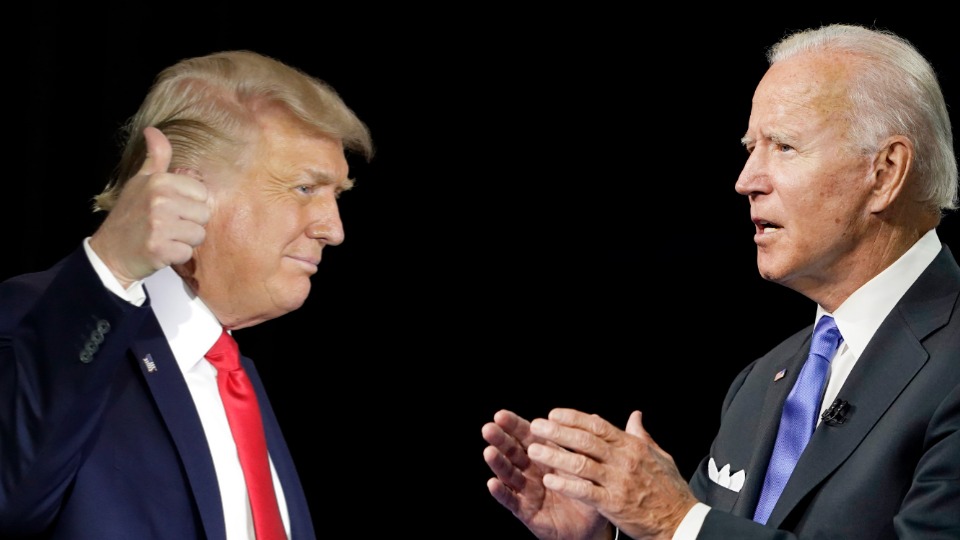 PITTSBURGH—Having had it up to here with Donald Trump's lies, distortions, and disasters, Democratic presidential nominee Joe Biden took the gloves off and hit hard against the GOP Oval Office occupant, declaring Trump "a toxic presence" in the U.S. And the question the presidential election will answer, Biden declared, is whether voters will expel the toxin from the body politic this fall.
"Donald Trump has been a toxic presence in our nation for four years. Will we rid our nation of this toxin? Or will we make it a permanent part of our nation's character?" he asked. "Do you really feel safer under Donald Trump?"
Biden went after Trump, by name, in an Aug. 31 speech in Pittsburgh. He said Trump encouraged the violence that sometimes accompanies widespread nationwide protests against U.S. endemic racism.
What voters see now, Biden said, is "an incumbent president who makes things worse, not better. An incumbent president who sows chaos rather than providing order. An incumbent president who fails in the basic duty of the job."
Making clear he does not condone violence from any direction or faction, and that perpetrators should be prosecuted, Biden declared Trump not only causes the violence but that Trump is also responsible for another disaster: The toll of deaths and illnesses from the coronavirus pandemic.
Non-partisan studies, and arrest records, show the violence comes predominantly from the right and includes armed "blue lives matter" pro-cop backers, white nationalists—such as those who threatened state lawmakers in Michigan and who actually invaded the Idaho legislature—and assorted other right-wingers. Many if not most carry pro-Trump banners, wave Trump signs, and sport Trump t-shirts and red "MAGA" hats.
"Since they have no agenda or vision for a second term, Trump and Pence are running on this: 'You won't be safe in Joe Biden's America.' And what's their proof? The violence you're seeing in Donald Trump's America," the former vice president said.
Trump started the conflagration by praising neo-Nazis who rioted three years ago in Charlottesville, Va., killing peaceful counter-protester Heather Heyer and injuring dozens of others. He called the neo-Nazis  "very fine people." He's refused to condemn invasions and white nationalism since. Trump's Charlottesville reaction convinced Biden to run for the White House this time.
As if he was proving Biden's case, Trump on Monday praised 17-year-old Kyle Rittenhouse, who used an AR-15 machine gun to murder two Black Lives Matter peaceful protesters in Kenosha, Wis., and seriously wound another less than a week before.
Trump is traveling to Kenosha today, Sept. 1, to meet cops—who let Rittenhouse walk through their lines after the shootings—even though both the city's mayor and Gov. Tony Evers (D) wanted Trump to stay away. The Kenosha protests occurred after a white cop shot unarmed Black man Jacob Blake seven times in the back. Blake was getting into his SUV, as his kids looked on in horror. He's hospitalized, paralyzed from the waist down. Trump will not meet with Blake's family.
Sheriffs' deputies in Illinois later arrested Rittenhouse. In the meantime, Kenosha's police chief blamed the protesters for getting shot, because they were outdoors marching after a city-proclaimed curfew.
Trump's campaign also tried to hit back at Biden, but its tweet so distorted Biden's words and context that Twitter flagged the posting as "manipulated media." It also flagged a hashtag, "#BidenRiots," that Trump's son, Donald Jr., posted.
Biden also hung the nation's disastrous response to the coronavirus pandemic around Trump's neck. One linkage he made between the two: The number of cops dead of the virus this year exceeds the number killed on patrol. As of 8:30 am Sept. 1, over six million people had tested positive for the virus in the U.S. since the pandemic was officially declared on March 13, and 183,602 have died.
Biden even turned Trump's dark picture of "Joe Biden's America," which the White House denizen painted during the prior week's Republican Convention while violating the federal Hatch Act by using the mansion as a political prop, against the incumbent.
All the conditions Trump claimed would occur under a Biden administration have been occurring under Trump's regime, Biden pointed out.
"These are not images of some imagined Joe Biden America in the future. These are images of Donald Trump's America today. He keeps telling you: If only he was president, it wouldn't happen. He keeps telling us, if he was president, you'd feel safe. Well, he is president, whether he knows it or not."
Like free stuff? So do we. Here at People's World, we believe strongly in the mission of keeping the labor and democratic movements informed so they are prepared for the struggle. But we need your help. While our content is free for readers (something we are proud of) it takes money — a lot of it — to produce and cover the stories you see in our pages. Only you, our readers and supporters, can keep us going. Only you can make sure we keep the news that matters free of paywalls and advertisements. If you enjoy reading People's World and the stories we bring you, support our work by becoming a $5 monthly sustainer today.