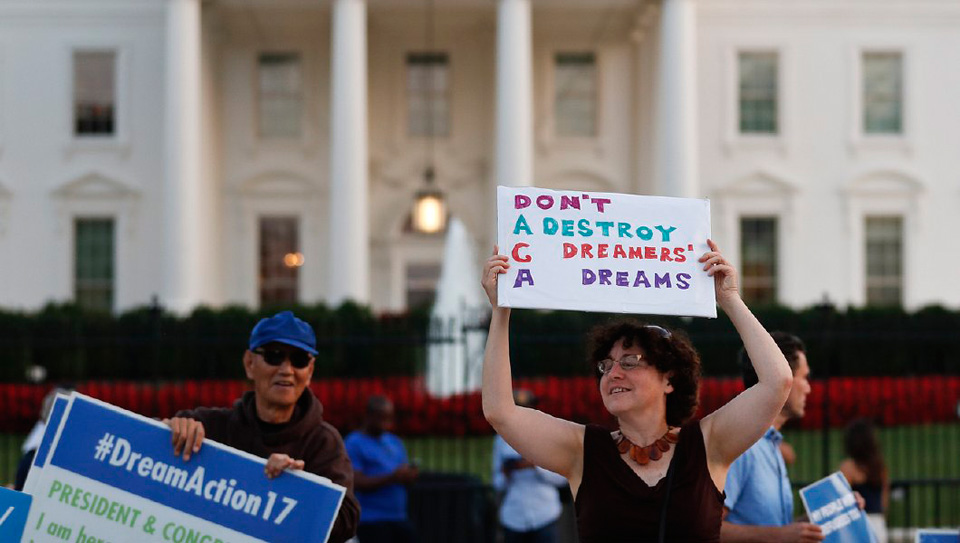 WASHINGTON — Republican President Donald Trump's draconian immigration demands – including more money to build his controversial U.S.-Mexico border wall and more immigration raids in the U.S. interior – may derail the tentative agreement on keeping the "Dreamers" in the U.S. that Trump reached with Democratic congressional leaders just a few weeks ago.
That's because Dreamer supporters publicly said such demands were deal-breakers, even before Trump unveiled them in a letter to congressional leaders. Yet he reiterated and expanded on them in his October 8 announcement.
And they're still deal-breakers, was the response, from Senate Minority Leader Chuck Schumer, D-N.Y., House Minority Leader Nancy Pelosi, D-Calif., whom he dealt with, other lawmakers, and leaders representing the estimated 800,000 Dreamers and their backers.
"We told the president at our meeting we were open to reasonable border security measures alongside the Dream Act, but this list goes so far beyond what is reasonable," Schumer and Pelosi said in a statement. "This proposal fails to represent any attempt at compromise.
"The list includes the wall, which was explicitly ruled out of the negotiations. If the president was serious about protecting the Dreamers, his staff has not made a good-faith effort to do so."
The Dreamers are people brought to the U.S. when they were children and could not decide for themselves, as sons and daughters of undocumented parents. Under the five-year-old Obama-era Deferred Action for Childhood Arrivals (DACA) program, they emerged from the shadows to go to school and college, obtain work permits and be legally employed, and serve in the military.
But Trump killed DACA, effective in six months, on September 5, and planned to deport them all. He told the GOP-run Congress – whose majority party has a large share of nativist and anti-Latino lawmakers – to solve the problem.
When the GOP balked, Trump met Pelosi and Schumer, and they apparently reached the outlines of a deal to keep the Dreamers in the U.S. Now his demands, which also cut down on "green cards," penalize "sanctuary cities," hire thousands more Immigration and Customs Enforcement (ICE) agents, and vastly expand interior enforcement and deportations of undocumented people – Dreamers or not — may destroy the deal.
And Trump wants to slam doors on most legal immigrants, too, just as the U.S., acting under a nativist-enacted law – passed by a GOP-run Congress and president – did from 1924-1965.
The Dreamers and their allies, including Service Employees President Mary Kay Henry and a top National Education Association officer, blasted Trump's demands.
"Every day since Trump killed DACA, immigrant youth from United We Dream have been on Capitol Hill demanding a 'clean' Dream Act," covering just the undocumented Dreamers, said the organization, which had people arrested at lawmakers' offices during a sit-in the first week of October.
"Today, their courageous fight got additional muscle as the progressive movement united around the call for a bipartisan clean Dream Act – without dangerous add-ons to hurt families and communities – as the morally right thing to do."
Henry, one of those who contributed a statement to that united front, added: ""We are here to stay and the 2 million members of SEIU and the 16 million members of the American labor movement and the millions more in the progressive movement are wrapping our arms around the Dreamers and call for the passage of a clean Dream Act. We stand with working people and we stand with 320,000 people whose Temporary Protected Status is being threatened."
Rocio Inclan, social justice director for the National Education Association, added that 200 NEA members visited lawmakers' offices to lobby for the clean Dream Act, among thousands of people who hit Capitol Hill on the issue the week before Trump's statement. He added that NEA, the nation's largest union, includes 20,000 Dreamers as teachers and school staffers.
"Educators aren't going to wait six months for a solution, we want it now. Congress, we want you to teach what we stand for as America. We need you to be on the right side of history — pass a clean Dream Act, our children are watching," he said.
Schumer, Pelosi and House Minority Whip Steny Hoyer, D-Md., who also called Trump's proposal "not serious," all did not mention Trump's own anti-Hispanic anti-immigrant diatribes during last year's campaign. But Rep. Michelle Lujan Grisham, D-N.M., chair of the Congressional Hispanic Caucus, came close. She called Trump's proposals "immoral."
"The president's draconian and anti-immigrant principles jeopardize the bi-partisan, bi-cameral progress…made to pass a legislative solution that will protect the nearly 800,000 Dreamers. It is immoral for the president to use the lives of these young people as bargaining chips in his quest to impose his cruel, anti-immigrant and un-American agenda on our nation," she said.
And Rep. Lucille Roybal-Allard, D-Calif., the lead House sponsor of the Dream Act, added that Trump's demands were "outrageous" and "an insult to the majority of the American people" who want the Dreamers to legally stay in the U.S. Trump's demands "are a gift to anti-immigrant hardliners," she said. Polls show even a majority of GOP voters want the Dreamers to stay.
And in a swipe at Trump's boasts about his business acumen, the lawmaker from Los Angeles added: "Ultimately, this unacceptable proposal makes it apparent he (Trump) needs a lot more education in the art of the deal."  That was the title of one of Trump's books.