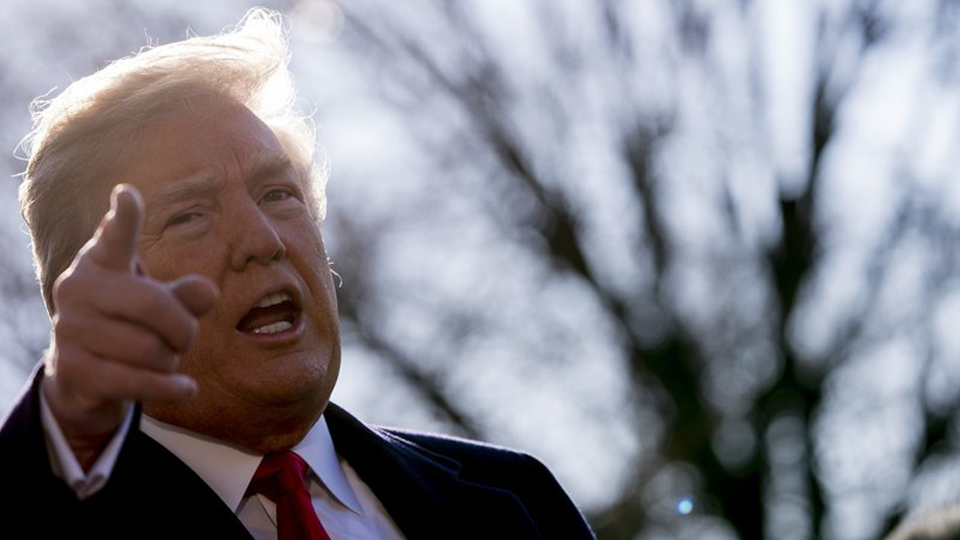 WASHINGTON — Pleasing few people but himself, GOP President Donald Trump dumped Secretary of State Rex Tillerson in an early-morning tweet on March 13, replacing him with CIA Director Michael Pompeo, a former Kansas right-wing congressman, foe of the Iran nuclear deal and past advocate of torture of alleged "terrorists."
"We were not really thinking the same," Trump said of Tillerson, the former ExxonMobil CEO, at a planeside Q-&-A before flying to Los Angeles. "With Mike Pompeo, we really have a very similar thought process. I think it'll go very well."
If the Senate, now barely controlled by the GOP, 51-49, confirms Pompeo in the State Department's top job, he would be at least the fourth former military man in the Trump administration's upper echelons. The others include chief of staff John Kelly, Defense Secretary James Mattis and national security advisor H.R. McMaster (all generals).
Pompeo, a West Point graduate, served as a cavalry officer during the late stages of the Cold War, patrolling the Berlin Wall. After serving the required minimum of five years, Pompeo returned to Kansas, where he founded Thayer Aerospace before leaving that for the oil field equipment business.
The "similar thought process" Trump cited in Pompeo's favor includes using torture to get information. Pompeo's shifting stance on that produced most of the Democratic opposition when Trump named him CIA chief last year.
And after taking over the CIA, Pompeo disagreed with his agency's assessment that Russia interfered in the 2016 U.S. presidential election. He agrees with Trump, who steadfastly denies such interference.
Pompeo's "similar thought process" also includes dumping the Obama administration's agreement to curb Iran's nuclear weapons development. During his years in Congress, Pompeo spoke sometimes on defense issues but rarely on foreign policy. The exception was the Iran deal, where he was an outspoken opponent. So is right-wing Israeli Prime Minister Benyamin Netanyahu. So is Trump. Tillerson wasn't. Trump cited that disagreement in firing Tillerson.
Pompeo's views on torture, which violates international law, also may be in line with Trump's.
Sen. Amy Klobuchar, DFL-Minn., said Pompeo assured both Sen. Dianne Feinstein, D-Calif., and her that he now opposes the use of torture. But Senate Minority Whip Dick Durbin, D-Ill., and Sen. Chris Murphy, D-Conn., both said Pompeo favors torture. So, on the 2016 campaign trail, did Trump.
"I voted against Rep. Pompeo's confirmation as director of the CIA," Durbin said after the vote. "His changing statements on the use of torture leave me no choice…Federal law now clearly prohibits torture and 'cruel, inhumane, and degrading' treatment of detainees and prohibits interrogation techniques not authorized by the Army Field Manual. We cannot go backwards on this seminal issue of human rights."
"America needs a CIA Director who will uphold American values by resolutely condemning torture and mass surveillance" by spy agencies in the U.S., added Murphy. "Mr. Pompeo's last-minute attempt to walk back his opposition to torture is very disturbing and suggests the Trump administration is readying to abandon our commitment to international human rights."
While Trump fired Tillerson, the former oil exec may not be entirely out. "I'm really getting close to having the Cabinet and other things that I want but I think Mike Pompeo will be a truly great Secretary of State," Trump said. He then praised Tillerson's service before adding: "I'll be speaking to him over a long period of time."
Pompeo has taken no stand on another issue that vexes Trump's foes and foreign policy analysts: The hollowing-out of the State Department and the downgrading of diplomacy as a way to solve disputes and manage foreign relations.
Trump proposed, and Tillerson pushed, huge cuts in the career diplomatic corps. Those cuts are already occurring, as foreign service officers – up to and including U.S. ambassadors to key countries, such as Mexico and Korea – have jumped over the side.
The American Foreign Service Association, the "union" for the career diplomats, has protested the cuts. It took no position, yet, on Trump's replacement of Tillerson with Pompeo. However, former top State Department official Max Bergmann, writing "This is how diplomacy dies" in Politico last year, describes walking empty halls and offices with nobody in them.
At a retirement party for one diplomat during Tillerson's reign, "I made the rounds and spoke with usually buttoned-up career officials" from all over the agency and "no one held back."
"To a person, I heard the State Department was in 'chaos,' 'a disaster,' 'terrible,' the leadership 'totally incompetent.'…The deconstruction was literally visible. Furniture from now-closed offices crowded the hallways."
One once-bustling office, headed by a woman veteran foreign service officer, "had just one person there, keeping on the lights." The woman had been forced to quit. "This is how diplomacy dies, not with a bang, but with a whimper."
The replacement of Tillerson by Pompeo "looks like we're at the early stages of a major reshuffle of personnel" in the Trump administration, said Thomas Wright, director of U.S. government studies at the Brookings Institution, a respected think-tank.
"The big-picture question is 'Does this result in a team change that enables'" Trump, he added. "The last team was more able in containing him."