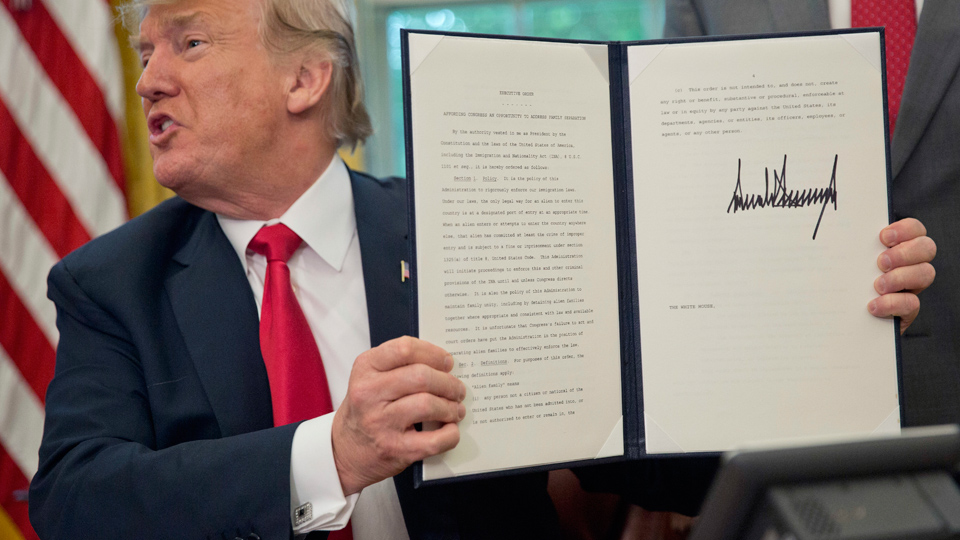 PHILADELPHIA—Is your boss a bully?
That occurs often in private companies, less so in governments—and when the union is there, it can defend you.
Not anymore at the Social Security Administration, says Berri Sue Bryant, president of Government Employees (AFGE) Local 2908 in Philadelphia, who represents the workers there.
"Our workers have been serving the public for a very long time," she said in a telephone press conference. "They've been doing everything they can to serve the public."
"But now all the problems they've had from supervisors who are bullies will not be kept in check," thanks to President Donald Trump's latest edicts governing the nation's two million federal workers. "And that hurts the public." Meanwhile, Trump's order says, bosses can threaten workers with firing within 30 days.
"And they"—Trump's political appointees—"are changing standards and making people fail after they've been there 28 years or so," adds John Kostelnik, president of Local 3569, which represents Bureau of Prisons workers at the federal penitentiary in Victorville, Calif.
"Who do you turn to?" he asks. "Somebody's gotta be there for you."
That "somebody" is the union—AFGE, the Treasury Employees, the National Federation of Federal Employees/IAM, and other federal unions. But Trump's orders make even that routine task difficult, the local leaders and AFGE President J. David Cox said in a June 12 telephone press conference.
Trump's three executive orders took effect July 1. One lets bosses bully workers and threaten them with firing within 30 days. Another says union reps can, despite federal law, only defend workers on their own time and on their own dime. The impact is already being felt, by workers and the people they serve.
Trump also ordered federal worker unions to leave their tiny offices in federal buildings by the end of this month, barred them from using phones, computers, and fax machines, and won't even let local union leaders take their own files with them without having the files inspected first.
"This forces us to choose between feeding our families" when they're off work "and standing up to corruption" at the Department of Veterans Affairs, adds Kathleen Pachomski, whose Local 3930 represents VA hospital workers in Memphis, Tenn.
"The VA changed standards overnight for seven" job classifications, she said. Workers went immediately from being classified as "fully successful to being threatened with removal. No wonder we've got 50,000 vacancies" at the VA.
Despite what he describes as "utter chaos" in federal agencies as Trump's orders kick in, AFGE, the largest federal worker union, "will never stop representing" the workers in agencies where a majority voted it in, says Cox. And that's all workers, he adds, even though Trump is making it difficult to do so.
Not only are unions being thrown out of government buildings, but even when their contracts let union reps brief new hires on what the union does, Trump's minions are banning that. In one case, couriers bringing food to a non-work-hours lunch-and-learn brown bag session—which is legal under labor law—were barred from the building, one local leader said.
In another, when the union reps were barred from using agency meeting rooms to meet with workers, they moved to the parking lot—and security personnel ordered them out of there, too. As a result, workers who "want to report harassment, discrimination, and retaliation, can't," Cox said.
On a larger scale, Trump's orders curb workers' rights, slash union contracts, and rob already limited protections from the feds, Cox said. AFGE and a coalition of other unions are heading to federal court July 25 to argue Trump's executive orders are both unconstitutional—by trampling on the Bill of Rights—and illegal, by violating the 1978 civil service reform act.
They've also picked up congressional Democratic support for their cause. Some 45 Democratic senators became the latest batch of lawmakers to urge Trump to rescind his edicts. And Rep. Elijah Cummings of Maryland, top Democrat on the House committee that handles federal workers legislation, told the conference call that the "Republicans are looking for every way they possibly can to discipline people and dismiss people."
In the past, some Republicans would have spoken for the workers, he said. Now, out of fear of Trump's voters or to preserve their chances for winning re-election this fall, they aren't.
"The executive orders are extremely right-wing and do not represent all Republicans today," added Cummings, who has filed a friend-of-the-court brief on the unions' side. "They don't represent the law, either. That says collective bargaining is in the public interest and that it protects the public."
Like free stuff? So do we. Here at People's World, we believe strongly in the mission of keeping the labor and democratic movements informed so they are prepared for the struggle. But we need your help. While our content is free for readers (something we are proud of) it takes money — a lot of it — to produce and cover the stories you see in our pages. Only you, our readers and supporters, can keep us going. Only you can make sure we keep the news that matters free of paywalls and advertisements. If you enjoy reading People's World and the stories we bring you, support our work by becoming a $5 monthly sustainer today.