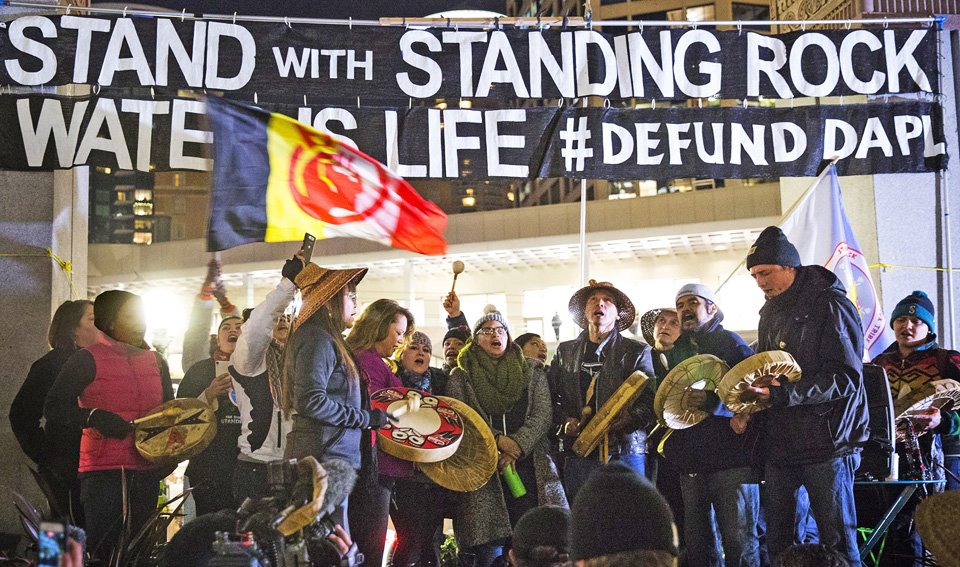 WASHINGTON — Protesters filled the street in front of the White House Tuesday just hours after Donald Trump signed Presidential memoranda and executive orders that greased the way for both the Dakota Access Pipeline (DAPL) and the Keystone XL pipeline to be approved.
In addition, there were protests staged in Chicago, New York, Los Angeles and elsewhere. Many Indigenous leaders and environmental advocates also spoke out.
Jan Hasselman, a lawyer for Earthjustice, an environmental law group helping the Standing Rock Sioux of North Dakota fight the DAPL, told the New York Times that by signing the directives, Trump "was discarding the findings of an [environmental] review. They're just ignoring the problems that the government has already found," he said, "and that is the kind of thing that courts need to review very closely."
Until last year, Trump was an investor in Energy Transfer Partners, which owns the Dakota pipeline. He claims he sold all of his stock holdings this past June. But according to Irina Ivanova of MoneyWatch, he has not provided documentation of the divestment.
DAPL is a proposed 1,100-mile oil pipeline planned to run from the North Dakota oil fields to a river terminal in Illinois. It's almost completely built, except for a section that was supposed to be drilled in a place where the Standing Rock Sioux get their drinking water.
In protest, thousands of Native Americans and their allies gathered for months at Standing Rock and were harassed by local police forces.
This past December, the U.S. Army Corps of Engineers denied the final permit for the Dakota Access Pipeline construction.
Construction of Keystone XL a pipeline proposed by TransCanada, was also been halted by federal action.
In 2015, President Obama issued an executive order stating that the project would undermine attempts to curb the U.S.'s reliance on carbon energy. It is designed to run from the Canadian oil sands to the Gulf Coast. Environmentalists found that it would encourage a form of oil extraction that produces more gases that warm the planet than normal petroleum.
Protections battered down
But despite these findings, despite mass protests, court decisions and federal rulings, President Trump has now taken both the Keystone and Dakota pipelines out of the scrap heap.
The New York Times quotes Trump as saying that he thinks the process of deciding whether or not a project hurts the environment "is out of control."
Trump told pipeline advocates, "We're going to make it a very short process. [And] generally speaking, we're going to be giving you your permits."
Trump said "We're going to see if we can get that [Keystone] pipeline built. [it's going to create] a lot of jobs, 28,000 jobs. Great construction jobs."
This number has been questioned by many experts, who have come up with widely differing estimates. But all experts agree that virtually none of the construction jobs will last beyond the one year it will take to build Keystone.
Irina Ivanova of MoneyWatch quotes the pipeline's owner, TransCanada, as estimating that after the thing is built, "it would need a mere 50 people to maintain it, 35 employees and 15 contractors."
Construction job estimates for the Dakota Access pipeline are hard to come by, Ivanova writes. "Most of the project is already constructed; all that remains is a piece that would pass under Lake Oahe, a source of drinking water for the Standing Rock Sioux tribe, which has opposed the pipeline for that reason."
However, once the pipeline is operating, according to a factsheet created by Dakota Access LLC itself, maintenance of the pipeline will only create about 12 to 15 permanent jobs each in North Dakota, South Dakota, and Iowa. There will be only about six permanent jobs created by the pipeline in Illinois, the factsheet said.
The fight is not over
Those who believe the pipelines would do more harm than good have vowed to continue their fight. They have a modicum of hope for at least partial success.
The reason? One thing Trump did not do Tuesday is give an unconditional green light to the pipelines.
Carolyn E. Raffensperger, an environmental lawyer and the executive director of the Science and Environmental Health Network, explained in a public Facebook post that Trump has not ordered the Army to stop its Environmental Impact Study but instead gave the Army, which has already ruled against DAPL, great latitude in its decision making.
Trump also says he wants to "renegotiate some of the terms," but has not explained what he means by that.