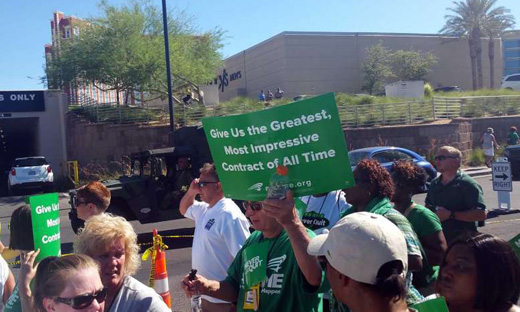 LAS VEGAS – It may have been a coincidence, but some 600 workers at Donald Trump's Las Vegas casino hotel, members of Unite Here, picketed the place on July 20, the day their boss won the Republican presidential nomination. The reason? The man who declares he'll "Make America great again!" refuses to make low-paid workers at the casino great by ordering his managers to bargain a first contract there.
Joined by members of AFSCME, who held their convention blocks away, the Trump Las Vegas workers detailed the low pay and lousy working conditions that pushed them to unionize with Culinary Workers Local 226 and Bartenders Local 165, both within Unite Here's largest U.S. local, in Las Vegas. "Donald Trump has made a career of enriching himself at the expense of working people, including his own employees in Las Vegas," the unions said.
The union also announced the Trump hotel agreed to settle a labor law-breaking claim by Local 226 by paying $11,200 in back wages to two pro-union workers it illegally retaliated against. The National Labor Relations Board regional office worked out the settlement.
Photo: While Trump was promising at the GOP convention that he would "make America great" workers at this Las Vegas hotel were demanding a contract that will be "great."