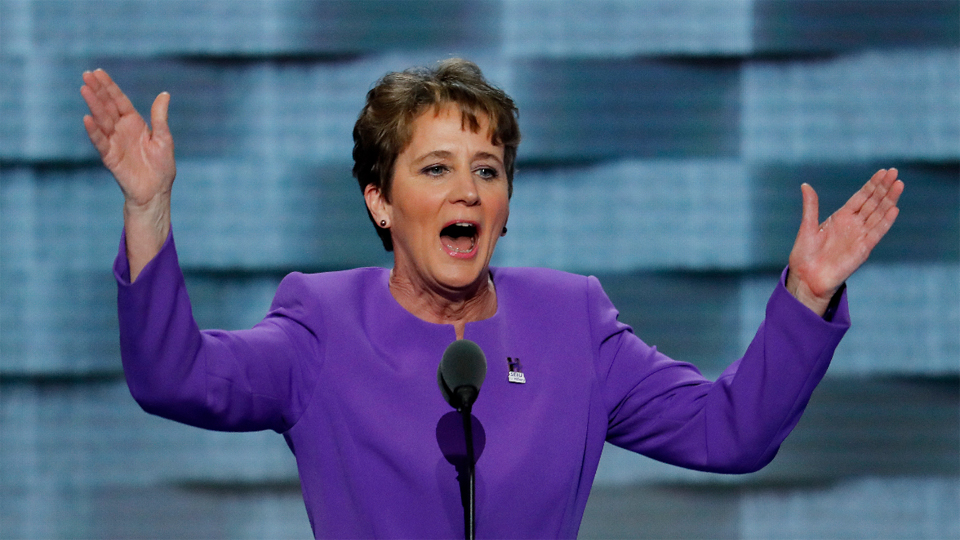 WASHINGTON —The Republican-run Senate's impeachment trial of GOP President Donald Trump opened Jan. 21 with heated verbal jousting from lawyers – as several unions have spoken out.
National Nurses United, Teachers (AFT) President Randi Weingarten,  and Service Employees President Mary Kay Henry strongly supported the impeachment process, but haven't taken a position on the actual congressional ouster of Trump.
Solons launched into a marathon session over rules governing impeachment, after the House impeached a president for only the third time in U.S. history. On party-line votes, after some internal squabbling, senators agreed on ground rules for the proceedings.
But not before Rep. Adam Schiff, D-Calif., a former prosecutor, laid out the impeachment articles themselves, charging Trump with abuse of power and unconstitutional defiance of congressional subpoenas for both witnesses and evidence in the case.
Schiff also demanded the Senate vote to let additional evidence in, since new revelations about Trump's actions occurred after the House impeachment votes on Dec. 18. And he wanted top Trump officials to testify about the president's role.
Trump's lawyers shot back with the president's repeated accusations that impeachment is a Democratic witch hunt and that Trump did nothing wrong when he withheld $391 million in appropriated U.S. military aid to Ukraine until the Ukrainians dug up dirt on 2020 Democratic presidential contender Joe Biden, Barack Obama's vice president.
That, in so many words, Schiff pointed out, meant Trump used his office to bribe the Ukrainians to help his own re-election effort this year, the documents and evidence show. The GOP Senate majority turned down Schiff, setting the stage for a stage-managed acquittal.
The Republicans agreed to automatically admit all the current evidence the House Judiciary and Intelligence Committees amassed – unless someone objects — and for votes on calling witnesses after the two sides' presentations.
Weingarten, Henry, and National Nurses United, speaking for their unions, strongly supported the House's impeachment probe. Weingarten, a New York City civics teacher, went farther, supporting the full trial.
Weingarten has been the most-outspoken, praising the House for voting on Dec. 18 to impeach Trump, while defying his threats and bullying, too. She has not commented, yet, on the Senate trial or the Senate Republicans' shenanigans to ensure Trump's acquittal.
"Congress has defended American democracy against a president who knows no bounds," she said then.
"President Trump, in his attempt to condition previously authorized military aid to a country in need based on that country's willingness to conduct a sham investigation of his political opponent, abused his presidential authority, threatened national security and undermined our democratic elections.
"He flouted Congress' role as a co-equal branch of government, defying legitimate constitutional authority…The gravity of the moment cannot be overstated."
At the end of explaining her union's stand, Henry came close – but stopped short – of calling for Trump's ouster. After praising the House's impeachment decision, she added: "Enough is enough. It's time for leaders in all levels of government to do their part to ensure our democracy and that the economy works for every person in this country."
"No matter where you're from, what you look like or what you do for a living, all Americans can agree that our democracy is too important for any individual to be above the law, including the nation's president," she said. "Trump abused the trust and authority given to him when he put his own political interests ahead of our country."
Two other union presidents, Lily Eskelsen-Garcia of the National Education Association and Chris Shelton of the Communications Workers, have personally called for Trump's impeachment. Their unions didn't.
Past practice shows union leaders also shut up during the last two impeachment controversies, the Senate trial and acquittal of Democrat Bill Clinton in 1998 and Watergate in 1974. Then, the House was ready to impeach Republican Richard Nixon when the "smoking gun" tape surfaced showing Nixon ordered the coverup of the Watergate burglary and other constitutional crimes. Before union leaders could speak out, the GOP abandoned Nixon and he was forced to resign.
The political part comes from the fact that unionized workers and families were divided about Trump. Trump appealed to industrial workers who lost their jobs due to unfair trade, and the leaders know it. Trump won a 50-50 split – including 52% in Ohio – among union workers in the key Great Lakes states of Ohio, Pennsylvania, Michigan, and Wisconsin where his slim popular vote margins gave Trump the electoral votes he needed to win the Oval Office.
In addition, the sector of the Government Employees (AFGE) which represents immigration and border enforcement agents outright endorsed Trump because of his anti-immigrant stands. And the Mine Workers stayed neutral because of Obama administration environmental policies which UMWA said would close coal-fired plants, and cost miners jobs.