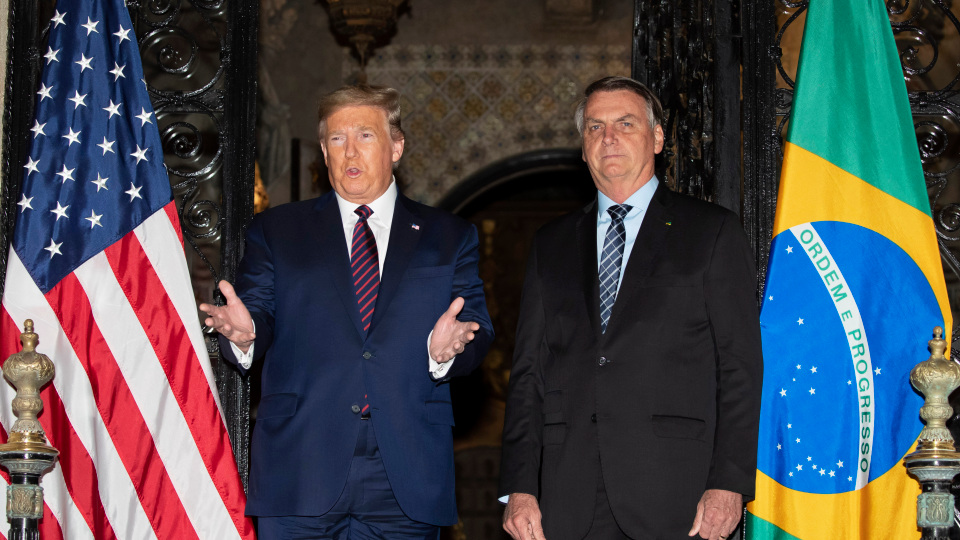 WASHINGTON—Even as he celebrates forcing one so-called "free trade" pact down Mexico's throat, President Donald Trump is pursuing another, with his right-wing Southern Hemisphere compadre, Brazilian President Jair Bolsonaro.
Of course, the talks may have hit a medical snag: Bolsonaro, who's been even more outspoken than Trump in denouncing the coronavirus as a fabricated threat, and in opposing safety measures such as wearing protective masks, tested positive for it on July 6.
Still, discussions are ongoing between Trump's trade rep, Robert Lighthizer, and Brazilian officials. And given Bolsonaro's trashing of unions and trashing of the environment—particularly "the world's lungs," the Amazon rainforest—24 House Democrats, led by a key committee chairman, object.
"Negotiating any trade agreement with Brazil is a non-starter," the group, led by House Ways and Means Committee Chairman Richard Neal, D-Mass., stated. His panel handles all trade pacts and accompanying legislation to implement them.
"You issued a statement after your call with Brazil's Foreign Minister about 'intensify[ing] the economic partnership' between the United States and Brazil, noting that in coming weeks you would be consulting and seeking guidance from Congress," the lawmakers said in their June letter.
"In response, it is important to enumerate the litany of reasons why we consider it inappropriate for the administration to engage in economic partnership discussions of any scope with a Brazilian leader who disregards the rule of law and is actively dismantling hard-fought progress on civil, human, environmental, and labor rights," the lawmakers added.
Neal also was a key congressional negotiator with Lighthizer, while working closely with U.S. unions, to force the rewrite of the U.S.-Mexico-Canada (USMCA) agreement to include strong and enforceable worker rights protections in its text. His letter says if those tough labor standards were applied to Brazil, it would flunk. The USMCA took effect July 1. Trump and Mexican President Andrés Manuel López Obrador, a progressive known as AMLO, discussed the USMCA and its implementation in July 8 White House talks.
"Jair Bolsonaro was elected President of Brazil in October 2018 amid controversy due to his long and consistent history of making derogatory statements regarding women, Indigenous populations, and people based on their gender identity or sexual orientation, among other targeted groups, and his general desire to weaken protections for the environment and workers. Unfortunately, those concerns have proven to be well founded," the Neal-led lawmakers added.
The AFL-CIO Solidarity Center is also blowing the whistle, on Bolsonaro and like-minded pseudo-dictators and real dictators worldwide.
"There is the global crackdown on human rights—part of a larger, resurgent authoritarianism that is threatening the very democracy we need to grow and thrive as a labor movement," Solidarity Center Executive Director Shawna Bader-Blau told the Office and Professional Employees convention last October.
The center has been actively working with Brazilian unions, particularly its two top trade union confederations, the Central Única dos Trabalhadores (CUT) and the União Geral dos Trabalhadores (UGT), to "promote the civil, political, and social rights of workers vulnerable to violence in the workplace and in society," its website adds.
The lawmakers' letter to Lighthizer makes those points, too, in arguing against a Trump trade pact with Bolsonaro.
"Through reprehensible rhetoric and actions, the Bolsonaro government demonstrated its complete disregard for basic human rights, the need to protect the Amazon rainforest, the rights and dignity of workers, and a record of anticompetitive economic practices. In addition to being worthy of condemnation in their own right, these positions and actions demonstrate Brazil under Bolsonaro could not credibly be prepared to assume the new standards for worker rights and environmental protections," as Mexico has promised to do in its new trade pact.
"We strongly oppose pursuing any type of trade agreement with the Bolsonaro government in Brazil. Enhancing the U.S.-Brazilian economic relationship at this time would undermine the efforts of Brazilian human, labor, and environmental rights advocates to advance the rule of law and protect and preserve marginalized communities," Neal and his colleagues said.
Concluding, the legislators suggested Lighthizer "instead aggressively address these issues by using U.S. enforcement tools and by raising" the problems "with your Brazilian counterparts through other, more appropriate, channels."
Trump's trade talks with Bolsonaro also ring alarm bells elsewhere. Drawing on information from Brazil's top human rights organization, Gimena Sánchez-Garzoli, Director for the Andes at the private non-profit Washington Office On Latin America, has dissected the regime's abuses.
They range from Amazon rainforest devastation to repression of workers and Afro-Brazilians in the country's northeast. And, she noted, the coronavirus pandemic is escalating, too.
"Further U.S. investment in Bolsonaro's quagmire would implicate U.S. businesses and investments in the irreparable harm taking place in Brazil," she wrote. "The conditions needed to ensure protection of labor, environmental, Indigenous, and" other groups' "rights are simply not in a place where a trade agreement can be advanced."
"Should the United States pursue this agreement regardless, it would provide a stamp of approval for Bolsonaro's deadly approach and deteriorate conditions in the country even further," Sanchez-Garzoli predicted.