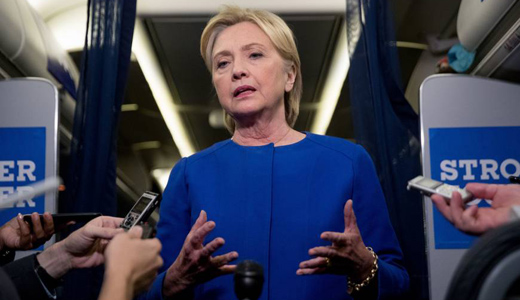 NEW ORLEANS – Americans, including the two candidates for president, have expressed a wide variety of reactions to the news that a suspect in the bombings in New York and New Jersey was charged yesterday with attempted murder of a police officer after he was captured following a shootout on a street in Linden, N.J.
Ahmad Khan Rahami, 28, was shot by police who found him after a search that followed an explosion that wounded 29 people Sept. 17 in Manhattan's Chelsea neighborhood.
Rahami is a naturalized U.S. citizen from Afghanistan.
Rahami, according to police, shot one of the officers who found him in the abdomen. The officer was wearing a protective vest, they said. Police said a second officer was wounded in the hand while Rahami shot "indiscriminately" on the street before he was finally apprehended.
Not surprisingly, Donald Trump, the GOP presidential candidate, responded by blaming President Obama and Democratic presidential candidate Hillary Clinton, for being soft on terrorism and by calling for use of more racial profiling by police.
"You know, in Israel they profile," he told the press. "They've done an unbelievable job of profiling. As good as you can. They round people up and they will profile."
Democratic candidate Hillary Clinton called Trump out on this, saying his anti-Muslim rhetoric "is giving aid and comfort to ISIS." ISIS is interested, she said, in claiming that the West is waging a war against Islam, the religion, and Trump, she said, is feeding into that.
Not all police departments affected by the weekend attacks are jumping on the Trump bandwagon either.
In St. Cloud, Minn., Police Chief Blair Anderson said at a news conference yesterday that investigators so far had not found any connections between ISIS and their deceased suspect in a stabbing of ten people at the Crossroads Center mall. The ten injured have all been released from the hospital where they were treated.
Rahami and his family have contended for a long time that they were victims of racial and religious discrimination in their hometown of Elizabeth, N.J., where they owned a fried chicken establishment below the apartment in which they lived.
A lawsuit they filed in 2011 contended that this was the case after they opened their business in 2002. They said in their suit that Elizabeth police continually tried to shut the restaurant early despite an exemption they and many businesses had allowing them to operate past the 10 p.m. deadline. They claimed the enforcement was selective and directed against them because of their religious and racial background.
During one of many visits from police they were arrested for trying to record the police activity and Rahami was charged with disorderly conduct. The family claims that the long time the city took to resolve that arrest was used as an excuse to delay action on their lawsuit.
They also said they had been regularly visited by an individual who said that because they were Muslims they were "a lot of trouble."
"Don't underestimate the effects of the anti Muslim rhetoric after these incidents on millions of people," Salam al Marayati, president of the Muslim Public Affairs Council, told the PW here Sept. 19. Marayati was here to meet with journalists discussing how to cover Islam. The event was part of the 2016 convention of the Society for Professional Journalists.
"Try to put yourself in the homes of Muslim families the day on which or the day after one of these bombings occurs," he said. "Families sit around their kitchen tables. Mothers ask fathers, 'What are we going to do?' They know their kids are going to be bullied when they go to school. It's a horrible thing and it can lead to the development of a ghetto mentality among Muslim Americans.
"This is so unfortunate," Marayati said, "many came to America because they see it as the best place for Islam – a place where there are all kinds of people accepting a religion that is also so diverse. Muslims encompass more than 80 different nationalities. In Europe Muslims often live in ghettos, here they thought they could become apart of a great country with all kinds of people."
Jihad Turk, founding president of the Bayan Claremont Islamic graduate school in southern California said Trump's rhetoric is dangerous because it prevents people from learning how much they have in common with one another. He noted, for example, that Muslims are as likely if not more likely than Christians or Jews to be unaffiliated with any specific religious institution. He cited Pew research figures that 60 percent of Jews don't belong to synagogues and figures that show 80 percent of U.S. Muslims are unaffiliated with any mosque.
Such diversity also extends to the way Muslims dress. "I'm a practicing Muslim and a feminist," said Shaheen Pasha, a journalism professor at the University of Massachusetts at Amherst. "There is nothing wrong with hijabs, but I don't wear a hijab as millions of other Muslim women don't."
Photo: AP