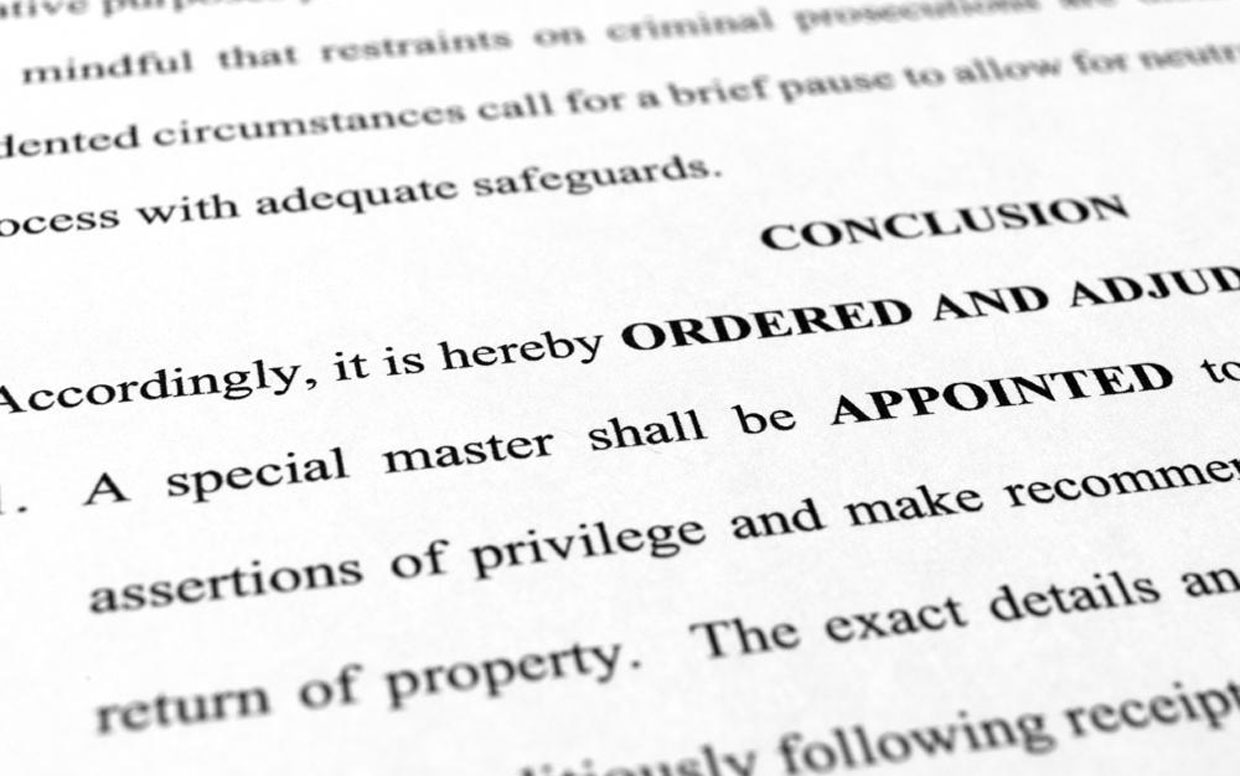 WEST PALM BEACH, Fla.—In a blatant display of judicial activism, federal District Judge Aileen Cannon, named to the Florida bench by former Oval Office occupant Donald Trump, has given Trump a legal win in the Mar-A-Lago papers case.
And in the process, Cannon, who was evaluated for Trump by the right-wing Federalist Society and who was a Republican congressional aide, significantly expanded the overwhelming overreach of the presidency by extending its privileges and protections to former White House occupants.
Tossing aside precedents cited by both the department and the National Archives—the official custodian of presidential papers once a Chief Executive's time in office ends—Cannon declared a special master must be named to go through the 11,000 items FBI agents removed from Trump's Mar-A-Lago estate to determine which to toss due to either attorney-client privilege or executive privilege.
The judge also said the "stigma" of the seizure of the documents, which included at least 184 that had top-secret classifications or more, could harm Trump's future reputation.
Cannon's ruling stalled the Justice Department's criminal investigation, at least for now, into whether Trump violated national security by taking top-secret and even more highly classified documents out of the White House and transporting them to an insecure room on his Mar-A-Lago estate in Florida.
"Trump got every break here. Every single one. Delay delay delay," tweeted Bradley Moss, a national security lawyer and contributor to the Above The Law blog. And former Obama Administration Solicitor General Neal Katyal added in his own series of tweeted analyses that Trump and his team went "forum shopping" to find a Republican judge.
Red state attorneys general have done judge shopping too, including in overturning Biden administration labor protections, usually winding up in rural Texas, a deep-red state whose benches Trump and Senate Republican leader Mitch McConnell stacked. McConnell pushed Cannon's nomination through the Senate a week after Trump lost the Nov. 6, 2020 election to Democratic nominee Joe Biden.
Judge Cannon's order appalled legal experts, who said only Trump and his acolytes have raised, and not proved, claims of bias by the Justice Department. The judge also brushed aside the fact that executive privilege applies only to current presidents, not former ones—and that Biden waived that privilege in this case.
DOJ prosecutors "reminded the judge that a former president has no right to possess government documents and cannot assert executive privilege as against the executive branch," legal commentator Liz Dye wrote in Above The Law. Judge Cannon disregarded that.
"The judge grants Trump's request to appoint a special master to review Mar-A-Lago documents. I don't want to overstate my disappointment with this, so I'll just say it is wrong on the law and facts and hurts our national security," former Watergate Deputy Special Prosecutor Jill Wine (Volner) Banks tweeted.
After a second full reading of Cannon's order, Banks added in another tweet that Judge Cannon "is at least allowing DNI (the Director of National Intelligence) to continue reviewing the documents to determine the threat Trump's mishandling could cause. She"—Judge Cannon—"is a Trump appointee and is, however, delaying the criminal investigation without any legal or factual basis for doing so."
Katyal, who as Solicitor General was the government's top lawyer, was even more appalled. In the most detailed, and scathing, analysis, Katyal said any of his first-year law students "would have written a better opinion."
"These are executive documents that must be returned to the Archives," Katyal said in the first of a series of tweets. "It doesn't in any way shape or form mean they can't be used in a criminal prosecution about stolen docs.
"She says the 'reputational' harm to Trump justifies a special master. That's insane–every criminal deft [criminal defendant] has reputational harm. Are we now going to have special masters in every criminal investigation?
"She says the Special Master should screen materials for exec [executive] privilege, without ever once explaining what specific material is subject to exec privilege, particularly when the incumbent president rejects the assertion. How is the master supposed to figure that intricate question out?
"She says that because some tiny percentage of materials might be privileged, the entire investigation over all the materials has to stop. That's a bazooka when one needs at most a scalpel.
"She tries to enjoin the executive branch from using these materials in an investigation, but the government has already reviewed all the materials. It makes no sense.
"She says Trump suffers irreparable harm in interim, but the only harm she isolates is he won't have the docs back during the investigation. That's not irreparable, he can get them back later and if they are improperly used to bring an indictment, he can move to dismiss the indictment.
"Trump wouldn't own these docs anyway, so why does he get a master over them? If there is some marginal claim to some attorney-client docs, that handful of material can be separately dealt with. You don't enjoin the entire investigation for that.
"That's just a few of many more problems. Frankly, any of my first-year law students would have written a better opinion," Katyal concluded.