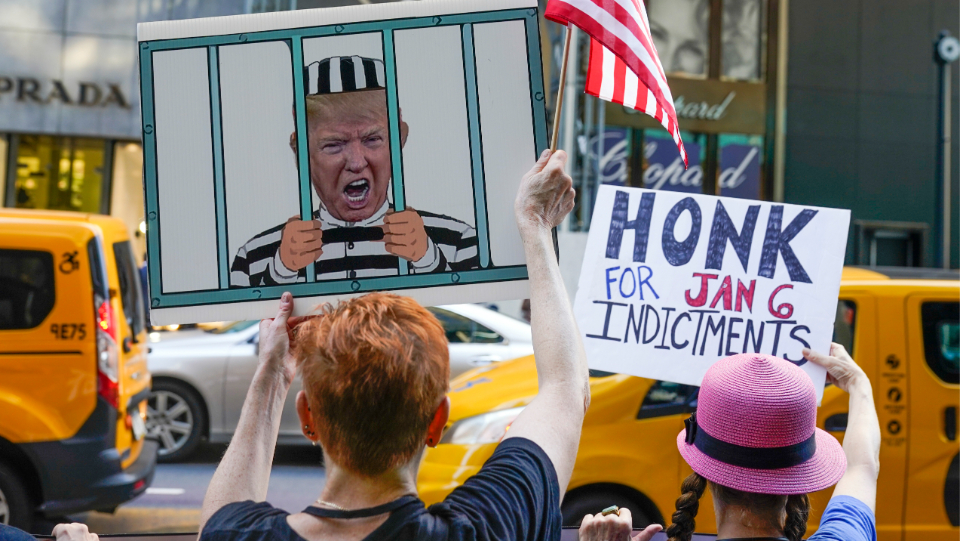 WASHINGTON—The House panel probing the Jan. 6, 2021, Capitol invasion, insurrection, and coup d'état attempt put former Republican Oval Office occupant Donald Trump at the center of all the plotting, added new details, and then subpoenaed him, demanding he testify under oath about it.
The bipartisan 9-0 vote—all seven Democrats and both Republicans—followed new revelations from its last televised hearing, a 2-1/2 hour presentation in the early afternoon on October 12, a time selected for maximum viewer attention on networks and cable, including on Trump's mouthpiece, Fox.
"Donald Trump lost his bid for re-election," Committee Chairman Bennie Thompson, D-Miss., soberly stated. "Donald Trump continued to pull out all the stops in his attempts to remain in power."
"Donald Trump led the attack on the pillar of our democracy," the peaceful transition from one presidency to the next.
"The weight of the evidence has shown the central cause of January 6 was Donald Trump," committee Vice-Chair Liz Cheney, R-Wyom., declared.
Predictably, Trump pooh-poohed the panel's subpoena, using his own financially shaky social media platform to call it a political stunt. The subpoena request now goes to the narrowly Democratic House. But the committee will turn over evidence and may make criminal referrals to the Justice Department, Cheney announced.
Prior panel subpoenas have produced mixed responses from key Trump advisers. Some cooperated. But Trump consigliere Steve Bannon is headed for sentencing at the end of October for his adamant defiance. He faces up to a year in jail.
The hearing left one question unanswered: Who paid for the invaders? One panel member, Rep. Adam Kinzinger, R-Ill., previously promised its written report—due before this Congress ends at noon on Jan. 3, 2023—would answer that question, too.
But the hearing also produced other revelations, including that Trump started plotting in July 2020 to remain in power, regardless of the results, according to testimony from former campaign manager Brad Parksdale.
And after the votes were counted, Trump's advisers, his Cabinet members, his political analysts, his campaign staffers, Justice Department officials, Attorney General William Barr, and even his family members all repeatedly told him there was not a shred of evidence to back his continuing claims of widespread election fraud, and that he definitely lost.
Even the truest believer among the aides, Trump chief of staff Mark Meadows, on being briefed by campaign attorneys in December 2020 about the lack of evidence to back Trump's claims and on his 1-for-62 record in legal challenges—and that single "win" was technical—looked at the lawyers and asked, "So there's no there?" There wasn't.
Trump rejected those conclusions even though "he was in a better position than anyone else"—receiving reports and evidence about the voting from federal agencies, notably the FBI—to know his claims of fraud were false and there was no evidence for them, the panel said.
"The claims were baseless and were strongly rejected" by judges who heard them, Kinzinger noted. That included Trump-named judges, and the language was sharp: "The federal appeals court in Pennsylvania said 'Charges (of vote fraud) require specific allegations and proof. We have neither here.'"
And when the U.S. Supreme Court finally rejected the only challenge that reached it—by an 8-1 margin with Republican-named Justice Clarence Thomas as the "1"—one aide texted: "Just FYI…POTUS is pissed. He is livid." POTUS is the abbreviation for President of the United States.
Rep. Zoe Lofgren, D-Calif.—the only lawmaker who, as a young staffer, was part of the Watergate impeachment investigation of 1974—pointed out that Trump deliberately misled himself by relying on early pro-Republican returns, before absentee and mail-in ballot counts even began in the states.
"I recommended to him" to make no statements "because votes were still being counted," Trump campaign manager Bill Stepien testified under oath in one video. "We want all voting to stop," Trump declared on one press conference tape the panel played.
"But he declared victory and called for stopping the count," which would have invalidated millions of ballots, Lofgren added. "His false victory speech had been planned in advance," on Oct. 31, 2020.
Trump also knew, according to newly revealed tweets and e-mails from the Secret Service, that his invaders were heavily armed and dangerous. Indeed he demanded the agency remove the magnetometers that would have caught—and led to confiscation of—their weapons at Trump's pre-invasion speech on January 6.
Before that, the Secret Service e-mails and texts show, tipsters had warned of the insurrection looming. One tip, on Dec. 26, 2020, read, "The Proud Boys plan to march armed into D.C. and will outnumber the police, and they plan to kill people. Please take their plan seriously."
The agents knew, too, about the weaponry and kept accumulating and sharing information about the invaders as the insurrection escalated. There were also many close contacts between the invaders and the Trump White House and campaign.
Trump ordered the insurrectionists to march to the Capitol, struggled even more than revealed before with the Secret Service over leading them there, and egged them on, Rep. Elaine Luria, D-Va., a military veteran, said. "Donald Trump maliciously repeated that nonsense to a wide audience over and over again," to convince them, anger them, and get them to invade.
Trump also acted through his top staffers. In particular, there were frequent contacts between Bannon and longtime right-wing operative Roger Stone, acting for Trump, and the Oath Keepers and Proud Boys, the two white supremacist groups who led the invaders—and whose leaders are now on trial in D.C. for seditious conspiracy.
A week before the insurrection, top Trump adviser Jason Miller reported on The Donald.com that "I got the base all fired up." And when the invaders reached the Capitol and started chanting "Hang Mike Pence," the vice president, Miller laconically added, "Gallows don't require electricity."
While Pence and House Speaker Nancy Pelosi, D-Calif., were actual physical targets of the insurrectionists, Miller expanded the field to all of Congress. Lawmakers, Miller added on January 6, "can leave Capitol Hill in one of two ways: In a body bag or by certifying Trump" won.
At times, video of witnesses under oath showed, Trump admitted behind closed doors that he lost. Kinzinger played testimony from General Mark Milley, chair of the Joint Chiefs of Staff, quoting Trump as saying about a particular military problem, "Yeah, we lost. We need to get this issue to the next guy."
But then, the same day or the day after, Trump would go out in public and repeat his lies, ratcheting up the pressure on officials he felt would bend to his will, and ratcheting up the rising potential of violence among his legions.
Gen. Milley and other Pentagon officials also testified Trump, in his last days in office, wanted to engineer the immediate withdrawal of U.S. troops from Afghanistan, without notice to Afghans, allies, or anyone else, and immediate withdrawal from Somalia, too. The Pentagon resisted, saying an immediate departure was logistically impossible. Trump signaled there would be an Afghanistan withdrawal, but left implementation to his successor, Democrat Joe Biden.
Through it all, Kinzinger said, Trump "knew the truth" about the election, that he lost, but took "a deliberate course to ignore the courts, ignore his senior advisers, ignore his campaign leaders, and ignore the rule of law" to scheme to overturn the results.
Thompson made the point, refuting continuing Republican charges of a Democratic witch-hunt for Trump, that every witness—from Trump chief of staff Meadows on down—was a registered Republican. Some, Thompson said, testified unwillingly.
New video aired by the panel, of congressional leaders demanding rescue from the invaders, showed Pence not only defied Trump by refusing his demands to override electoral votes, but that once the invaders forced lawmakers, staffers, and journalists to flee for their lives that January 6, he actively cooperated with congressional leaders in finding ways to rescue the endangered.
The response of the invaders to Pence's refusal to overturn the election was angry, with them repeatedly demanding, "Hang Mike Pence!"
Cheney repeated one big caution she's uttered at prior panel hearings: This time, democracy survived, narrowly, because people—federal judges, the FBI, local Republican officials in charge of vote counts, the U.S. Capitol and D.C. police, and others—stood up to Trump's coup try. Next time, she warned, could be very different.
"We assume they"—the protections and protectors—"will hold next time," Cheney said. "We have no guarantee that will happen. Any future president has learned not to install people" in key positions "who will stand in his way.
"What happens when a president disregards courts' rulings and the rule of law? That breaks our republic."