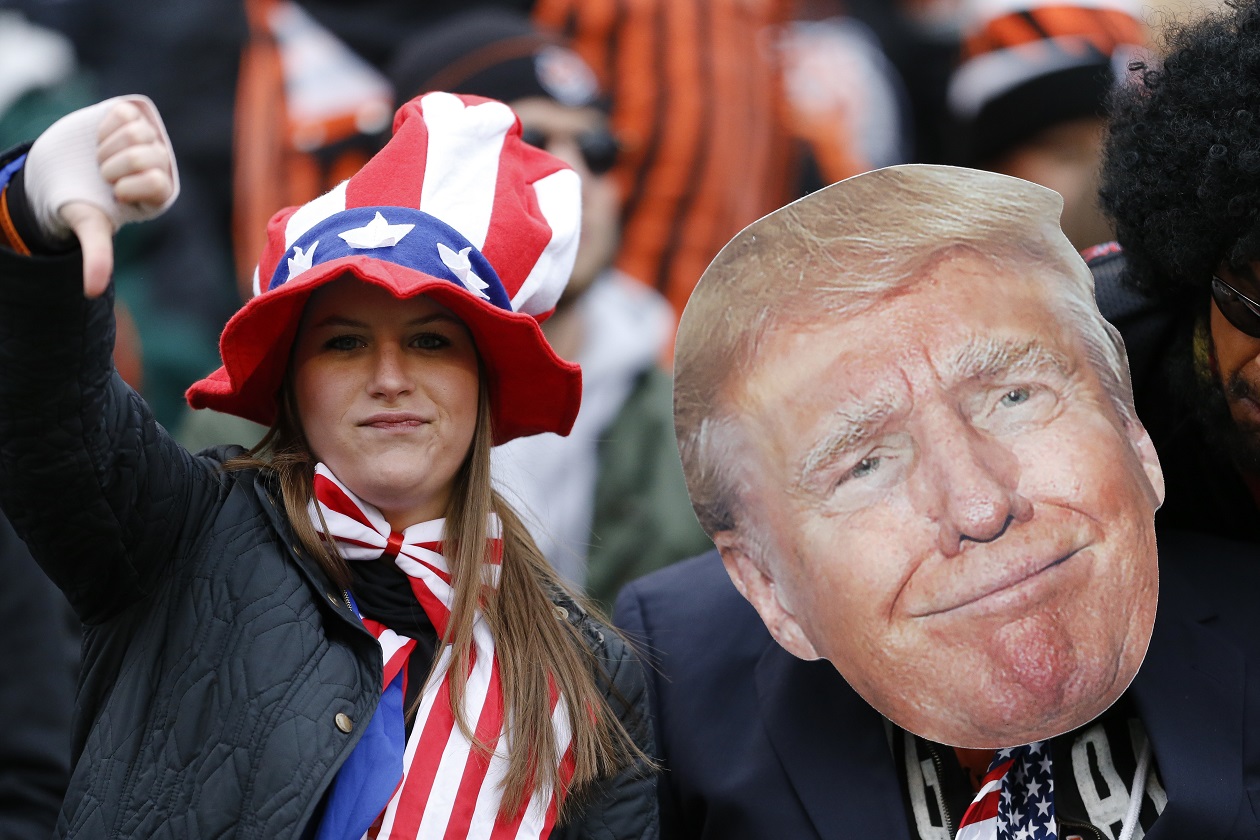 WASHINGTON—Former Oval Office denizen Donald Trump, who shut down the government once, is ordering MAGA House Republicans to do it again. Government Employees (AFGE) President Everett Kelley wants to make sure it stays open.
Trump's latest shutdown command was via a posting on his Truth Social site. He says, incorrectly, that a shutdown would stop the federal and state trials he faces in D.C., New York City, Florida, and Georgia.
"Republicans in Congress can and must defund all aspects of Crooked Joe Biden's weaponized Government," the former Republican White House occupant bleated. Doing so would be "the last chance to defund these political prosecutions against me and other Patriots."
The last time Trump shut the government, for 35 days, was to unsuccessfully force lawmakers to fund his racist Mexican Wall. U.S. people who depend on government services were the victims—and AFGE members even more so.
That's because most were sent home without pay, even though their mortgage payments and car loans were due and they had to buy groceries, just like everyone else.
Those that weren't sent home were "essential workers," such as air traffic controllers and food safety inspectors, and had to toil unpaid. They were supposed to be reimbursed for lost pay, later.
AFGE President Kelley, whose members and all other federal workers, plus the rest of us, suffered from Trump's last shutdown, is urging lawmakers to keep the government's doors open beyond September 30.
Kelley spoke up for those potential shutdown victims—union and non-union, essential and not—in a letter to lawmakers. He urged Republican politicians to stop the hijinks in the U.S. House and pass a "clean" temporary money bill, called a continuing resolution, to keep the government's doors open and the lights on.
"I urge you to oppose HR5525, the Continuing Appropriations and Border Security Enhancement Act 2024 or any other legislative vehicle representing its content," Kelley said of the House Republicans' latest version of the CR. HR5525 includes Mexican Wall money, too.
The measure is loaded with other right-wing "poison pills" anathema to Democratic President Joe Biden and the Democratic-run Senate—such as banning money for diversity and inclusion programs in a military whose enlisted rank-and-file have a disproportionate share of servicemembers of color.
"Pass a clean Continuing Resolution for fiscal year 2024 by September 30," said Kelley, whose union has taken the lead in lobbying lawmakers on that fiscal issue.
"Further, Congress must take all necessary measures to enact a responsible FY2024 appropriations package that funds the federal government at levels that keep pace with inflation and emergency needs and must do so without a government shutdown or further political antics and ultimatums. Simply put, the political theatrics have got to stop."
Unable to corral his divided GOP caucus, House Speaker Kevin McCarthy, R-Calif., sent lawmakers home for the weekend early on September 21, with only nine days to go before a shutdown.
Trump's Truth Social message added to the antics, ultimatums, and theatrics Kelley denounced. They all come from the so-called "Freedom Caucus," a group made up of around 40 Trumpite and extremist House Republicans, whose tail wags the Republican dog due to the GOP's slim majority there.
One top Freedom Caucus member, Rep. Matt Gaetz, R-Fla., who favors a shutdown, too, promptly texted "Hold the line!"
Having catered to the Trump faction of his party in order to get (and keep) his job as Speaker, McCarthy appears totally incapable of commanding them.
"The refusal of Congress to do its job and put to rest fears of a shutdown or massive and unwarranted cuts is impeding federal employees from doing their jobs, delaying assistance and service to the American people, and threatening the health of our economy," Kelley responded.
His union wants "Congress to act immediately to avoid a shutdown and ensure the continuation of funding for the government and critical programs like Social Security, Medicare, and veterans benefits. There must be no negotiation that puts these programs, or any aspect of federal employee compensation at risk."
And as for Trump's claim that a shutdown would defund the many criminal prosecutions he's facing, the Justice Department laconically noted that he's wrong. DOJ has "permanent indefinite appropriations," which means it can keep going, no matter what, with trials in Florida and D.C. And in Georgia and New Yorke, local district attorneys are running those prosecutions, so they're unaffected by lack of federal dollars.
We hope you appreciated this article. At 

People's World

, we believe news and information should be free and accessible to all, but we need your help. Our journalism is free of corporate influence and paywalls because we are totally reader-supported. Only you, our readers and supporters, make this possible. If you enjoy reading 

People's World

 and the stories we bring you, please 

support our work by donating or becoming a monthly sustainer today

. Thank you!