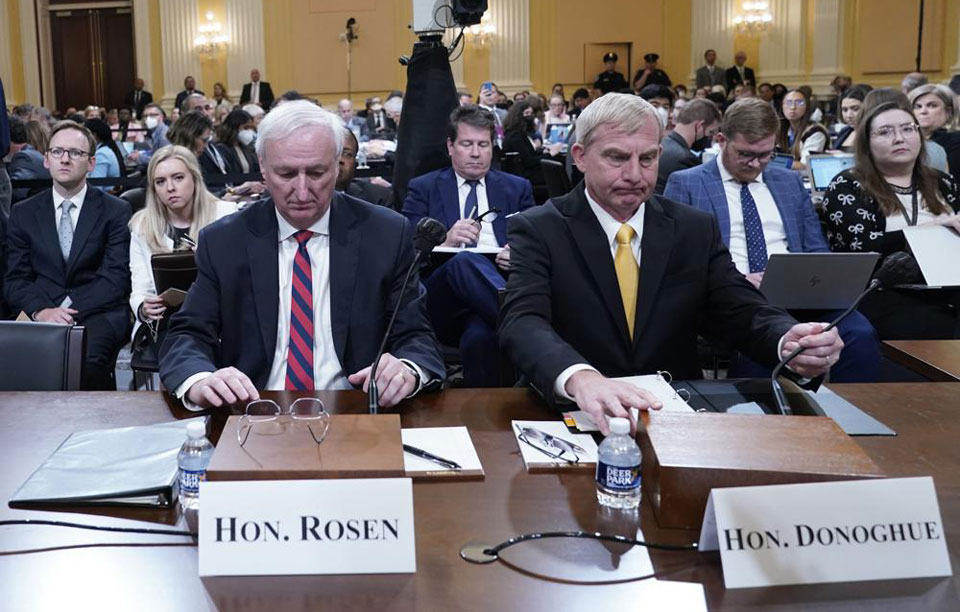 WASHINGTON—Top Trump regime Justice Department officials, standing by the Constitution and the rule of law, derailed his design to use the big law enforcement agency to pervert the law and further his 2021 coup d'etat try to keep the presidency.
After weeks of pressure, starting in December, the showdown came, said former Acting Attorney General Jeffrey Rosen and his deputy, Richard Donoghue, in an Oval Office meeting on Jan. 3, 2021, just before the January 6 Trumpite invasion and insurrection in the U.S. Capitol.
At that long heated session, Donald Trump tried to impose a lower-level Assistant A.G., Jeffrey Clark, a willing Trump stooge with no experience in trying cases or running big investigations, to replace Rosen. Trump also pushed Rosen, Donoghue, and other officials to declare the election "corrupt" in line with the "Stop the steal" Big Lie he perpetrated even before the November 2020 vote.
The Justice Department officials, all of them Republicans, stood fast against Trump's pressure, ending that part of Trump's multi-level plan to overturn the election and retain power unconstitutionally.
On January 4, for example, Trump tried to pressure Vice President Mike Pence to reject electoral votes, and continued that through January 6, the day the Trumpite insurrection hit. Pence, too, withstood Trump's pressure.
"This (Trump's try) would have tremendous constitutional, political, and social consequences," said Rosen.
The DOJ officials' response to Trump's plan in the tense meeting: Mass refusal and a mass threat to quit on the spot. Ditto for Trump White House Counsel Pat Cipollone. And within 72 hours, Donoghue added, most U.S. attorneys nationwide would have followed, leaving a hollowed-out DOJ unable to function. One, the U.S. Attorney in Atlanta, already had, due to Trump's pressure.
"It'll be a graveyard," Rosen said he told Trump.
The mass exodus would have told the nation something was seriously wrong, said Donoghue. It would "have been bad for the department, bad for the nation, and bad for the president," he said he told Trump.
"It's important the Justice Department adhere to the facts and the law. If it gets out of the role it's supposed to play, it's bad for our country, " Rosen told the House Select Committee investigating the U.S. Capitol invasion, insurrection, and attempted Trumpite coup d'etat­—along with the planning and machinations by Trump's team long before.
That's what Trump tried to force on the Justice Department. "What do I have to lose?" Trump asked. A lot, was the reply. And the country would have lost even more.
Had Trump's Justice Department scheme succeeded, "It may well have spiraled us into a constitutional crisis," Donoghue testified on June 23 to the committee probing Trump's coup plans.
"The DOJ can't and won't snap its fingers and change the outcome of the election," Rosen told Trump, according to Donoghue's handwritten notes of the key session, three days before the insurrection.
"That's not what I'm asking you to do," Trump replied. "What I'm asking you to do is just say the election was corrupt and leave the rest to me and the Republican congressmen." And to Clark.
Once Trump installed Clark—he actually named Clark as Acting A.G. on White House phone logs—Clark would have sent out a letter to key swing states. The letter stated, with no evidence, that DOJ "had found significant concerns" with their election results.
"The Justice Department had told President Trump," repeatedly, "there were no significant concerns," Rosen said. But Trump kept repeating his Big Lie about a stolen election. In meetings with the DOJ officials, he brought up alleged frauds, all of which were baseless. And on January 6, a video showed, Trump repeated his lies in an incendiary speech to the Trumpites, then sent them on to their invasion.
Nevertheless, the Trump-favored letter demanded state officials accede to Trump's demand to recall their electors, thus depriving Democratic presidential nominee Joe Biden of the votes he fairly won the prior November.
Trump planned to keep the White House at any and all costs, committee Vice-Chair Rep. Liz Cheney, R-Wyom., emphasized at the opening of the latest hearing. And though they too are Republicans, the Justice Department officials' resistance to Trump's takeover plans differed markedly from the reaction by Trump disciples on Capitol Hill.
An overwhelming majority of House, Senate, and state-level Republican officials still kowtow to Trump's "stolen election" claims and his continuing dominance of the Republican rank and file. But the leading Republican extremists went far beyond in the runup to January 6.
At the end of the session, Rep. Adam Kinzinger, R-Ill., who handled the questioning, and two witnesses interviewed via video named the most-rabid Trumpite Republicans who sought presidential pardons for their roles in trying to keep Trump in office: Reps. Matt Gaetz (Fla.), Mo Brooks (Ala.), Andy Biggs (Ariz.), Louie Gohmert (Texas), and Scott Perry (Pa.). Arizona media previously said Republican Rep. Paul Gosar sought a pardon, too.
"The only reason I know to ask for a pardon is because you think you have committed a crime," Kinzinger said afterwards. Perry, who denies the pardon charge, touted Clark to Trump, the Justice Department officials testified.
"There is much more to come in our hearings and our report," Cheney warned at the outset, before recapping what the select committee has reported so far.
"He launched a fraudulent media campaign" about a stolen election when DOJ—and everyone else—found no evidence of fraud. "He pressured Vice President (Mike) Pence" to declare electoral votes from key swing states invalid.
"He directed a Republican National Committee effort to create fake electors' slates" to send to Pence, and at the last resort "mobilized his supporters" to storm and trash the Capitol to stop the vote count and his loss of the White House to Biden.
"These were not ad hoc."
Former Attorney General Bill Barr foreclosed another potential path for Trump to retain power—three days before Barr quit in protest against Trump's "Stop the steal" lies, which Barr famously called "bullshit."
Barr called a public press conference to declare there was no credible evidence of election fraud. In a video of an interview with committee probers, he added: "I felt the responsible thing to do was to say we looked at it"—fraud allegations—"did a complete investigation" and, importantly, reached that conclusion before January 6.
Had DOJ's investigation proceeded at a normal pace, taking months, "I'm not sure we would have had a transition at all" between Trump and Biden, even though Biden won, Barr told committee questioners.
The witnesses, both in the hearing room and in a video of interviews with committee staffers,  all emphasized DOJ is supposed to be independent of presidential influence and outright control. That hasn't always been true. Democrat John F. Kennedy named his brother, Robert, Attorney General, for example. In 1921, Republican Warren Harding named his corrupt campaign manager, Harry Daugherty.
And almost 50 years ago, Watergate left the department tarnished and awry.
The top victim there: Republican President Richard Nixon's former Attorney General, John Mitchell, who wound up in jail. FBI Director L. Patrick Gray had to resign in disgrace after burning papers involving another Nixon scandal—evidence—in his fireplace.
Nixon's successor, Gerald Ford, eventually named a completely non-partisan former law school dean, Edward Levi of the University of Chicago, as A.G. to clean up the mess—and start the tradition of "independence" the DOJ witnesses cited on June 23.
"Presidential pressure can be really hard to resist," commented Kinzinger. "But the president must not use the Justice Department to serve his own interests, especially when he wants to subvert democracy."
The hearings will continue in July, with dates to be announced.