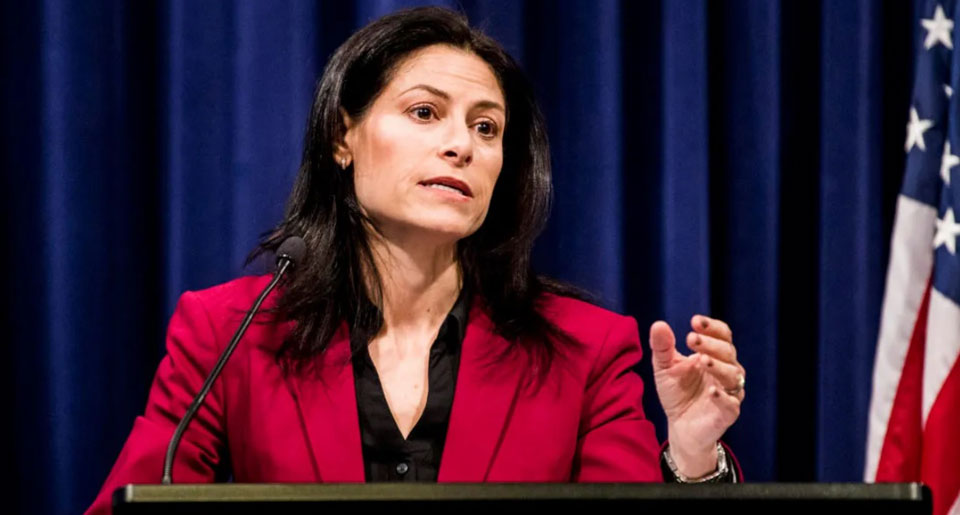 LAS VEGAS—Several months ago, Jim Marchant, a Nevada businessman and Trumpite conspiracy theorist, spilled the beans about how that wing of the Republican Party plans to control all U.S. elections in the future.
If you can't win by convincing voters to back your stands, win the lower-level offices—Attorney General, Secretary of State, or elections board spots—that control who votes, and whose votes are counted.
In other words, if you can't win, make sure the other side loses, by banning them from voting, or invalidating their votes when cast.
Those Trumpites formed an "America First" coalition of 2020 election deniers to take over those posts in this fall's vote, Marchant told top Donald Trump confidante Steve Bannon on Bannon's "War Room" podcast, the Guardian reported. Since then, the number has risen past 20.
At least two, both in Michigan, are guaranteed spots on November's ballot, a non-partisan group, States United Action, adds. The Brennan Center report for Law and Justice is even blunter in a recent report.
"This year's elec­tions will determ­ine who runs the 2024 elec­tions for races at every level up to and includ­ing the pres­id­ency. These 2022 election offices, from Governor to Secret­ary of State to local super­visors and clerks, play crucial roles in how Amer­ic­ans access the fran­chise as well as how ballots are coun­ted and the results certi­fied. This year's contests are attract­ing the most atten­tion of any in recent memory."
There may be attention from good government and watchdog groups. The voters are another matter. They give the Trumpites one big weapon,  apathy.
Off-year elections feature lower overall turnouts than in presidential years. And voting for lower-level offices—including attorneys general and secretaries of state—is in turn far lower than the ballots cast for top-of-the-ticket races, such as governor or U.S. senator.
Take Wisconsin, a swing state, for example: Biden won in 2020 by 20,682 votes out of 3.24 million cast. In the 2018 off-year election, Democratic nominee Tony Evers beat union-hating Republican incumbent Scott Walker by 29,227 votes. But the key number there: 2.67 million people voted.
That's a gap of 570,000 voters. And Democratic AG nominee Josh Kaul beat incumbent Republican Brad Schimel in 2018 by 17,190. Turnout 2.64 million.
Wisconsin, with a history of clean elections overseen by a non-partisan elections board—which state Republicans are trying to neuter—had one of the higher off-year turnouts, including for lower-level offices, in the country.
Low vote expectations a problem
Low vote expectations put a premium on each side mobilizing its base and getting them to the polls. That's where the Trumpites excel. If they win, they get to pull the levers of election control in Trump's direction—and against voters they hate: women, voters of color, students, the disabled, former felons who have finished their sentences, workers.
All the AG and Secretary of State hopefuls Marchant described subscribe to Trump's "Stop the steal!" campaign. All pledge some form of elections control, targeting, using code words, voters they hate.
And they're running everywhere, though the most-notable races are shaping up in swing states. Some examples:
S. Rep. Jody Hice, R-Ga., is one of two Trumpites challenging Trump's top target, incumbent Georgia Republican Secretary of State Brad Raffensperger. That's even though the GOP-dominated Georgia legislature already stripped the Secretary of State's office, and its nonpartisan staffers, of election control. Instead, regardless of what Peach State voters decide, the legislature has transferred the ultimate decision on who wins each office to…the legislature.
Former Arizona State Rep. Mark Finchem not only refuses to accept Democratic presidential nominee Joe Biden's 2020 win there but was part of the crowd listening to Trump egging them on to "Stop the steal!" by marching on the U.S. Capitol on Jan. 6, 2021, news reports show.
Then more than 1,000 of those Trumpites—though not Finchem—invaded the Capitol and Congress in a coup to try to keep Trump in the White House. He took pictures of the others who invaded and later boasted about it.
Michigan Republicans nominated lawyer Matt DePerno for Attorney General and community college teacher Kristina Karamo to face Democratic incumbents this fall, guaranteeing them spots on the ballot, since Michigan primaries don't include such cabinet posts.
"Congratulations to Matt DePerno and Kristina Karamo on their incredible victory in Michigan!" Trump tweeted in glee.  "They will go on to big victories for Attorney General and Secretary of State. I will back them strongly. Michigan is one of the worst on Election Fraud and corruption, and they will put an end to it. At the same time, they'll get to the bottom of the 2020 Election Fraud!"
Trumpite Republican lawyer Kim Crockett, seeking the Secretary of State's post in Minnesota, argued this year that "voting procedures enable fraud," the Brennan Center for Law and Justice reported.
Her tweet, "2020? Never Again," added "I'm committed to ensuring ineligible ballots and illegal election procedures do not disenfranchise legitimate voters," using Republican code words against voters of color and for white nationalists.
In response, incumbent Democrat Steve Simon called the 2020 voting "fair, accurate, and fundamentally secure." Allegations of irregularities are "not just factu­ally wrong" but "corrod­ing our demo­cracy in many ways."
Kansas Republican Secretary of State Scott Schwab dismissed Trump's claims of mail-in ballot fraud, in a state Trump easily won. Like Raffensperger, he's drawn a Trumpite Republican primary foe.
Democratic Party reaction wanting
The national Democratic Party's reaction so far? Dead silence, one of the incumbents they face, Michigan AG Dana Nessel, told MSNBC on April 24.
"I mean, I'm just gonna be honest with you, no, I've never heard anything from the DNC," Nessel told the cable network.
The national party seems "as usual, to be focused on the federal races," she elaborated. That has been a Democratic Party problem—and, often an organized labor problem—for more than a decade.
"I really do think it's time to stop and understand that without these statewide elected positions," specifically AGs and Secretaries of State, either or both of whom control elections—"it's likely not to matter… because the states will not be properly certified to reflect the will of the voters," Nessel said.
Current and former election officials, as well as election experts, worry about what could become of democracy should some or many of the Trumpite candidates across the country win.
"They're criminalizing elections officials who are just doing their jobs," said veteran Democratic elections attorney Bob Bauer, co-chair with Republican Ben Ginsburg of a non-partisan attorneys' group, the Election Official Legal Defense Network (www.eoldn.org) created to monitor the 2022 and 2024 votes—and guard against manipulation, including suing to stop it.
"They're also turning over the tabulation of votes to partisan legislatures," Bauer said in the joint March 2 interview with a Los Angeles-based Jewish justice-oriented organization.
Whether the right-wingers can succeed in their drive to control elections by controlling the AGs and Secretaries of State "depends on how early we can identify what the threat is. There cannot be a more profound threat" to free and open elections than that.
The solution, the two said, is to mobilize the faith community, the civic community, civil rights groups, and "civic society" to "defend the guardrails" around elections before the right-wingers get a chance to destroy them.
Easier said than done, though, and not just because of the right-wing candidate onslaught, Ginsburg warned.
"The fact that 30% of the people do not have faith in the fair counts of elections is really worrisome."
"This is a good time…to remind people that protection of democracy is not the concern only of professional politicians," Bauer concluded.