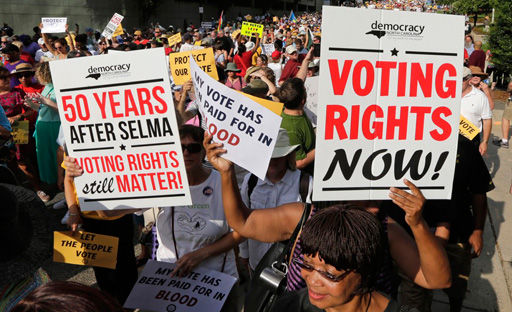 INDIANAPOLIS (PAI) – Well, now we know why Mike Pence went home to Indianapolis after last month's GOP convention, and it wasn't just for rallies for Donald Trump's ticket.
Instead, Indiana's governor, who became the business mogul's Republican running mate, addressed – and hailed – the American Legislative Exchange Council, disregarding worker protests out front of the secretive right-wing cabal's meeting in his state's capital city.
"I think everyone should be very weary and very leery, watching carefully to see where ALEC gets its resources and how it connects those resources to legislators," said Teresa Meredith, president of the Indiana State Teachers Association, at the July 27 rally. Meredith led more than 100 teachers in front of the hotel where the corporate-funded front group hosted lobbyists and state lawmakers from around the country, and, later, Pence.
"ALEC has driven the privatization of public education in Indiana," Meredith said. "Our state is a leader in funding private school vouchers and charter schools with taxpayer money to the detriment of the more than 90 percent of Hoosier kids attending public schools."
ALEC is known for its anti-worker, anti-minority "model legislation" which its corporate lobbyists draft and its right-wing politicians enact. If those right wingers, all Republicans, control state and local governments, the ALEC schemes – often adopted word-for-word – become law. ALEC also pushes so-called "voter ID" laws to disenfranchise workers, students, women and minorities who oppose its corporate agenda.
That corporate agenda includes so-called "right-to-work" and "paycheck protection" legislation, bans on project labor agreements, outlawing public worker unions and their contracts, taxpayer-paid vouchers for parents of private school kids – defunding public schools – abolition of teacher tenure and more.
Pence endorsed all of that. He promised the audience Trump would be "empowering states with resources and flexibility," right wing code for cuts in regulations and elimination of programs for low-income and minority people. "You are the model for Washington, D.C., after this election," Pence declared. Trump's running mate also reminded the right wing of the importance of presidential U.S. Supreme Court nominations.
"For the sake of the rule of law, for the sake of the sanctity of life, for the sake of our Second Amendment and all of our God-given liberties, we must assure the next president making appointments to the Supreme Court of the United States of America is President Donald Trump," Pence said, to enthusiastic applause.
The U.S. Constitution's 2nd Amendment states that "a well-regulated militia, being necessary to the security of a free state, the right to keep and bear arms shall not be infringed." "Sanctity of life" is the code for anti-abortionists.
ALEC first became notorious for its "concealed carry" gun laws. Florida's ALEC-drafted law let a neighborhood watch "volunteer" shoot and kill unarmed African-American teenager Trayvon Martin. His killing was the first in a long line of shootings that have galvanized national attention – including union attention-on African-Americans' problems with law enforcement, official and unofficial.
Photo: Indianapolis unions protest ALEC meeting. USW Local 1999 Facebook