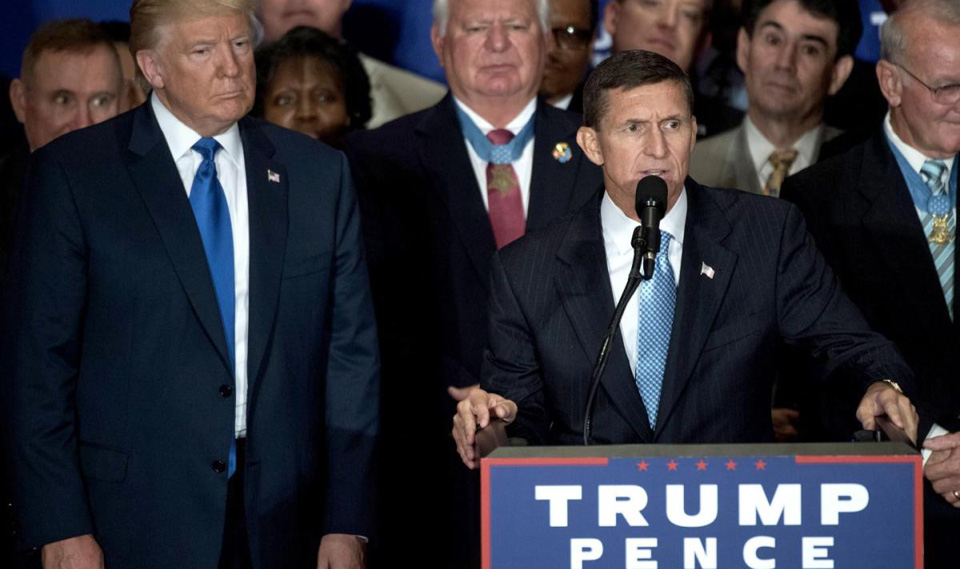 The Justice Department named Robert Mueller, former FBI director, as special counsel to head its investigation into possible Trump collusion with Russian efforts to meddle in the 2016 elections.
The deputy attorney general, Rod Rosenstein, made the announcement yesterday in his capacity as acting attorney general. Jeff Sessions, the attorney general, was forced to recuse himself from any investigations into the matter because of  his personal role in the Trump campaign.
Rosenstein, at an unprecedented closed door session, briefed the entire U.S. Senate today.
Mueller has been widely heralded in the press as "bi-partisan" and "independent." He was appointed by President George W. Bush to head the FBI for a ten-year term, and when President Obama replaced Bush, he asked Mueller to stay on for two extra years.
Only hours after the bombshell announcement of the appointment of Mueller to head an investigation it was revealed by the New York Times that General Mike Flynn, the national security advisor appointed and later fired by Trump, had disclosed to the President that he was under investigation by the FBI for having been a paid foreign agent working for Turkey's authoritarian president, Recep Tayyip Erdoğan. Trump has claimed he did not have that information when he appointed Flynn.
Trump lashed out on Twitter again this morning claiming that there was a double standard because both "the Clinton campaign and Obama" had committed "illegal acts" for which no special prosecutor had been appointed. The president offered no evidence for those claims. He also told a graduating class at the U.S. Coast Guard Academy yesterday, even before the announcement of the appointment of a special counsel, that "no politician in history has been treated more unfairly" than him.
The events of the last 24 hours appear to have brought into question whether the Trump administration will be able to survive the scandals, most of which it has brought on itself.
Never before in U.S. history has a special prosecutor been named to investigate a president less than 120 days into his administration while talk of impeachment is heard on the floor and in the halls of the U.S. Capitol and throughout D.C.
Elected officials in the House and the Senate were busy yesterday demanding all kinds of documents in the wake of Trump's firing last week of FBI director James Comey, which came just as Comey was stepping up his investigation of the Trump administration. Statements by Comey have now emerged claiming Trump had tried to pressure him to drop his investigation of Flynn, as has information concerning the alleged passing of intelligence secrets by Trump to Russian diplomats in a closed door meeting in the Oval Office.
Many developments led up to the explosive announcement of a special counsel by the Justice Department yesterday.
Not least is the fact that millions have been out on the streets demonstrating since almost immediately after the inauguration of Trump. Republican representatives have been under siege at town halls with constituents demanding action not just on health care but on the scandals burying Washington.
Democratic lawmakers have been responding to the pressure and demanding for weeks the kind of action finally taken yesterday by the Justice Department. Rosenstein, the deputy attorney general, has been pressured by many lawmakers to take this action and is concerned too about his own legacy.
Although Republicans have tried to strike a "devil's bargain" with Trump in order to get through their agenda of tax cuts for the rich and killing Obamacare, they are – at least behind closed doors – worried. Stocks plunged almost 400 points on Wall Street yesterday as sections of the ruling class, including the Republicans whose votes they own, worry that Trump's scandals will prevent enactment of their agenda.
It also surfaced yesterday that at a previously unknown meeting of GOP leaders last year, Republican Majority leader Kevin McCarthy had said he thinks "Putin pays" Trump. Majority leader Paul Ryan scrambled yesterday to minimize the damage from the revelation, calling it a "joke."
Another factor is the nearly open revolt sweeping the ranks of the FBI and other intelligence agencies. The rank-and-file are none too happy about the Trump administration's pot shots against them and, of course, the FBI has an all-to-well known history of not taking kindly to politicians and others who challenge them.
Public opinion of course is a very serious factor as well, with 60 percent in recent polls indicating support for an investigation and nearly half saying that they thought impeachment should be on the table.
There is no disputing that the Trump administration is backed into a corner. A vigilant people's movement is required more than ever, however, because the president has it within his legal purview to fire the special counsel. With his record of instability, nothing should be put past Trump and his administration.
Another reason for continued public vigilance is the scope of the investigation itself. The Justice Department may have to be pressured into allowing the investigation to go well beyond just election meddling to include inquiries regarding the vast worldwide network of billionaires and mobsters that are linked to Trump enterprises.