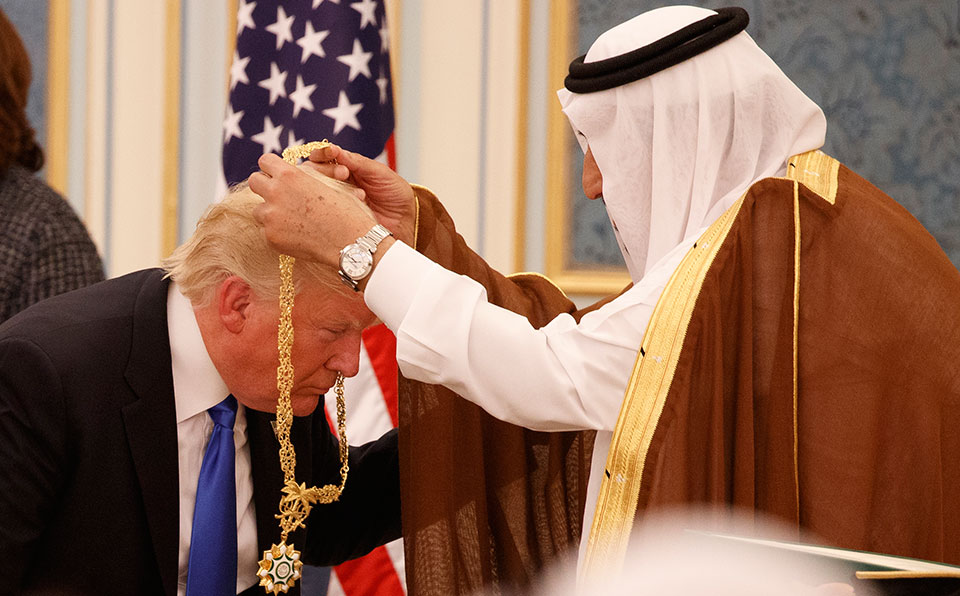 President Donald Trump urged Middle Eastern leaders to fight terrorism yesterday as he increased the dangers for all by striking arms deals with Gulf monarchies.
Addressing a Middle East summit in Saudi Arabia's capital Riyadh, Trump said the fight against terrorism "is not a battle between different faiths, different sects or different civilizations."
"This is a battle between those who seek to obliterate human life and those who seek to protect it," he said, pointing out that "95 per cent of the victims of terrorist attacks are themselves Muslims."
He urged leaders to drive extremists "out of your places of worship. Drive them out of your community. Drive them out of your holy land."
Saudi King Salman said he was "determined to eliminate" ISIS, which his country helped create, and decried "sectarian" stereotypes of neighboring countries.
But he said Iran – Syria and Iraq's ally against ISIS and al-Qaida – "has been the spearhead of global terrorism."
In Yemen's capital Sanaa on Saturday, tens of thousands marched in protest at continued U.S. support for the Saudi-led invasion of its southern neighbor and their "war crimes" in Syria, Iraq, and Libya. The "No to U.S. terrorism on Yemen" rally was held just 100 yards from where Saudi jets had bombed a funeral last October, killing 140 mourners. Saudi warplanes flew over the capital during the march.
In reference to Trump's 2015 comments that the U.S. only supported terrorist-backing Saudi Arabia because it was a "fat and milky" oil producer, farmers brought a dairy cow draped in the Saudi flag with a suited man in a Donald Trump mask to milk it into a bucket in the colors of the Stars and Stripes.
Recent People's World coverage of the Middle East

– New world disorder: Iran and North Korea in the crosshairs?

– Iran sanctions burden falls heavily on women
On Friday, the Saudi-led invasion coalition command said its forces had shot down a ballistic missile that the Yemeni Republican Guard had launched at Riyadh.
Earlier yesterday, Trump met Bahraini King Hamad, saying the two countries "have a wonderful relationship" – but "there has been a little strain." That came as Bahraini opposition preacher Sheikh Isa Qassim was handed a one-year suspended sentence for promoting extremism and money-laundering, which he denied. Ahead of a meeting with Qatar's Emir Sheikh Tamim bin Hamad al-Thani, Trump said they would discuss the purchase of "lots of beautiful military equipment."
Israeli Infrastructure Minister Yuval Steinitz said Tel Aviv would demand explanations from Trump over a $110 billion arms deal with Saudi Arabia when he arrives there today.
This article originally appeared in Morning Star.