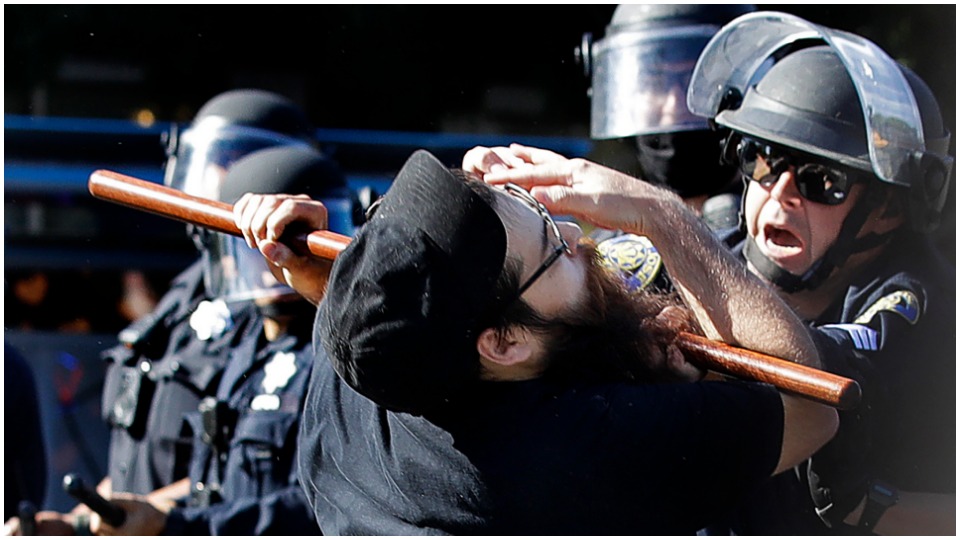 Trump's latest actions signal his attempt to make repression and police violence the new normal. He has threatened to use violent military force to attack U.S. citizens protesting the police killing of George Floyd.
The situation is dire and requires vigilance, democratic resistance, and possible intervention from international organizations and governments.
Hundreds of thousands of protesters in hundreds of cities took to the streets over the weekend to call for an end to racist police violence. They want a halt to the militarization of local U.S. police forces and enforcement of respect for African Americans' human rights.
On Monday, in what many are calling an "unhinged" teleconference with governors, Trump demanded more police attacks on protesters, adding his threat to invade cities with U.S. military forces if they failed to do so.
The same day, Trump ordered the police outside the White House to violently disperse a peaceful protest. He did so because he wanted a photo opportunity in front of a nearby church, to wave a Bible, and to make additional threats against the American people. (Trump never attends church, and no one believes he has ever read a Bible.)
Trump's actions came as he emerged from hiding in a White House bunker on Friday evening and Saturday. Community leaders and politicians have strongly criticized Trump's actions as "fascist" and in violation of human rights.
Condemnations of "fascist" actions
Philosopher and activist Cornell West condemned police violence and said it showed the collapse of the American government's legitimacy. He told one radio station, "The catalyst was certainly Brother George Floyd's public lynching, but the failures of the predatory capitalist economy to provide satisfaction of the basic needs of food and healthcare and quality education, jobs with a decent wage…. Their legitimacy has been radically called into question."
Civil rights leader Jesse Jackson called Floyd's murder a "lynching." Of Trump, he added, "he has lowered the expectations of decency. They refer to him as an impeached president. And he's done so much stuff. He's dulled our consciousness." He called police violence against African Americans a pandemic that needs systemic reforms to stop.
On social media, Sen. Ron Wyden described Trump's remarks to the nation as a "fascist speech… [that] verged on a declaration of war against American citizens." He added, "I fear for our country tonight and will not stop defending America against Trump's assault."
Civil liberties and human rights organizations have also censured Trump. The American Civil Liberties Union demanded a congressional investigation into the White House order to clear protesters in preparation for Trump's photo opportunity. The order "raises serious human rights concerns under international law," the organization stated.
U.N. High Commissioner for Human Rights Michele Bachelet condemned racist police violence in the U.S. She has also rightly criticized racist disparities in the U.S. that have resulted in the disproportionate impact of the COVID-19 deaths on African Americans.
The Reporters Committee for Freedom of the Press condemned a wave of police attacks on the media. "The numerous, targeted attacks that journalists reporting on protests across the country have faced from law enforcement over the last two nights are both reprehensible and clear violations of the First Amendment." Trump has repeatedly branded the media as an "enemy of the people."
Alarmingly, Trump has deepened his organizational ties to white supremacist groups, armed militias, and other fascist-oriented groups. Pro-Trump organizations (one of which has ties to his billionaire Secretary of Education, Betsy DeVos) financed armed protests in various parts of the country against "stay home" orders to fight the COVID-19 pandemic.
Prior to Trump's entry into office, the FBI investigated the sway of white supremacists in police departments, occasionally revealing officers with organizational ties to neo-Nazi or other white supremacist groups. It produced a file called the Known or Suspected Terrorist File, which included information on racist extremists and militias who claimed "active links to law enforcement officers."
The impact of such links between white supremacists and the police may have infected Minneapolis. The events surrounding George Floyd's murder require an investigation of the role of organized white supremacist organizations in that city's police force.
The head of the city's police association, Lt. Bob Kroll, has reported ties to white supremacist groups. Kroll has praised the slaying of George Floyd and condemned media reports that did not paint Floyd as a violent criminal. Kroll, who supported Trump and has a long record of disciplinary violations, has been linked to a motorcycle club that the Anti-Defamation League has labeled a racist biker gang. Since the 2013 uprisings to protest the waves of murders of African Americans, Kroll has condemned protesters and has called for more violent and aggressive policing.
Trump ended the FBI's even meager efforts to eliminate white supremacist organizations in police forces when he took office in 2017. These investigations need to be made public and continued by state bureaus or civil liberties organizations if the FBI refuses to do more.
Trump's threats and actions against protesters have only compounded his party's role in forcing workers back into the workplace despite ongoing threats to public health created by his incompetent response to COVID-19. Indeed, his party backs withdrawing extended unemployment benefits, financially backs armed protests in a number of states against public health measures which have led to the spread of disease, and threatens to fire workers who prioritize their health over the profits of corporations.
Trump's fascism is a capitalist norm
As events unfold and Trump attempts to suppress the political rights of the people with military force and coordinated police violence, no discernible transformation of the underlying economic organization, logic, and relations of capitalism is observed.
For those who believe that fascism is a deviation from capitalist norms, the truth has been laid bare. Trump has shown it to be centrally about imposing authoritarian rule to protect the exploitative process–the extraction of surplus value for profit and accumulation–dominated by the capitalist class. Sometimes capitalist individuals oppose the brutality and excesses of authoritarianism because they have convinced themselves of the naturalness and justice of the process they control and manipulate to enrich themselves.
Trump believes, however, that once the profits roll in more effectively, they will accept his leadership and his racist authoritarianism. Many have already.
The recent People's World article, "Turning point: Trump threatens military rule, turns country toward fascism," and pieces published elsewhere shows that these are the conditions under which racialized and minoritized working-class men and women have long endured. The neoliberal stage of capitalism punished labor unions, privatized public resources, civil rights organizations, and weakened democratic institutions enough to make Trump's authoritarianism feasible.
Neoliberalism was a capitalist class strategy adopted in the 1970s and solidified in the 1980s to weaken the working-class in order to stop the dwindling rate of profit in the capitalist global economy. It produced mega-profits for the 1%, enabled super-exploitation of Black workers, Latinx workers, women workers, and migrant workers. It fundamentally altered social institutions in the U.S. by weakening the organized working class. It didn't create the global ecological crisis, but it constructed strong roadblocks to an effective response to that crisis in the name of profit. It promoted white identity, white nationalism, and white supremacy both as a cultural feature and as a violent, armed militaristic mindset through the manufacture of a global prison-industrial complex.
So, here we are. If we return to the writings of Marxist thinkers like Palmiro Togliatti, Antonio Gramsci, Wang Ming, R. Palme Dutt, and Clara Zetkin who studied, wrote about, and lectured on the rise of global fascism in the 1920s and 1930s and called for and organized an anti-imperialist united front against fascism, we can learn more about general trends within capitalism that lead to fascist social organization, their attempts to re-shape a global balance of forces in favor of imperialism, and new threats of war.
The global protests against U.S. racist police violence that have gathered momentum give hope for a global anti-fascist unity. And the broad sympathy by the American people for the democratic protests and movements remain a source of optimism. The people have protest and organization, but one constitutional structure which we can use to eliminate Trump is the November election. It, so far, remains intact. Let's use it to defend democracy.