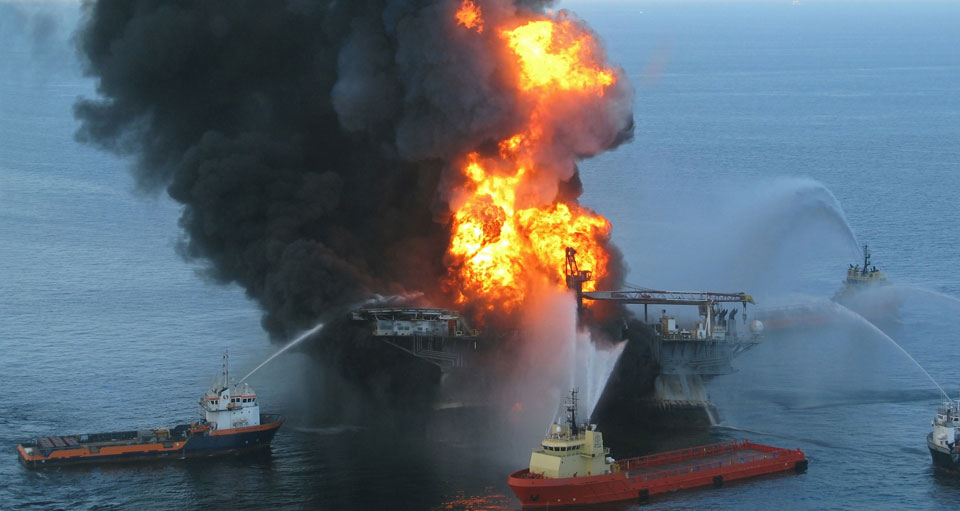 "The well control rule was one of the most important actions we took, as a nation, in response to the BP-style disaster at sea," Natural Resources Defense Council (NRDC) Director of Strategic Engagement Bob Deans said in a statement of the original rule. "The rule draws directly from lessons learned from that debacle. It creates tools to help reduce the risk of these dangerous industrial operations at sea."
The NRDC explained how the Trump's Department of Interior (DOI) was weakening that rule, which was finalized by the Obama administration in 2016:
The agency is walking back components of the well control rule, such as removing requirements for real-time backup monitoring by onshore experts and annual certification of the blowout preventer's integrity by an approved third-party expert. Blowout preventers will now be allowed to simply close, instead of achieving an effective seal, which mirrors standards set by the American Petroleum Institute. (A malfunction of a blowout preventer is what caused the 2010 disaster.) Together, the changes represent a favor to the oil industry and a threat to "workers, waters, and wildlife," Deans says.
In a statement Thursday, Interior Secretary David Berhnardt insisted the change was made with safety in mind.
"Today's final rule puts safety first, both public and environmental safety, in a common sense way," Bernhardt said, as The Washington Post reported. "Incorporating the best available science, best practices and technological innovations of the past decade, the rule eliminates unnecessary regulatory burdens while maintaining safety and environmental protection offshore."
But officials at DOI division the Bureau of Safety and Environmental Enforcement said the changes would also save the offshore oil and gas industry about a billion dollars over 10 years.
"Given David Bernhardt's close ties to his former clients and friends in the fossil fuel industry, it's no surprise that he's seeking to give them free rein to spoil our coasts and public waters and put workers in harm's way," Sierra Club Lands Protection Program Director Athan Manuel said in a statement. "These safeguards were put in place in response to the worst environmental disaster in U.S. history, and with this latest favor for oil and gas companies Bernhardt is putting us at risk of a similar disaster."
The Deepwater Horizon spill had disastrous consequences for the environment and economy of the Gulf of Mexico, The Washington Post reported. Those included:
$95 million in losses for the Gulf fishing industry just in 2010
The deaths of one million seabirds
The deaths of more than 150 whales and dolphins
The deregulation is part of President Donald Trump's overall push to expand offshore oil drilling and "energy dominance," The Huffington Post explained. It comes about a month after a judge blocked Trump's attempt to open up the Arctic ocean to drilling, leading the DOI to likely postpone plans to make more than 90 percent of coastal waters available for oil and gas leasing, NPR reported.
This article was reposted from EcoWatch.