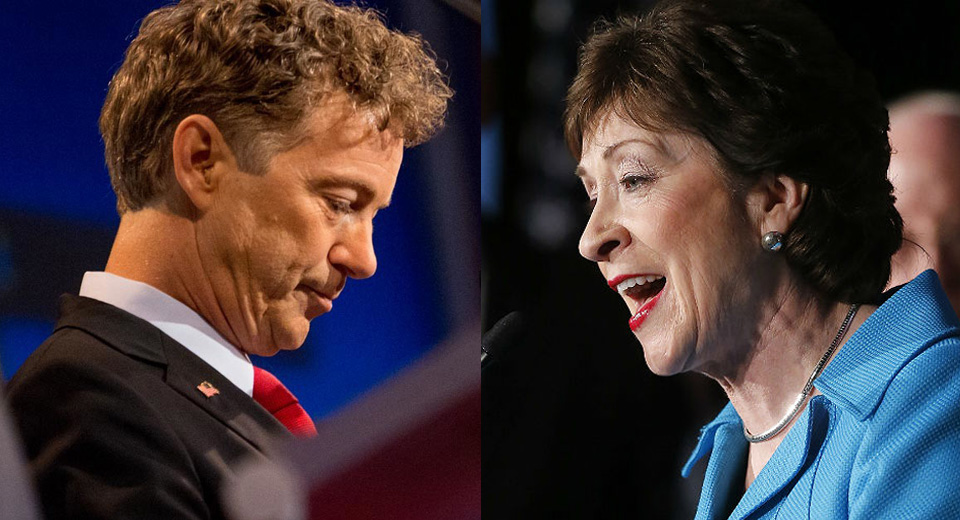 WASHINGTON – With the Republicans' plan to repeal and allegedly replace the Affordable Care Act in continuing trouble, Senate GOP leader Mitch McConnell, R-Ky., has again stalled a vote on his pet scheme.
That delay, beyond July 21, gives foes of the so-called Better Care Reconciliation Act even more time to mobilize against it and put pressure on wavering Republican senators to vote it down.
McConnell is touting the BCRA as the GOP "replacement" for the 7-year-old ACA, but its key provisions would throw 22 million people off of health care – 15 million of them next year – while providing a $900 billion-plus decade-long tax cut, with $700 billion of it for the rich and corporations.
Officially, McConnell stalled because one solon he's counting on, Sen. John McCain, R-Ariz., is in the hospital recovering from surgery. But in real terms, the leader is stalling because, to paraphrase the late Chicago Mayor Richard J. Daley, "Mr. McConnell is losing because he doesn't have the votes."
McConnell's bill is losing both moderates, such as Sen. Susan Collins, R-Me., and right-wingers, such as Sen. Rand Paul, R-Ky., for different reasons.
Collins worries about people who would lose health care coverage when Medicaid gets yanked and rural hospitals and clinics close. Paul wants a full repeal of the ACA, with no replacement at all. Two right wingers share Paul's views. Other moderates, now including McCain, share Collins' concern.
That puts McConnell's bill on the edge. If he loses one more out of his 52 Republicans besides Collins and Paul, it fails.
That prospect has pushed millions of people into the streets, into phone calls and e-mails to senators' offices and into occasional town halls with wavering Republicans. It's also pushed Sen. Bernie Sanders, Ind.-Vt. – one of the two independents and 46 Democrats already committed to voting against McConnell's bill — out onto the hustings to campaign strenuously against it.
His latest targets, speaking to a huge crowd at "Revolution Iowa" in Des Moines on July 14, were Sens. Jodi Ernst and Chuck Grassley, both R-Ia., and both – until now – counted in McConnell's camp. Sanders previously spoke to big crowds in Ohio and West Virginia, among other states, urging thousands to pressure Sens. Shelley Moore Capito, R-W. Va., and Bob Portman, R-O., to oppose McConnell's health care bill. Both are undecided.
"We need one more Republican vote, and I say to Sen. Grassley and Sen. Ernst, please take a hard look at what this disastrous legislation will do to the people of Iowa and the people of America," Sanders told the Iowa crowd. "I say to them – I beg of them – please vote no on this legislation…This legislation is so bad, that the Republicans have refused to hold one public hearing and all of their deliberations are behind closed doors," he said. "That's how bad this legislation is."
Meanwhile, Our Revolution, the descendant group from Sanders' 2016 presidential bid, led 36 sit-ins at home-state offices of 21 GOP senators on July 7 to demand they vote against the bill. The protests drew at least 1,000 people, including members of the Working Families Party, the Progressive Democrats of America, ResistHere.org and the Democratic Socialists.
"We've seen the bill and we know who stands to lose the most: America's poor and working families," said Our Revolution leader Nina Turner. "We don't need to wait for this devastating bill to be passed to hold legislators accountable. There are 22 million lives at stake and we will not stop fighting for the Senate to do the right thing and vote against this horrendous bill. We will continue to sit, stand and fight on until quality healthcare is available to all."
"Trumpcare" – many activists' name for McConnell's measure – "has never been about health care. It's a naked attempt to steal health care from millions of Americans in order to pay for massive tax cuts for the richest people in history," said Working Families Party National Director Dan Cantor. "Even Republican senators must know in their hearts that this is wrong." He predicted the activists would continue their fight, not just to defeat McConnell's bill and similar legislation, but "to fight for a single payer system to kick profit to the curb and provide health care for all."
Several unions have joined the war against the McConnell measure.
"Our fight is not over yet. All Letter Carriers should call their senators…and urge them to oppose this attack on middle-class workers and their families," the union said. And the National Education Association, the nation's largest union, headlined its action alert: "Call Now. Stop Trumpcare," in big, boldface type." NEA has more than three million members.
After providing a toll-free number –1-855-764-1010 – to call senators, NEA added: "Our students need your help. Among all the dangerous consequences this new 'healthcare' bill will have, one of the most alarming is how it will completely dismantle Medicaid. Senate Republicans are feeling the pressure from your calls – we must keep it up!
"One-third of all children in America receive their health insurance through Medicaid, but for our students and their families this isn't only about insurance. Medicaid provides $4 billion per year for healthcare services in our nation's schools – that's vision checks and hearing screenings, physical and occupational therapy for students with disabilities, and other critical services that keep our students healthy and ready to learn."
Activism went online, too. Credo Action joined the crusade by buying "#ResistTrumpcare" billboards in five states, getting 45,000 people to call senators, producing anti-Trumpcare videos which it claimed drew 20 million views and collecting 650,000 signatures on an electronic petition against the bill.