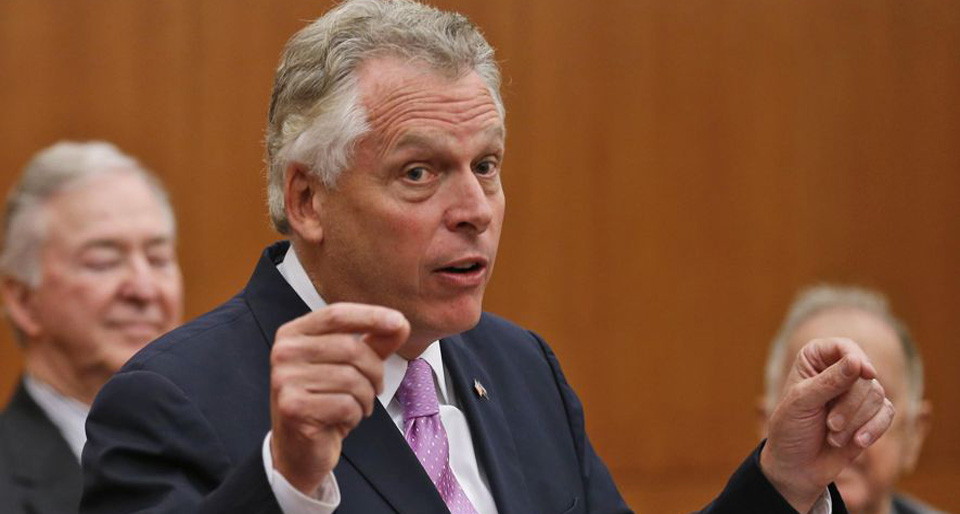 Trumpcare would extract a potentially-deadly cost from Virginia citizens who need health care the most and would possibly abort the Medicaid program in the process.  Consequently, it is no surprise that the issue has now become entangled in this state's 2017 gubernatorial and state legislative elections.
Cuts to the state's Medicaid program could approach $2 billion over a six-year period under Trumpcare, according to the Office of the Virginia Secretary of Health and Human Resources.
Earlier, Virginia Governor Terry McAuliffe described Trump's proposals as a "crazy plan" and added that kicking the most needy people out of the Medicaid program equaled a death sentence for many people. Either that or the state would be forced to raise taxes to pay for it. This idea is unlikely because Republicans control the legislature.
"He has put Virginia in a very untenable position," McAuliffe said.
That's being polite given the expected consequences. How will Medicaid potentially dissolve under the GOP plan? 
Trump's plan would end Medicare's open-ended entitlement system by turning it into a limited financing system in 2020. States would be paid a fixed amount per person based on 2016 Medicare spending by state, with adjustments for inflation. There would not be enough federal dollars to make up the difference.
Virginia Department of Medical Assistance Services conducted a cost analysis of Trumpcare. Costs would be much higher for people getting Medicaid and Virginia would lose close to $2 billion in federal aid from 2020-2026.
Who gets cut out of Medicaid? The answer is children, families, seniors and folks living in nursing homes.
What's known as Trumpcare would cost Virginia more than $237 million with the elimination of drug rebates. Look for another loss of $114 million for a reduced federal share for children's health care.
Let's not believe health care to the poor is being given away like candy in Virginia.
Medicare eligibility in Virginia is one of the strictest in the U.S. Virginia ranks 47th out of 50 states in per capita Medicaid spending.
"This proposal to end the Medicaid program as we know it would lock Virginia into the very lean and mean program that we have currently into perpetuity," said Michael Cassidy, president and CEO of The Commonwealth Institute, a financial analysis group looks an issues that could harm low-income and middle class people.
Give McAuliffe credit for multiple efforts to expand Medicaid in Virginia. The Obama administration promised to pay the bulk of the costs so low-income working people can get health care. Republicans won't be party to a successful government program that helps the poor. Virginia is one of 19 states that refused Medicaid expansion.
Virginians will choose a new governor in November and Trumpcare will be a top issue. The two Democrats in the race are going after Trumpcare.
One candidate, Tom Perriello, has received nationwide attention by using an ambulance being crushed to make his point. Perriello supported the Affordable Care Act and said that vote cost him his seat.
"Republicans are trying to do this to health care," Perriello said.
The other Democratic candidate, Lieutenant Governor Ralph Northam, has said Trumpcare will hurt women's access to health care and an ER visit could bankrupt people. However, during a debate in 2011, he said he did not believe that health care was a right. He voted for George Bush for president in 2000 and 2004.
"I believe it's a privilege. And let me clarify that," Northam said. "If people can get up in the morning and go to work like I can, then it needs to be a privilege. They need to work for their health insurance. If they're disabled, I will take the shirt off my back and help them."