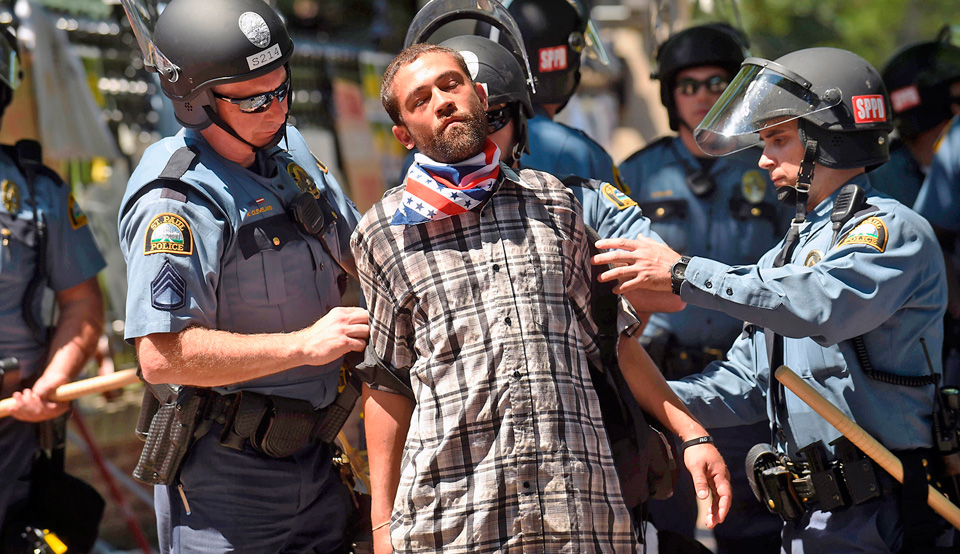 Emboldened, no doubt, by the election of Donald Trump, who encouraged his supporters to beat up protesters at his rallies, Republican state legislators across the country are introducing bills that would, in effect, outlaw peaceful protesting.
The proposals range from bills that would impose inordinate fines and jail terms on protesters to measures that would allow police and automobile drivers to kill them.
The Republicans are trying to disguise some of their bills as public safety measures aimed at preventing traffic from being blocked. In many cases, however, Republicans are not even making an effort to disguise the purpose of their proposals.
Jordan S. Kushner, a Minneapolis civil rights attorney who has represented Black Lives Matter, told the Minneapolis Star Tribune that "These are reactionary voices who are out to quash dissent … right wing legislators who are catering to the prejudices of their base.
"It's the Donald Trump trend at the state level."
Republicans in the State of Washington, for example, have proposed a plan to reclassify as a felony civil disobedience protests that are deemed "economic terrorism." It has little chance of being adopted because Democrats control both houses of the state legislature.
However, anti-freedom of speech measures have a good chance of passing in Republican-controlled states such as Minnesota, North Carolina, Indiana, North Dakota and Michigan
In Minnesota cities could sue protesters
The Civil Law Committee of the Minnesota House of Representatives has sent a bill to the legislature that would give cities authority to sue protesters for the cost of policing their demonstration if the protesters are convicted of illegal assembly or public nuisance.
According to the Minneapolis Star Tribune, after the committee passed the bill, John Thompson of St. Paul, pointed to the legislators and shouted, "It's a crime to be a black, to be a black man driving down the street … My friend's blood is on the streets of St. Anthony. That's why we protested."
Thompson's friend was Philando Castile, shot by police during a traffic stop.
Minnesota lawmakers are also considering a piece of legislation that would make "nonviolent obstruction of the legal process" a crime punishable by "imprisonment of not less than 12 months" and a fine of up to $10,000.
North Carolina law would limit verbal criticism
According to the Salon online newsletter, North Carolina State Senator Dan Bishop has said he plans to introduce a bill that would "insulate public officials from verbal criticism."
The bill would make it a crime to yell at "a present or former North Carolina official."
Bishop came up with the idea after he saw a Facebook video in which a group of people in Washington, D.C. were yelling at former North Carolina Governor Pat McCrory, a right winger who initiated laws that stripped many North Carolinians of their right to vote and their right to equality under the law. McCrory was in D.C. for Donald Trump's inauguration.
The North Carolina ACLU wrote in an email that "People's right to criticize politicians — whether in a newspaper, at a meeting, or on a public street — is the very heart of the First Amendment protections. … politicians who run for and serve in public office shouldn't get special treatment to shield them from criticism."
Indiana law would employ "any means necessary"
The Indiana legislature is considering a bill that would require police to use "any means necessary" to quickly break up demonstrations.
The bill reads: "A responsible public official shall, not later than 15 minutes after learning of a mass traffic obstruction in the official's jurisdiction, dispatch all available law enforcement officers … with directions to use any means necessary to clear the roads of the persons unlawfully obstructing vehicular traffic."
A "mass traffic obstruction" is defined as ten or more protesters.
"I think the new legislation would make protesting in Indiana very dangerous, even to the point of costing lives," Sue Ellen Braunlin told the Guardian. Braunlin is co-president of the Indiana religious coalition for reproductive justice.
Michigan law targets union members
A bill has passed the Michigan House of Representatives that specifically targets union members. It would enable the state to fine individual picketers $1,000 per day of picketing and would place a $10,000 daily penalty on a union presiding over such a protest.
It includes a provision that would allow businesses to sue individual protesters.
A companion bill makes it easier for employers to replace striking workers.
State Rep. Gary Glenn, a sponsor of these bills, cited the Detroit McDonald's workers strike this past November as the kind of protest that needs to be stopped.
The measures have gone to the Michigan Senate.
North Dakota law allows killing of protesters
Probably the most vicious anti-protesting bill being considered is the one in North Dakota. It would allow drivers to hit, injure or kill people protesting in a roadway.
State Representative Keith Kempenich, one of the bill's co-sponsors, told the Bismarck Tribune that the bills shifts "the burden of proof from the motor vehicle driver to the pedestrian."
In other words, victims would have to prove they were not protesting in order for drivers to be charged with reckless driving. Kempenich did not explain how victims killed by a driver could make their case in court.
House Bill Number 1203 states that, "Notwithstanding any other provision of law, a driver of a motor vehicle who unintentionally causes injury or death to an individual obstructing vehicular traffic on a public road, street, or highway, is not guilty of an offense."
Drivers could use just about any excuse to "prove" their actions were "unintentional."
Kempenich, has said that some accidents might occur if motorists "pushed down the accelerator rather than the brakes."
"It's shocking to see legislation that allows for people to literally be killed for exercising their right to protest in a public space," Tara Houska told NBC News. Houska is an attorney and national campaigns director for Honor the Earth, an Indigenous-focused environmental nonprofit who has resided at the Dakota Access Pipeline (DAPL) resistance camps since August.
Rep. Kempenich made very clear his bill is aimed at those who are protesting at Standing Rock and who are trying to save the source of drinking water used by the Standing Rock Sioux.
Trend seen as "deeply troubling"
"This trend of anti-protest legislation dressed up as 'obstruction' bills is deeply troubling," Lee Rowland, a senior staff attorney at the American Civil Liberties Union told The Intercept online newspaper.
"A law that would allow the state to charge a protester $10,000 for stepping in the wrong place, or encourage a driver to get away with manslaughter because the victim was protesting, is about one thing: chilling protest," Rowland said.
"I don't think this is a coincidence that this is happening at a time in our nation where there are widespread movements led by people of color for racial equality," Teresa Nelson, legal director of the American Civil Liberties Union (ACLU) of Minnesota, told the Star Tribune.
Nelson concluded, "It is very troubling that we would see this kind of suppression and these attempts to intimidate people who are engaging in constitutionally protected speech and civil disobedience."