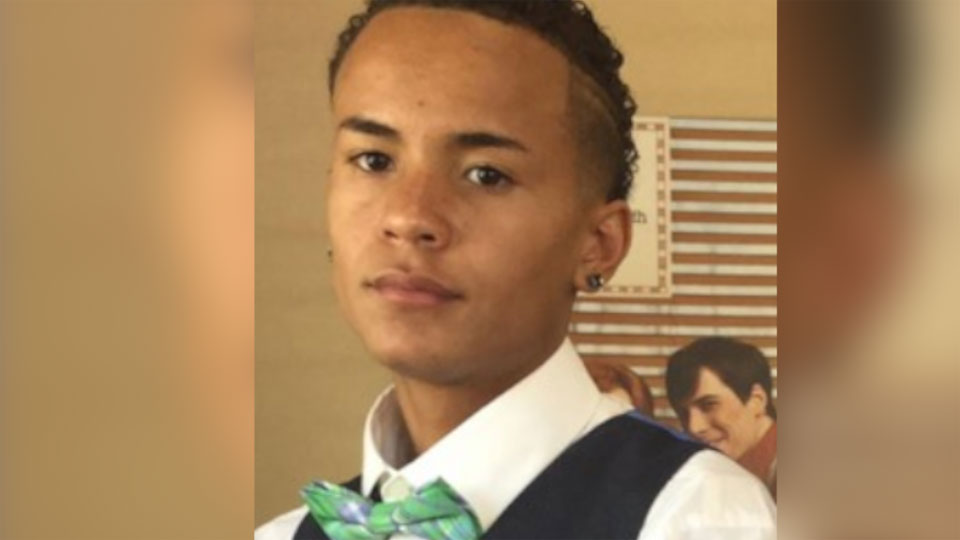 The hashtag #JusticeForElijah began trending across social media platforms this week as the world learned of the murder of Elijah Al-Amin, a Black teenager who was stabbed to death by a white man in Arizona. The alleged killer's lawyer is claiming her client, Michael Adams, is mentally ill, while Elijah's family and community activists are demanding his murder be seen as a hate crime. Al-Amin's death turns the spotlight, yet again, on the open bigotry, racism, and rising number of hate crimes that have become the norm since Donald Trump took to the White House in 2016.
Adams, 27, attacked and killed 17-year-old Al-Amin at a Circle K convenience store in Peoria, Ariz., a suburb of Phoenix, on July 4. Adams attacked the teen, slitting his throat, after deciding Elijah's rap music made him feel "unsafe." Adams admitted to police that he was not provoked by Elijah prior to the attack, but decided to be "proactive rather than reactive," as he asserted that people who listen to rap music are a threat to him and the community.
Adams had just been released from the Arizona State Prison Complex two days prior to the attack. According to Maricopa County Superior Court records, his criminal history includes disorderly conduct, assault with a weapon, and aggravated assault of a correctional employee.
Adams is being charged with first-degree murder, but his lawyer, Jacie Cotterell, claims her client is mentally ill, and was "set up for failure" because of lack of access to mental health services following his release from prison. Court documents say Adams told detectives "rap music made him feel unsafe because in the past, he was attacked by people who listened to that music genre."
"This is a disabled person," Cotterell said to the press when referring to Adams, "and he's been released into the world, and left to fend for himself. And two days later, this is where we are."
The Arizona Department of Corrections stated that Adams wasn't designated as seriously mentally ill and, after transporting him from Yuma to Maricopa County, the department "had no further legal authority over him."
Elijah's family and activists are calling for the murder to be seen as a hate crime. Imraan Siddiqi, executive director of the Arizona Council on American Islamic Relations (CAIR), stated that "When you talk about an individual attacked by their type of music…This is very radicalized language that's being used. There is definitely a hate component to the crime." President and executive director of the National Lawyers' Committee for Civil Rights Under Law, Kristen Clarke, demanded on social media that Elijah's death be investigated as a hate crime by the Department of Justice.
Unfortunately, this incident is not the first time a young Black person was killed over listening to hip-hop (a music genre often associated with African-American culture) by a white perpetrator. Jordan Davis was shot and killed by Michael David Dunn at a gas station over an argument involving rap music coming from a vehicle carrying Davis and three friends. Dunn took a handgun out of his glove compartment and started firing at Davis's door. Dunn would later testify that he feared for his safety, although it was proven that Davis and his friends had no weapons.
Cotterell's claim of mental illness for Adams, instead of a racially-motivated crime, brings into question the way violent acts are labeled depending on the race of the alleged perpetrator. In the last two years alone, a white man murdered two Black people at a grocery store after trying and failing to enter a Black church, a white man who had posted anti-Semitic comments on social media shot and killed 11 Jewish people at a synagogue, and James Cowell stabbed and killed the young African-American Nia Wilson at an Oakland, Calif. transit station.
In all these cases, and others similar to them, the mainstream media, and legal defense, was quick to point to mental illness as the culprit for the crimes of these white men instead of racial hatred. The current president of the United States, Donald Trump, has been quick to do the same.
Trump's Twitter responses to acts of violence and terrorism differ depending on the skin color of the alleged assailant. If the perpetrator is a person of color, he is quick to call for heightened government security, while if the perpetrator is white, he offers hopes and prayers and determines it to be an issue of individual mental health. (People with mental health issues already face stigma; Trump's equating it with being prone to violence or his using it as an excuse for racial hatred only compounds the problem.)
During the Charlottesville car attack, after neo-Nazi James Alex Fields Jr. deliberately drove his vehicle into a crowd of people peacefully protesting the extremist Unite the Right rally and killing activist Heather Heyer, Trump infamously put blame on "both sides," equating the white supremacists with those he called the "alt-left."
One can make a compelling case that the Trump administration, through racially-coded language and not-so-subtle allusion to white nationalist ideals, has emboldened the Michael Adamses of the world to "protect their community" through violent acts against those categorized as "other." Hate crimes in the United States rose by 17% in 2017 to nearly 7,200 incidents, according to the FBI—an increase that especially affected Black and Jewish Americans.
Using the Anti-Defamation League's Hate, Extremism, Anti-Semitism, Terrorism map data, the Washington Post found that counties that had hosted a 2016 Trump campaign rally saw a 226% increase in reported hate crimes over comparable counties that did not. A recent report also presents evidence that reading or hearing Trump's statements of bias against particular groups makes people more likely to write offensive things about the groups he targets.
The Trump Hate Map shows the alarming amount of reported incidents where self-proclaimed supporters of Trump and his ideals have harassed or attacked immigrants, Muslim-Americans, African-Americans, and other marginalized groups.
Family and friends held a short prayer for Al-Amin on Monday afternoon at the Islamic Community Center in Tempe. Unfortunately, as all the data on hate crimes suggests, his death is not an outlier. The racist targeting of people of color is the reality we find ourselves in as more white supremacists are emboldened to act on their hatred.