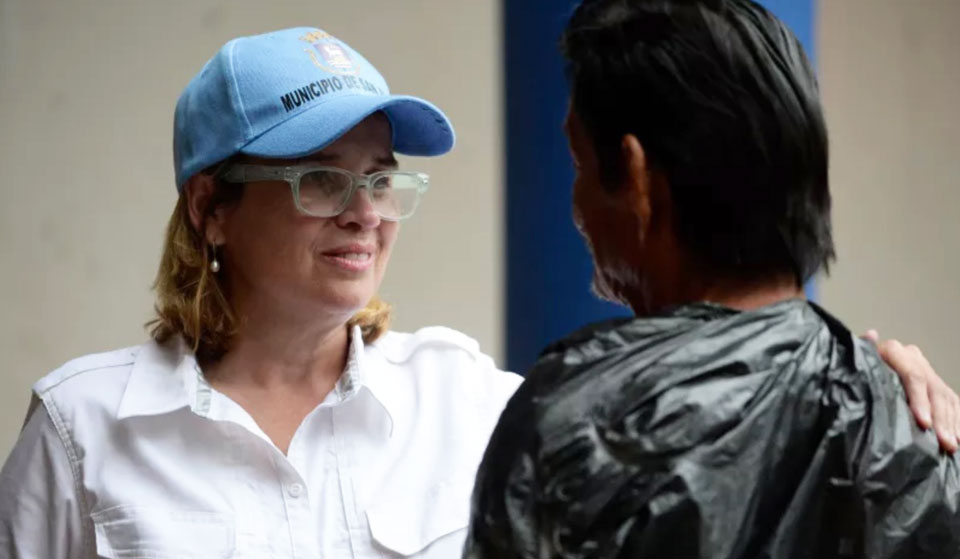 WASHINGTON—Calling out President Trump on yet another lie – though she didn't use that word – the director of the non-partisan medical investigation into the deaths in Puerto Rico from Hurricane Maria a year ago says "there was no political interference whatsoever" in the probe, and that the count is true.
And Dr. Lynn Goldman, dean of the George Washington University's School of Public Health, isn't the only one who said Trump is wrong. A CBS reporter decided to check one basic fact Trump – who was quoting talk show host Geraldo Rivera – posted and found that was wrong too.
Goldman's extensive defense came as San Juan Mayor Carmen Yulín Cruz, a persistent critic of administration failures, criticized Trump by name. Even Puerto Rican Gov. Ricardo Rosselló, whose island political party is allied with the GOP, jumped in.
In addition, Randi Weingarten, whose union, the American Federation of Teachers, represents most of Puerto Rico's teachers, jumped on Trump's lies – and called them that.
Trump started the uproar over the weekend of September 15-16 with a series of tweets, flatly proclaiming the 2,975 excess deaths in Puerto Rico due to Hurricane Maria a year ago was way too high.
"Like magic, 3000 people killed," he tweeted. "They (the Puerto Rican government) hired GWU Research to tell them how many people had died in Puerto Rico (how would they not know this?). This method was never done with previous hurricanes because other jurisdictions know how many people were killed. FIFTY TIMES LAST ORIGINAL NUMBER – NO WAY!"
"Success? Federal response according to Trump in Puerto Rico 🇵🇷 a success? If he thinks the death of 3,000 people is a success God help us all," Yulín Cruz tweeted back.
Goldman said death toll figures her team and the University of Puerto Rico School of Public Health gathered, are accurate because they not only work with actual death records in the six months after the storm hit but also include Puerto Rican victims who died after migrating to the U.S. mainland. Since Maria smashed the island to smithereens, one of every 12 residents – almost 300,000 — migrated.
And in her article in the Washington Post, Goldman carefully explained her teams adjusted for historical death patterns, age, sex, socioeconomic status and migration to the mainland. And they examined individual death records since the storm hit last September.
That was important, she said, because as soon as Rosselló asked her to head the investigation, "I knew the number of lives lost was, and would continue to be, a highly charged issue."
She's right about that. The Puerto Rican teachers' union, an AFT affiliate, has been on a crusade to publicize real conditions on the island – including continuing use of schools as shelters a year after the storm, due to widespread damage. The parent AFT collected millions of gallons of bottled water to replace the ruined water in Puerto Rico.
The teachers also oppose plans by Rosselló and his Education Secretary to close and/or privatize public schools in Puerto Rico, similar to what Democratic Gov. Kathleen Blanco and GOP President George W. Bush did in New Orleans after Hurricane Katrina more than a decade ago.
GW's team found even Rosselló's initial death estimate from Maria -– 64 – was way off. That September, Goldman said, 2,906 Puerto Ricans died, or "574 above what would have been expected without the storm."
There were 647 such "excess deaths" due to Maria in October, 347 in November, 479 in December, 558 in January 2018 and 320 in February, the last month of the GWU-led investigation, she added. "Many factors – transportation, access to food, water, power, medications and other essentials contributed" to the total of 2,975 deaths the study attributed to Maria.
Trump also threw in slams. He retweeted right-winger Lou Dobbs charging, "The people of Puerto Rico have one of the most corrupt governments in our country." He blamed Yulín Cruz for relief failures. In another diatribe, he claimed Democrats inflated Maria's death toll "to make me look as bad as possible."
After biting her tongue about Trump personally for months – if not about his government's terrible response to Maria — Yulín Cruz shot back in two tweets.
"Trump simply does not get it. Thus his neglect towards Puerto Rico cost about 3,000 lives. Unfortunately, it seems he will never get it," she tweeted. "Simply put: Delusional, paranoid, and unhinged from any sense of reality. Trump is so vain he thinks this is about him. NO, IT IS NOT."
Trump's tweets even irked Rosselló. When Trump called his administration's post-Maria efforts "successful," Rosselló retorted: "No relationship between a colony and the federal government can ever be called 'successful' because Puerto Ricans lack certain inalienable rights enjoyed by our fellow Americans in the states."
Meanwhile, CBS correspondent David Begnaud, in a tweet, refuted Trump's and Rivera's claim that 70 percent of Puerto Rico's power was out even before Maria hit. Maria, however, exposed the age and shakiness of the grid. Members of the Electrical Workers spent weeks on repairing and restarting what they could.
"After reading the president's tweet, I checked with the Puerto Rico Electric Power Authority. According to Jose Sepulveda, Director of Transmission & Distribution @AEEONLINE, 88 percent of customers had electricity on September 19, 2017, which was the day before Maria ravaged Puerto Rico," Begnaud reported.
The Puerto Rican Electric Power Authority said the entire island was on its way to regaining power by this past June when a bad accident at a transmission line knocked it out island-wide again, for a day. The latest reports say that a year after Maria, three percent of Puerto Rico's residents who used to have power don't.
AFT's Weingarten aimed at Trump's claim that Democrats inflated the Puerto Rican death toll for political purposes. She flatly called Trump a liar.
"Given that the president's main contact with the suffering from Hurricane Maria was lobbing paper towels at a press conference, it's not surprising he would try to deny the real magnitude of the destruction. Worse, between the Federal Emergency Management Agency's refusal to pay for 97 percent of the funerals of the victims and Trump's false comments on the death toll, this administration is trying to erase the memory of the American citizens who perished. It's both a human tragedy and an unconscionable attempt to rewrite history," she said.
"Thankfully, independent researchers" – the GW team — "have worked for months to uncover the truth, and educators, activists and others are working every day to rebuild a stronger Puerto Rico, even as the federal government has left them behind."
"The president's blatant lying and obfuscation to cover up his botched response is typical. It ignores the devastation on the island, as schools and communities struggled without water and electricity for months. But while the president dithered, the people of Puerto Rico fought to turn schools into community hubs to distribute food and rebuild basic infrastructure."
"By doubling down on egregious falsehoods, it's easy to see why the president is hemorrhaging respect and approval in the polls. He and the GOP have broken their promises to too many Americans, and come November, they won't forget it," Weingarten concluded.