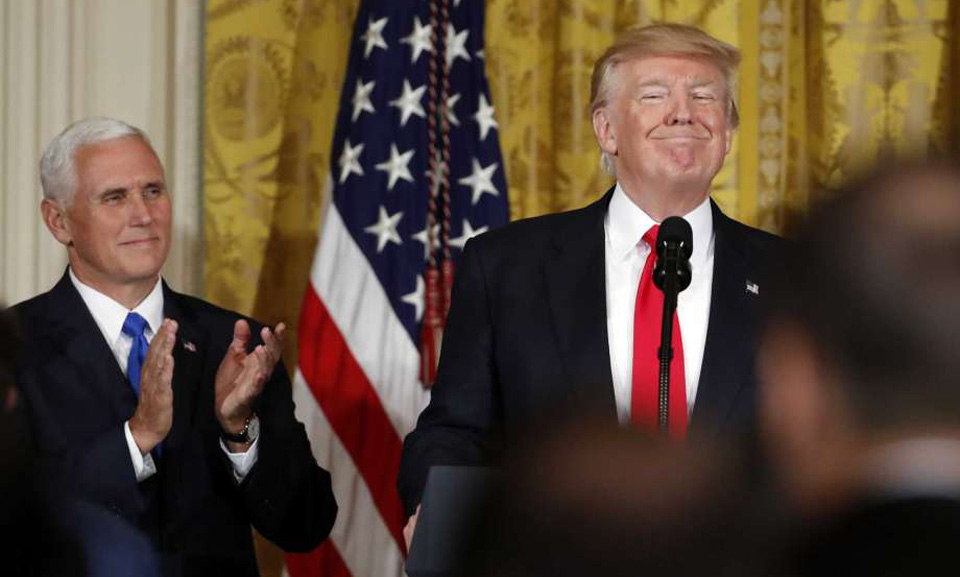 Republican leaders have been priming and pumping the possibility of a serious jobs coup for months. Trump signaled "a big deal" during a visit to Wisconsin in June. Gov. Scott Walker has been dropping cryptic hints for weeks. Paul Ryan, when asked by the press if he knew more, smirked and said, "Stay tuned."
Intelligent people identified the likely suspect – giant Taiwanese electronics supplier Foxconn. Those same people also took note of the trail of broken promises Foxconn has left, from Vietnam to Brazil to Indonesia to India.
If broken foreign promises don't bother you, then learn the sad story of Pennsylvania.
If you're still unbothered, if the promise of 3,000 jobs for $3 billion still sounds like the deal of the century, you must be a New York City real estate wheeler and dealer.
President Trump announced the Foxconn deal from the White House on July 26 and proclaimed that the deal could never have been done without him. Foxconn Chairman Terry Gou grinned. Ryan smirked again. Walker beamed.
Smartly absent was Rep. Gwen Moore (D-Wis), invited by the president but who politely declined, saying, "My constituents have no interest in me entertaining the president's desire to be used as a backdrop in his photo op."
It's clear that she had done the math. Wisconsin lost 3,776 manufacturing jobs in 2016. Getting back 3,000, if that pans out, seems paltry.
The deal also requires stitching together enough land to create a complete village of constant treadmills and rolling stock. "Wisconn" is just the latest vision from a company that has taken other countries and other US states for a merry ride of lost taxes and unfilled promises.
Progressives who find the entire deal ugly and suspicious are immediately accused of disliking the free market or foreign companies. Their outrage, opponents say, is just political sour grapes that the Republicans are creating jobs.
But these progressives are the same people who were furious when Walker cancelled a high-speed rail line from Madison to Milwaukee that was to be built by Spanish train company Talgo. This resulted in the cancellation of $810 million in federal train funds– money that could have funded thousands of good jobs.
The numbers stung then, but sting even worse when you examine the Foxconn deal — $3 billion in state subsidies, which means revenue balancing against any promise in jobs. That means more pain for transportation, public schools (already getting billions less than 7 years ago), environmental protection and other human needs a responsible government should be paying attention to first. That Foxconn wants to come here despite failings in education and environment speaks volumes.
The transportation issue is particularly relevant, as noted blogger James Rowen pointed out in a piece for Political Environment. The train project that Walker rejected would have driven right past the enormous swaths of land in Paul Ryan's congressional district where Foxconn plans to build over four years. Despite this lack of transportation, Foxconn still wants to do the deal.
The job pledge dropped from 50,000 when Trump first alluded to it, to 30,000 in early press releases, down to 13,000 in an early announcement on July 26, to 3,000 later in that day.
The state incentive package similarly dropped in press releases from $3 billion in 15 years to $1.5 billion by 2020.
An economics professor and retired head of the Milwaukee Area Technical College teachers union, Michael Rosen, notes, "any US production plan would be capital intensive. That means job projections are extremely inflated. And that assumes that Foxconn follows through — something it hasn't done from Pennsylvania to Indonesia."
The company also lists average pay at $53,875 a year, plus benefits. A little math as employed by Scott Ross at One Wisconsin Now suggests the state will spend $250 million to get $181 million in revenue. Other bean counters point out that the state incentives don't touch the cost of local TIFFS, expenditures, road building, etc., the taxpayers will also have to absorb.
The company's tainted history is another good reason for suspicion. In 2012, its enormous Apple plant in China had to put up safety nets to thwart the suicide attempts of its workers. It claims to be a different company today, but it remains worker resistant, offering $8 an hour at American plants. (Remember, the $53,875 is just a promise – and an average.)
Foxconn envisions itself as a leader in automation, focused on building profits by eliminating as many human jobs as it can. In China alone it announced with pride the elimination of 60,000 jobs. Wisconsin should expect the same. Technology is inevitable, but Foxconn wouldn't get a state penny if it admitted its robotic goal of endlessly reducing the workforce.
This is a "vast, boxy customs center, an island of commerce" mainly employing logistics handlers, truckers, box assemblers, cleansing experts, floor managers, and a few high-tech leaders. Those high-tech jobs can come from Madison's high tech corridor, or more likely from overseas. Most jobs they need require cognitive skills and good work ethics, as can be found in the vast number of Wisconsin unemployed or underemployed who are likely to be overlooked in this deal.
In some ways, this was a shrewd strategic move by Foxconn to foil Trump's aggressiveness toward foreign employment and float the dreams of tons of new jobs in front of him. Their track record underscores the gap between promises and results, but this is the gap Trump lives in and where they have slickly kept him at bay.
Americans have been steaming for years at China's state-owned companies, meddling in copyrights and using state aids and subsidies to gain a competitive advantage. Wisconsin suggests the only solution Trump sees is making the states do what China once did.
The local media seems confused. Should it praise this deal as it did in a story mixing promises with facts?
Or should Wisconsin listen to its editorial writer and give away less?
The Hon Hai Precision Industry Co. Ltd uses the Foxconn moniker because it doesn't sound Taiwanese. But it may actually say it all. It contains "con." It makes understandable its nickname in corporate circles: Sly Fox.