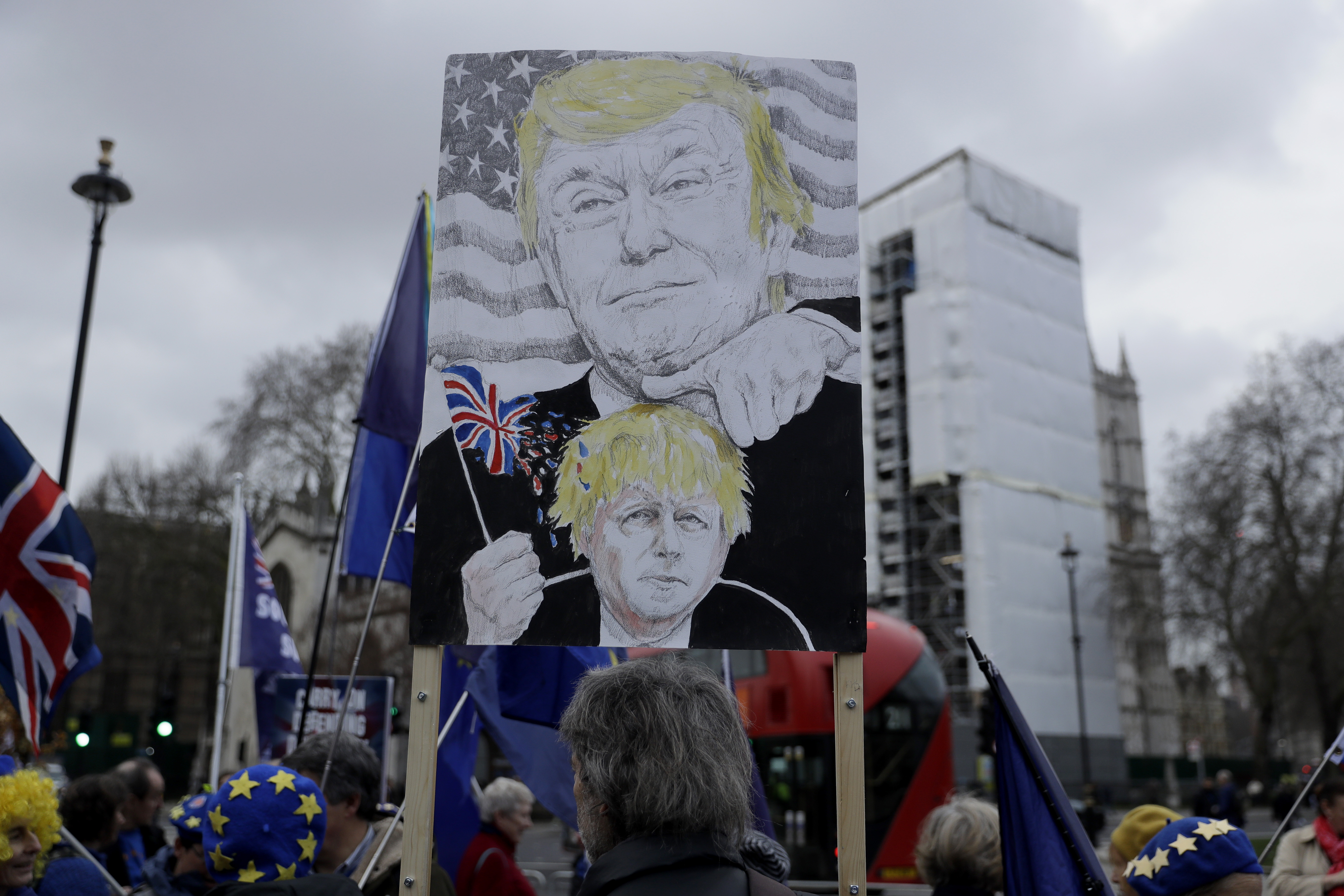 EAST SUSSEX, U.K.—"The most worrying thing about what has happed in America over the last 48 hours is that everyone knew something like this would occur, and did nothing to prevent it," said Paul Anthony, a retired U.K. civil servant, as we spoke—socially distanced—Thursday morning at his doorstep in southeast England.
"I was sitting in my living room last night watching the telly and thought, bloody hell…after four years of Trump cranking up his violent language, you'd be foolish to think his tweets wouldn't become reality—I knew it, and I'm over a thousand miles away.
"There's just no excuse," he continued.
The light of democracy that U.S. bourgeois mythology has long said shines down on Capitol Hill dimmed considerably the last four years. Violence perpetrated by domestic terrorists, "Trumpers" as they like to say, threatened to extinguish it on a day meant to confirm the electorate's choice for president of the United States.
The U.K. and Europe, along with the thousands of U.S. citizens living abroad, expected to settle in to watch the evening news coverage of Congress counting the votes and certifying Joseph R. Biden, Jr. as the 46th President.
On television screens instead were scenes of violence, an insurrection aimed at overthrowing the U.S. government, encouraged by Donald J. Trump just a few hours earlier.
By 6:00 p.m., there was enough damage done: Four people dead, pipe bombs found and rendered safe at both Republican and Democratic National Committee offices, and a complete failure of law enforcement (not surprising given the support their "unions" expressed for Trump). The nation's capital was desecrated by fascists cosplaying as patriots.
"What is happening in Washington, D.C., is a coup attempt by armed terrorists incited by Trump and his Republican cronies to prevent Congress from finalizing his re-election failure," said Julia Brian, Global Chair of Democrats Abroad, an organization representing nine million Americans around the world, in a statement. "This attempted coup is the culmination of years of Donald Trump and his Republican cronies building a flourishing white supremacist base, feeding them with lies and falsehoods, and preparing them for violence."
Her statement continued: "We demand prosecution to the fullest extent of the law of those who would use force to overthrow our elected government. Terrorists should be treated as such. The color of their skin should not allow them to walk away without ramifications. We believe the racial injustice on the evidence here is deafening."
How foolish not to heed the ominous words of George Washington: "Guard against the impostures of pretend patriotism." And for U.S. citizens living abroad, the irony was not lost.
In 243 years, the image of self-proclaimed "patriots" went from revolting against the monarchy to wanting to crown Trump as a king. And we should remember, not so long ago, on Sept. 12, 2020, Trump himself again suggested he would stay in office for three terms, or even more.
"And 52 days from now we're going to win Nevada, and we're going to win four more years in the White House," said Trump to a crowd of his supporters. "And then after that, we'll negotiate, right? Because we're probably—based on the way we were treated—we are probably entitled to another four after that."
In quick succession, global leaders condemned the violence of Trump's domestic terrorist supporters and the president himself.
In Germany, Chancellor Angela Merkel said those who stormed into Congress were "attackers and rioters" and told a meeting of German conservatives: "I regret very much that President Trump has still not admitted defeat, but has kept raising doubts about the election."
French President Emmanuel Macron said: "When, in one of the world's oldest democracies, supporters of an outgoing president take up arms to challenge the legitimate results of an election, a universal idea—that of 'one person, one vote'—is undermined.
"What happened today in Washington, D.C., is not American, definitely. We believe in the strength of our democracies. We believe in the strength of American democracy," he added.
Top European Union officials also condemned the actions and said they looked forward to working with the Democrat, who "won the election."
"Terrible scenes from the USA. This is the legacy of a politics of hate that pits people against each other and threatens the foundations of democracy," said Lisa Nandy, a member of the British Parliament and shadow foreign secretary for the opposition Labour Party. "We must stand firm with legislators under attack and the American people who have the right to choose their destiny."
Even U.K. Prime Minister Boris Johnson, once seen as a top international Trump ally, quickly backpedaled his previous Trump-enabling behavior, saying: "Disgraceful scenes in U.S. Congress. The United States stands for democracy around the world and it is now vital that there should be a peaceful and orderly transfer of power."
However, U.K. voters won't be letting Johnson sweep his previous "special friendship" with Trump under the carpet.
"Johnson is of the same mold as Trump, and we must get rid of him at our earliest opportunity," said Marie Stott, a student at the University of Brighton. "He (Johnson) should have listened to our former U.K. Ambassador to the U.S. (Sir Kim Darroch) who warned us about Trump early on."
So, as the U.S. approaches the closing of this dark chapter in its history and prepares to open a new page, U.S. citizens at home and overseas cannot allow this storming of the Capitol to fade, or those guilty of inciting an insurrection to go unpunished, or afford a self-styled populist despot another chance at election.
The failed presidency of Donald J. Trump ends as it began, with violence, anger, and division.
How shameful.
More on the Trump coup attempt: