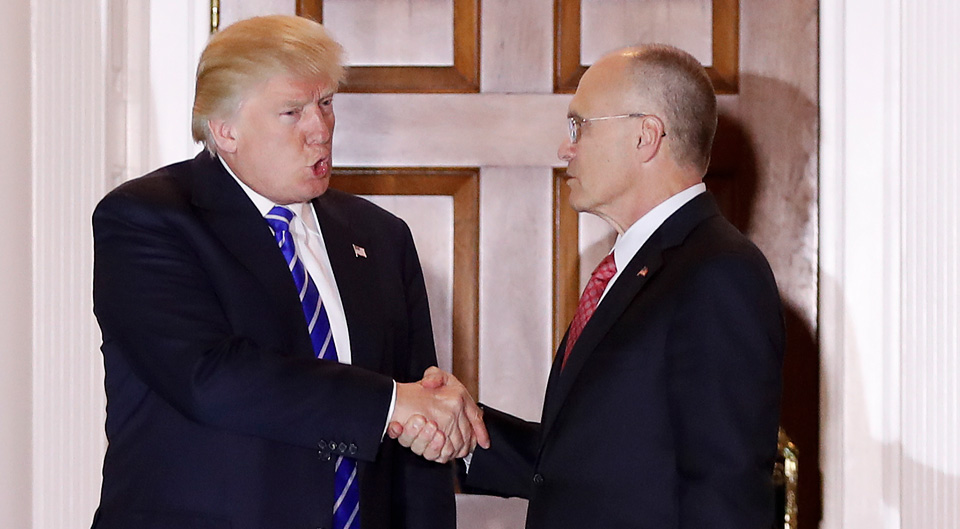 Labor leaders are mounting a campaign to convince U.S. Senators not to confirm Andrew Puzder, President-elect Donald Trump's choice for Secretary of Labor. If only three Republican senators decide against Puzder, he will not get the 52 vote majority he needs for confirmation.
Puzder is CEO of CKE Restaurants, owner of the Hardee's and Carl Jr.'s fast food chains.
The Los Angeles Times reports that some 60 percent of his restaurants have rampant wage and hour violations and California alone has fined his corporation $20 million for breaking labor laws.
Moreover, the Times reports that Puzder wants to repeal the Affordable Care Act and has pledged to ignore a new Labor Department rule that would expand the number of workers eligible for overtime pay. (Implementation of this rule is being blocked by an order of a judge in Texas.)
Furthermore, Puzder has repeatedly denounced plans to raise the minimum wage and the Associated Press quotes him as saying that he will replace workers with robots if this happens.
The Common Dreams online newsletter quotes one of Puzder's employees at a Carl Jr. franchise, cook Rogelio Hernandez, as saying that the idea of his boss running the Department of Labor "sends a signal to workers that the Trump years are going to be about low pay, wage theft, sexual harassment and racial discrimination.." Hernandez is active in the Fight for $15 movement.
RoseAnn DeMoro, executive director of National Nurses United, said that by choosing Puzder, Trump is signaling he wants to destroy the labor movement.
"Labor is the check on the balance of power with corporations," DeMoro tweeted, "and [Trump wants] labor out of the way."
AFL-CIO President Richard Trumka agrees, and added that the Puzder nomination means Trump will not "meet the promises" he made to workers during the campaign.
Similarly, Randi Weingarten, president of the American Federation of Teachers, said, "After a long campaign of promising to return prosperity and good jobs to struggling families, this pick makes it clear that Trump won't drain the swamp – he'll fill it with worse and worse kinds of slime."
Other labor leaders and worker advocates agree.
For example, Service Employees International Union President Mary Kay Henry told Common Dreams that "Throughout his career, Andrew Puzder has shown he does not believe in the dignity of all work and has used his position to line his own pockets at the expense of workers."
She continued, "In 2012, Puzder made $4.4 million, a full 291 times more than the average fast food worker. He doesn't support measures that would help families who work hard to build a better life, such as the overtime rule, which would put more money in the pockets of millions of workers for the extra work they do. He wants machines to replace workers because robots 'never take a vacation' – even though robots cannot ever replace the work that people do. And he has stood with Republican congressional leaders who want to repeal the Affordable Care Act, even though his underpaid workers and millions of working Americans depend on it for healthcare."
Communications Workers (CWA) President Chris Shelton added, "Puzder's record provides a troubling roadmap as to what he would attempt – or choose to ignore – as Secretary of Labor.
"Puzder has a record of public statements and actions," Shelton said, "that demonstrates why he is a poor choice to head the agency responsible for promoting 'the welfare of wage earners, job seekers and retirees.' The Department of Labor is supposed to be on the side of working people when it comes to keeping jobs safe, stopping employer abuse and safeguarding workers' rights on the job. That's what working people need."
Finally, Christine Owens, executive director of the National Employment Law Project, said "Nominating Puzder to run the department is like giving the fox the keys to the hen-house."